La Jollan sets fundraiser for Nepal, a year after quake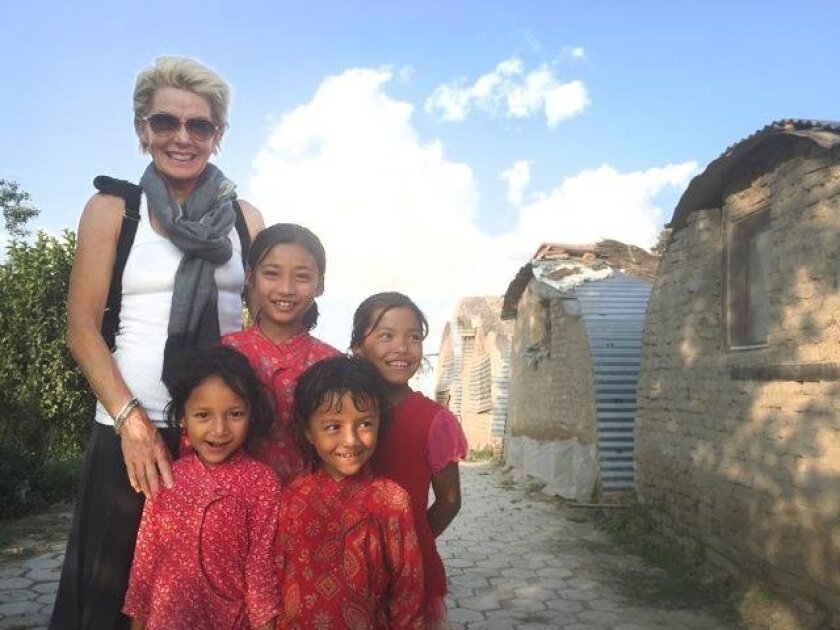 As the first anniversary of the catastrophic Nepal Earthquake approaches, La Jolla resident Kathleen Rafaat wants to connect the Village of La Jolla to the small, devastated villages of Nepal.
She recently started a gofundme.com crowd-funding page to raise money to build a library and a science lab in the village of Bodgaun to replace ones that were destroyed during the April 25, 2015 quake that killed more than 8,000 people.
"We wanted to have something from us in America for the Nepalese children," she said. "I'm working with another volunteer group, and they are raising money for the school, and my responsibility is for the library and a science lab. The science lab is not like what we have here, it's just a room where children can learn and practice science skills ... they want something that represents the future." The pricetag for both facilities is $10,000.
As a fundraiser for the library/science lab project, Rafaat will host a day of meditation, 10 a.m. to 6 p.m. Thursday, April 7 at Buddhi Yoga in La Jolla, 7843 Girard Ave. Rafaat will lead a half-hour private guided meditation for a $40 (or more) donation. Those interested can sign up at buddhiyoga.com/event and all contributions will go to the library and science lab.
At the day of meditation, Rafaat will use the singing bowls she holds so dear, which kept her connected to her contacts in Nepal.
Two years ago, well before the destructive earthquake, Rafaat went on a lifelong bucket-list trip to Nepal. Facing cancer, she said she needed something to look forward to after she completed treatment. Rafaat went to Nepal to explore the "menagerie of all the things you could ever imagine seeing in a busy city" near Kathmandu. Although she was on a tour for much of the visit, she met a group of craftsmen that make singing bowls. Technically a bell, singing bowls are used to produce a sound that encourages relaxation in the brain.
"When I was there, I learned to use singing bowls as a therapy. Most people know you can meditate with them, but they are also used as therapy, and there is a whole process to learning how to facilitate that," she said.
A little more than a year after she returned to the States, Rafaat watched, along with rest of the world, as news broke that the 7.8 magnitude earthquake had occurred.
"When the quake hit, I was afraid for everyone. I remember thinking of the people I'd met and wondering what was happening to them. I couldn't get a hold of them," she said. Comforting herself with her souvenir singing bowls, she noticed an e-mail address on the bottom of the bowl, and tried reaching out that way.
Thankfully successful, she got in touch with someone she met, and learned of the trauma the Nepalese people were facing. "My friend told me when the quake was happening, he was standing in a doorway watching a nearby building collapse knowing his friends were in there," she said. "He told me about pulling people out of buildings."
Feeling the need to help, she joined forces with Jay Nepal Action Volunteers to raise money for temporary shelters.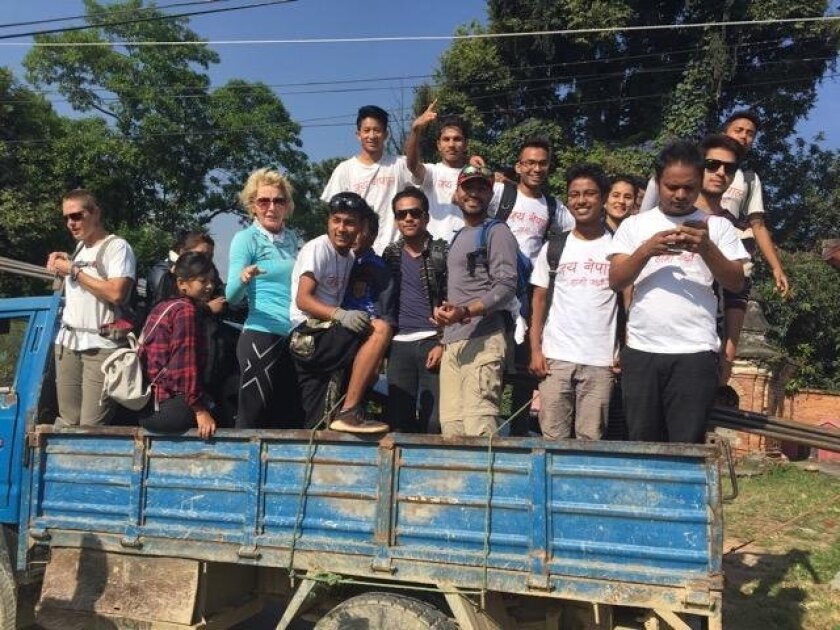 "We bought metal sheets and thick rods and were able to build shelters for $150 a piece, similar to a Quonset hut that houses four people, maybe six," she said. "There was a sense of urgency because the monsoon season was coming, and the only other option for those in need of shelter were tents that would get soaked. I helped raise money and even had the opportunity to go back over to help build the shelters. It was an amazing experience."
Turning the focus to rebuilding, Rafaat is now raising money for the library and science lab in Bodgaun. According to the gofundme page, "Bodgaun is accessible by a bumpy and un-surfaced road, four hours from Kathmandu. The 6.7-magnitude aftershock took place in the district of Sindhupalchowk with 3,057 people dead, 860 injured and 3,000 people unaccounted for. Bodgaun itself has about 2,000 people, dealing with the after effects of the quake. … The hardest hit are the children. Since the school has collapsed, the children are outside under a makeshift shelter built by Jay Nepal (Action Volunteers). They are hungry and in need of medical care; yet still yearning to read, write and learn."
—To make a donation or get more information, visit Gofundme.com/raisingbodgaun
---
Get the La Jolla Light weekly in your inbox
News, features and sports about La Jolla, every Thursday for free
You may occasionally receive promotional content from the La Jolla Light.