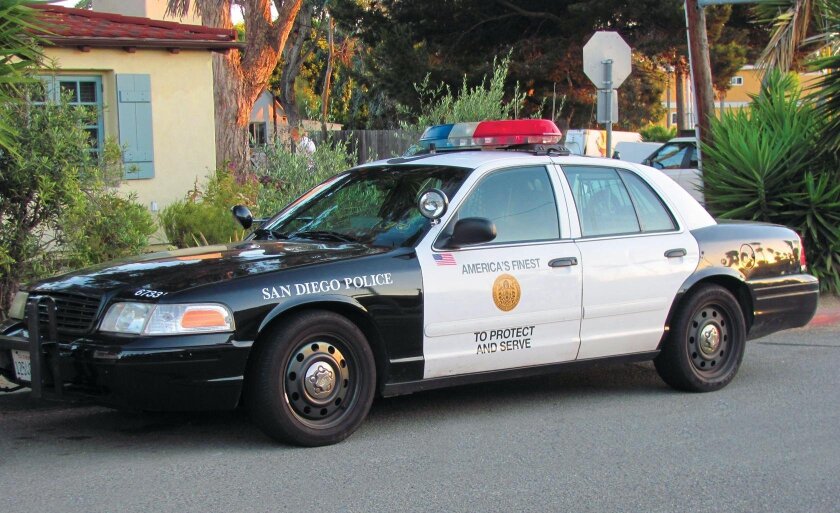 La Jolla Crime and Public-Safety News:
••• WindanSea meeting held following series of thefts
Responding to a rash of burglaries and thefts in the WindanSea neighborhood, a group of residents held an informational meeting Jan. 20, 2016 at a private home. In attendance were about 25 area residents and San Diego Police Community Relations Officer Larry Hesselgesser.
Just before Christmas and leading into January, resident Nate Jernigan said, a series of thefts took place in the community. "I had my truck stolen on Jan. 12 and we know of a few incidences of property, including bicycles, surfboards and other equipment being stolen right on our street and alleys," he said. Other reported incidences included a home burglary in the middle of the night just before Christmas and another home invasion in the middle of the day.
"We needed to bring this to the attention of our neighbors and get everyone involved," he said. "A Neighborhood Watch is such a simple thing, but it can make such a difference. Getting all our neighbors in the same room at the same time helps bring crime and other issues to the table, such as parking or trashcans."
Stephanie Jernigan added that the meeting with Hesselgesser was "very productive" in that residents got a chance to meet each other and hear safety tips. "Officer Hesselgesser gave us pointers on how to be safe (such as) lock your doors, leave a porch light on, don't leave things in plain sight and lock your cars. He also encouraged us to talk to neighbors and get to know them and watch out for each other," she said.
For example, she said attendees were advised to watch for garage doors left open. "Now that we've had this meeting, we know we can knock on someone's door and let them know they left their garage open," she said. "The meeting was great because we got to meet our neighbors, exchange numbers and communicate."
From here, the Jernigans said they would be working towards more streetlights to better illuminate the neighborhood and consider additional safety meetings.
••• POLICE BLOTTER:
Jan. 17
• Vehicle break-in/theft, 7400 block Vista Del Mar Ave., 11 a.m.
• Residential burglary, 2300 block Falkirk Row, 4:45 p.m.
Jan. 18
• Petty theft/theft of personal property/shoplift (valued at $400 or less), 1200 block Coast Blvd., 2:45 p.m.
• Residential Burglary, 5500 block Linda Rosa Ave., 5:30 p.m.
Jan. 19
• Vehicle break-in/theft, 8300 block Cliffridge Ave., 6 p.m.
Jan. 2
• Fraud, 5700 block Waverly Ave., 8 a.m.
• Malicious mischief/vandalism (misdemeanor), 7500 Draper Ave., 9:30 a.m.
• Commercial burglary, 900 block Silverado St., 8 p.m.
Jan. 21
• Petty theft(valued at $400 or less), 7500 block Girard Ave., 3:20 p.m.
Jan. 22
• Disorderly Conduct: Alcohol, 6900 block La Jolla Blvd., 2:45 a.m.
• Vehicle break-in/theft, 7200 block Rue Michel, 6 p.m.
Jan. 23
• Residential burglary, 5800 block Box Canyon Road, 5 p.m.
Jan. 24
• Commercial burglary, 7700 block Herschel Ave., 2 a.m.
— To report a non-emergency crime: Call San Diego Police Department at (619) 531-2000 or (858) 484-3154.
---