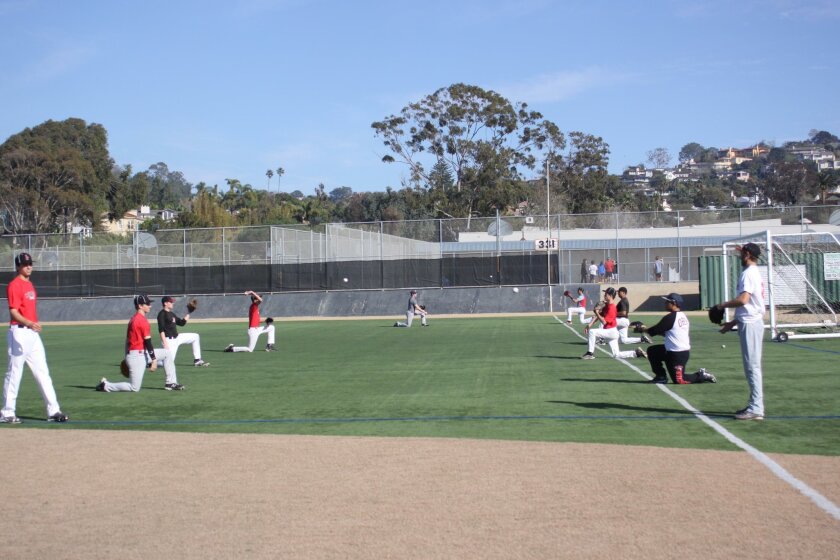 With last year's championship season still fresh in Vikings' minds, La Jolla High School's baseball team this season has some big shoes to fill. But rather than look at the big picture, Coach Gary Frank has one focused goal in mind: Be better tomorrow than we are today.
"We're going to pool together as a team, and we do that not by focusing on championships, but by focusing on getting better every day and giving it all we have," Frank said. "Win or lose, we are going to embrace the good, and correct the things that were incorrect, so we are playing as well as we can at the end of the year."
Last year, the varsity team made it all the way to CIF championships but lost in the home stretch. Further, 12 of the team's 16 players were seniors who have since graduated (four had been on varsity since they were sophomores). The team also set a school record in wins and moved up a division.
Chatting with La Jolla Light during tryouts, Frank said, "It's going to be tough to replace those guys, we had a very good team last year. … so watching this group of guys is exciting and a little nerve-wracking at the same time."
At tryouts, he said coaching staff was "looking at the skills, and obviously, we want guys who can play baseball at a high level, but more importantly at this level, we are looking for those who are willing to work hard and have that drive to get better."
He added, "You never know what you are going to get from year to year, and with high school kids, from day to day. So we're a little nervous because you usually like a little more structure and continuity, but this year we are going to get a baptism by fire. I'm hopeful these guys will step up and rise to the challenge."
The coaching staff has four secret weapons to help the new players — the four remaining athletes who were on Varsity last year — Ben Wintringer, who played multiple positions on the field and lead the league in hitting; Zack Sehgal, who already has a commitment to play baseball at Stanford; Trenton Fudge, who is applauded for his overall athleticism; and Garrett Brown who would likely be a middle-of-the-lineup hitter.
The remaining players on the 2016 varsity roster include: Jesus Manzano, Cole Dimich, Nick Hammel, Nick Ferenczy, Chris Deguzman, Stone Scoppettuolo, Johnny Agbulos, Dane Hansen, Nick Evanko and Sebastian Partida.
Excited for the new team, senior Fudge said, "new guys bring liveliness to the team. They work hard and are eager to play."
Reflecting on his experience last year, he added, "Going into (last year's CIF) game, we felt like we were on a roll. We thought we had it in the bag already. This year, we are going to have a different mentality – as long as we keep preparing the way we are and work as hard as we can, we'll get better. That's how we're going to do it."
Looking forward to the progress ahead of them, Coach Frank said he would like the community to come to games (see schedule) and support the Vikings. "If they want to see kids who are not just being handed everything they get and see people be the best they can possibly be, they should come and see us. We might not win every game, but we are going to scrap and be the best we can be."
---