Well, someone's Irish eyes are smiling! Maeve Rochford, owner/baker at La Jolla's Sugar and Scribe, was named "Irish Woman of the Year" by the Irish Congress of San Diego.
For the honor, she and "Irish Man of the Year," Frances Kilgallon, owner of the Blarney Stone Pub in Clairemont, were recognized at a breakfast before the annual St. Patrick's Day Parade & Festival in Balboa Park on March 12, and they got to top a float in the parade. Afterward, Rochford had a booth in the "Food Village" to share her wares.
Also, the winner of this season's Food Network "Holiday Baking Championship," Rochford has had Sugar and Scribe at 7660 Fay Ave. for about a year, where she serves Irish-inspired food, as well as sweet and savory treats. The televised competition aired its finale in December 2015, where she held a screening party in her bakery. With the $50,000 prize, she said she would reimburse her mother (whose investment helped launch Sugar and Scribe), give her employees a bonus, and make a donation to the Helen Woodward Animal Center.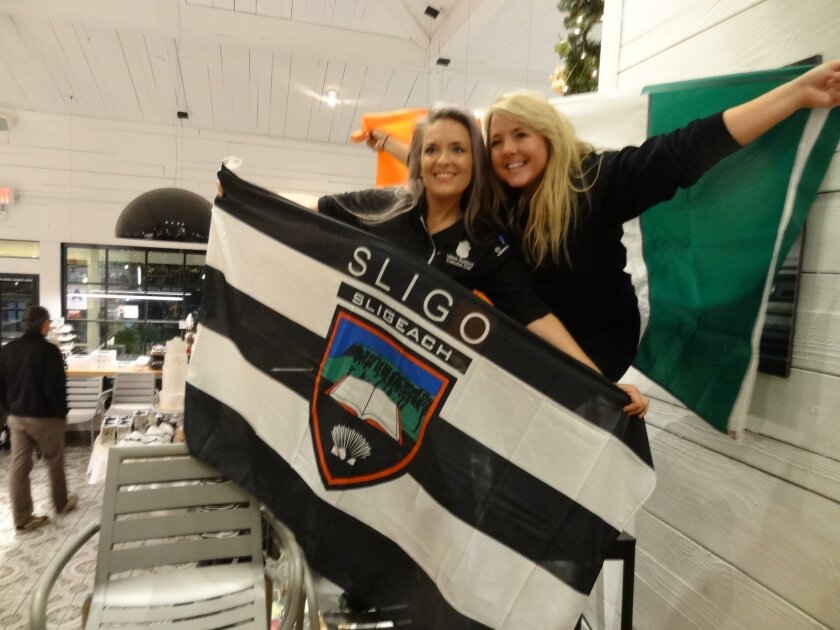 "When looking for someone to recognize, we talk about who in the community has sparked our interest through their accomplishments and activities in the Irish community," said parade chair Moe Giacalone. "We wanted to recognize Maeve because of the great shop she has successfully run, and the fact that she participates strongly in other cooking ventures in the community. She's proud of her heritage and cooks Irish food at her shop." The name "Maeve" reportedly comes from an Irish word that means "the cause of great joy."
Of the recognition, Rochford said, "It was like Christmas — it would have never occurred to me to win this because there are a lot of Irish people doing amazing things. To be put with that group is great."
With a fighting Irish spirit, the always outspoken Rochford said as the first American-born member of her family from County Sligo, she constantly sets out to prove she's "as Irish as they are," she said. Whether that be on television, when she repeatedly mentioned her Irish pride, or in her interactions with people.
"When people think of the Irish, they think all Irish people are really nice, which is true, but what's fun is we are all proud of our culture and we express that through storytelling, shared experiences and music," she said. "It's a much more artistic culture than people think. Ireland still has its own dancing, language, music and unique way of telling stories. When it comes to Irish performing, people only know of RiverDance, but we're more than that."
As far as some of the negative notions about the Irish, Rochford is breaking the mold. "There is the obvious preconceived notion that all Irish people drink a lot, but I think that's toned down and I don't drink at all."
And when it comes to Irish food, she said, "people either think fish-and-chips and greasy pub food or something like haggis (which is actually Scottish)," she said. "A lot of people don't know what Irish cuisine is. Ireland has used farm-to-table cooking forever and has always been into eating locally. They produce the finest cheeses and cattle in the world, but a lot of people don't know that. There is a lot in the culinary field that is amazing from Ireland. I hope I'm a good ambassador for that."
In 2014, the Irish Congress recognized two other Irish La Jollans for their efforts — Salvation Army volunteer Mary Johnson, and Scott Dodge, a 17-year member of the Irish Congress.
---