Hillel Project receives $5 million donation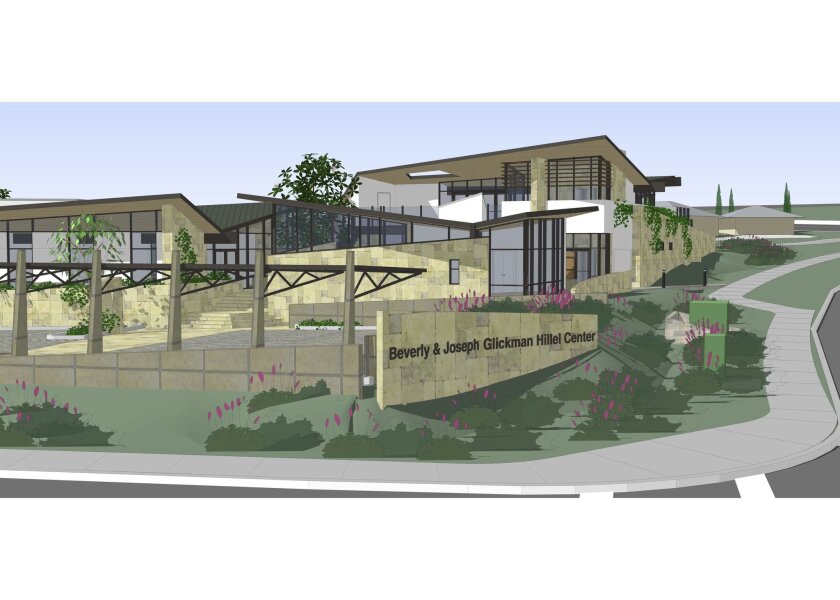 The long-debated and oft-rejected Hillel Center for Jewish Life project received a $5 million donation this month from Joseph "Chickie" Glickman, which will serve as the lead gift in a capital campaign to build the proposed center. Planned for a triangular parcel of land at La Jolla Village Drive at Torrey Pines Road, the project would be named the Beverly and Joseph Glickman Hillel Center and has been discussed at La Jolla's community groups for more than a decade.
The building proposed would serve as a "center for Jewish life and Jewish students at UCSD," said Hillel Executive Director Michel Rabkin. "It's an off-campus center for small group meetings, pastoral counseling, holiday celebrations, prayer services and a place for cultural exploration. It's a drop-in center where professional staff will work with students on a day-to-day basis."
The gift kicks off the capital campaign, Rabkin said, one of many steps in the process to get the facility built. Plans are currently being reviewed at the city level, and the process includes the challenging and contentious Environmental Impact Review (EIR).
"Money is always a factor in making sure you can build a facility. (And this gift is) just a beginning to the campaign, but a strong beginning. It's a strong vote of confidence … to get a gift of this magnitude," Rabkin said. "It gives us a real boost of energy to finalize the EIR with the city."
During multiple reviews and revisions to the EIR, La Jolla's community planning groups voiced consistent objection to the project, largely due to the prospect of a public facility in a single-family residential zone.
In one of its most recent reviews in February 2014, La Jolla's Community Planning Association re-committed to its March 2013 position against the project, incorporating notes from La Jolla's Permit Review Committee (PRC) on the EIR.
PRC notes included: The EIR used an attendance limit of 50 persons for a noise analysis, though the proposed building has an occupancy limit far greater; the Hillel Center would increase traffic in the area; onsite parking is inadequate for both a religious use and for a student center that could hold as many as 100 to 150 people; and more.
Focusing on the parking concerns, attorney Julie Hamilton told La Jolla Light that if the facility will be used as a religious facility, the parking plan would need to reflect city standards.
"The primary concern is that the religious center is being placed in single-family residential zone and … if they build the facility according to code, the minimum number of spaces they would need to provide would be 47 spaces and Hillel is proposing (less than that) and taking away on-street parking. So not only are they not meeting parking requirements, they are taking away parking from an area that is heavily impacted." The Light later learned that 33 parking spaces, including ones for motorcycles and a van, are proposed.
Hamiliton noted that the land on which the facility is proposed is considered "undevelopable because access is so difficult," and that the center would be "out of scale and character" with the area. "It would be like having a church or a student center across from your house," she said, observing there are other religious institutions in the vicinity but they are set "well back from the street" and on "parcels that can accommodate them."
She also cited concern that if one student organization with religious ties would be allowed to build a facility, a precedent would be set for the nearly 50 student organizations with a religious affiliation on campus. "It opens the door."
Added Janie Emerson, who has seen the evolution of the project her seat on multiple review committees, "It's not that the community doesn't want Hillel, this is just the wrong location."
Still in draft form, Rabkin said the public suggestions collected during the EIR's comment period would be considered. "We received these comments and are working diligently to respond to all the concerns that were brought up. The city is reviewing the responses in its effort to finalize the document," he said. "It has taken an extremely long time and we're eager to have it completed."
Once the EIR is complete, the document will go to the San Diego Planning Commission and San Diego City Council for the required Site Development Permit. It is unknown when the project would break ground, but Rabkin said it would be, "as soon as possible and as soon as we get the permits and complete the (fundraising) campaign."
---
Get the La Jolla Light weekly in your inbox
News, features and sports about La Jolla, every Thursday for free
You may occasionally receive promotional content from the La Jolla Light.