'Fallen Star' film coming to ArcLight-La Jolla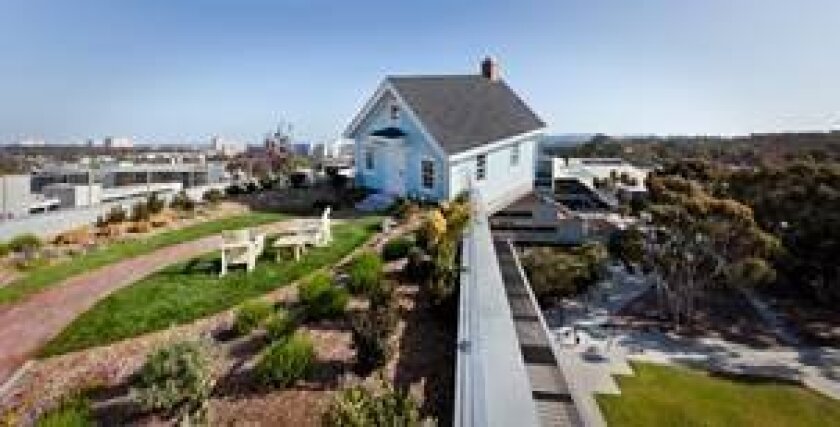 How many people does it take to hoist a 70,000-pound artwork onto a seventh-story rooftop? A 50-minute film about Do Ho Suh's "Fallen Star," the small house perched Wizard-of-Oz-like on the roof-edge of UCSD's School of Engineering, will let you see for yourself May 5 when it's screened at ArcLight Cinemas-La Jolla.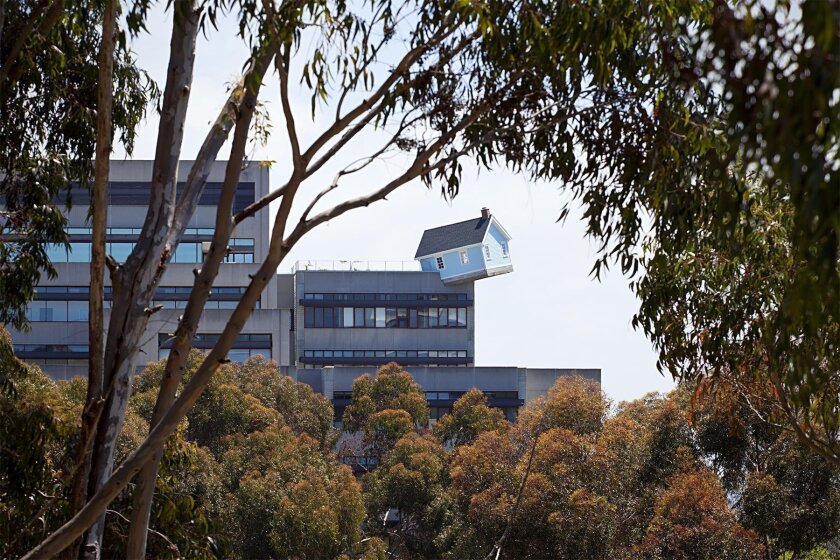 "Fallen Star: Finding Home," co-directed by Vera Brunner-Sung and Valerie Stadler, is about the combined efforts that took the 18th piece in the university's Stuart Collection from conception and construction at ground-level to its designated spot at a nerve-wracking hundred-foot height. It's a story of creative collaboration, a coming together of inventive engineering and commitment to art, warmed by the feelings people have for the idea of home.
Suh, the Korean-born artist, is the film's executive producer. In 2007, he submitted two proposals to the Stuart Collection, which commissions contemporary, site-specific sculptures for the campus. He thought his less-complicated "Secret Garden" was more likely to be chosen, and was surprised when the choice was "Fallen Star."
His experience of disorientation when he first came to this country inspired the piece, which he envisioned as a homey cottage crashed into a tall, institutional building. But UCSD students, many of whom could relate to the experience, were more enraged by the expense of the project — a million-dollar house that no one could live in at a time of heavy cutbacks on campus — than engaged by its artistry. Their comments, and candid interviews with the collaborators, especially construction supervisor Don Franken, who had no real feeling for art, give added dimension to the documentary.
At the UCSD premiere on April 5, the directors said they found the film's arc in Franken's gradual shift of opinion, as he came to acknowledge the overwhelmingly positive reactions people had — and continue to have — to the piece he helped raise.
In November, 2011, once construction was completed, with everything built to code so the off-kilter cottage could withstand high winds, severe rainstorms and earthquakes, it was time for the house-hoisting. Suh had contacted Brunner-Sung, a filmmaker whose work, like his own, is concerned with the definition of home, and asked her to film the event. Sung brought Stadler, an L.A. director-producer, onboard, and the film, a first collaboration for the two that included a crew of 35, turned into a joyful five-year process.
"There's been a tremendous amount of good will and joy around the project," Stadler said. "People are enchanted by Do Ho's piece and were excited to be part of the film. It's been a great experience."
The film's future journeys are still in the planning stages, but you can share the excitement now at the ArcLight screening.
IF YOU GO: Try the Do Ho Suh Trifecta:
•See "Fallen Star: Finding Home" at ArcLight Cinemas, 4425 La Jolla Village Drive, 7 p.m. Thursday, May 5, (858) 454-3541.
•Visit "Fallen Star," on the 7th floor of the Jacobs School of Engineering, open to visitors 11 a.m. to 2 p.m. Tuesdays and Thursdays. Ask a docent to identify the baby pictures and share other fun facts about the off-kilter cottage. (858) 534-2117.
•View Do Ho Suh's solo exhibition, including "Secret Garden" and "New York Apartment," at MCASD-downtown through July 4. (858) 454-3541.
About the Stuart Collection: The Stuart Collection, wholly funded by individual donors and foundations, began in 1981 with a $1.5 million dollar gift from an art-loving Rancho Santa Fe businessman, James Stuart DeSilva. Thanks to Mary Looker, a longtime Friend of the Stuart Collection, it now has a million-dollar endowment.
Mary Beebe, director of the Stuart Collection from its beginnings, said of the artworks: "This is not about decorating the campus, it's about providing experiences for people to think about." Formerly director of the Portland Center for Visual Arts, she is the heart of the Collection. Although decisions are made by an advisory board of art professionals, and finally, the university chancellor, Beebe finds the artists, helps with their proposals, runs them by the board, and does the all-important fundraising.
She and project manager Mathieu Gregoire, whom she brought here from Portland, are both featured in "Fallen Star: Finding Home."
Gregoire, an artist himself, offered his definition of the Stuart Collection: "This is a place where artists can take chances, come up with an idea and not have to think about how to build it. That's our job." He favors artworks "that were initiated by one individual yet realized by the work of many." This was certainly the case with "Fallen Star." —L B. Hewitt
---
Get the La Jolla Light weekly in your inbox
News, features and sports about La Jolla, every Thursday for free
You may occasionally receive promotional content from the La Jolla Light.