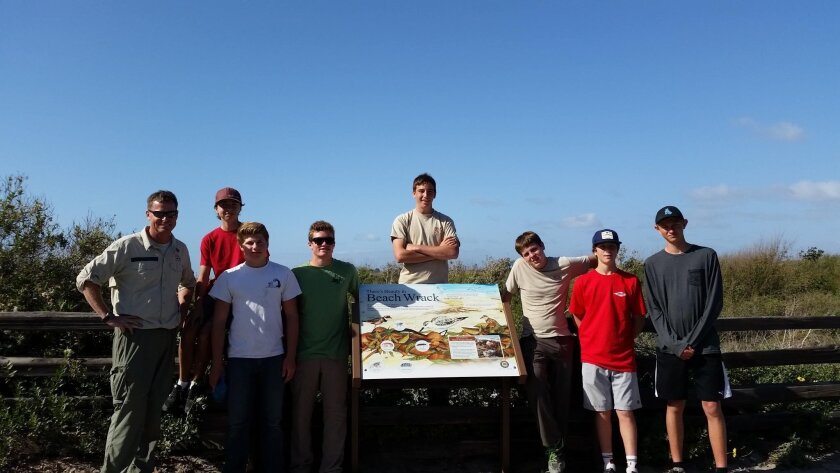 The first day that Christophe Naviaux and Boy Scout Troop 506 went to install informational signs at San Elijo and South Carlsbad State Beaches for his Eagle Scout project, they had it pretty rough. "We had two places to be, and one sign was about 5 miles from the other, so by noon we had to have everything packed so that we could go to the next sign," Naviaux said.
It took them four hours to install each sign on Saturday, March 12, but by the next and last day of the project, they had gotten better at it. "The second day we finished around 3 p.m., so it took us three-and-a-half hours for the two signs," he said.
Naviaux's Eagle Scout project consisted of the installation of four signs at the state beaches containing information about local fauna and waste management. The project benefactors were the park rangers, who already had the signs and only needed someone to install them. "They were able to get all the permits there for me," Naviaux said.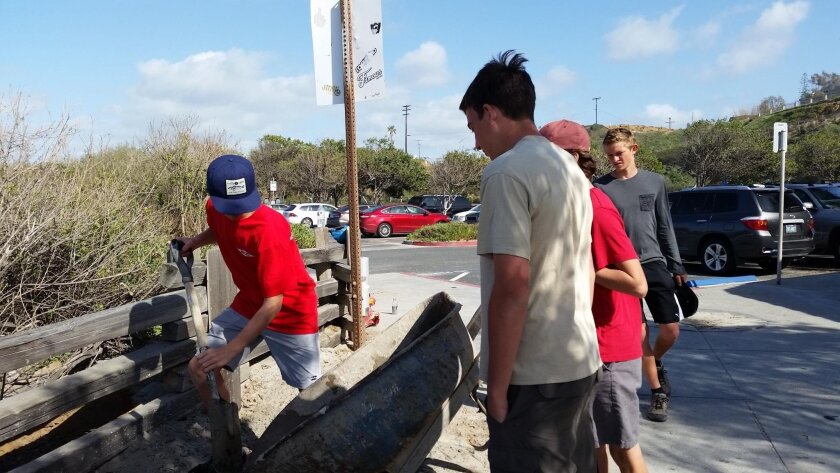 He explained that the project was "a way for me to tell people at the beach how things they do in their daily lives affect the beach they want to go to." The signs described animals that live in the kelp that washes out onshore, local birds, and how "when you wash down trash on your lawn goes in your gutters, onto the beach and eventually to the ocean," he said.
The 16-year old, who will be a junior at La Jolla High this year, has been a member of the Boy Scout Troop 506 (chartered by La Jolla United Methodist Church) since age 11. Most of his troop volunteered to help him finish his project, which he started in November.
"I learned how long it takes to plan something that seems pretty simple, and also about leadership and being in command over a large group of people and making sure that they stay on time. Keeping a bunch of teenagers focused on a task isn't always super easy," Naviaux explained. "By talking with the volunteers' parents I realized I had to have answers for questions I hadn't thought of. I hadn't thought about shade structures that we needed because we were going to be at the beach all day, and I hadn't thought about transportation and how we were going to get around."
Fortunately for Naviaux, he had the help of parents who provided transportation and Troop 506, which lent him shade structures. He got further assistance from John Stojic of Classic Craft Construction, a contractor who has collaborated on 30 different Eagle Scout projects. "Mr. Stojic was able to help us with the exact measurements and getting the proper materials," Naviaux said. "He also helped build the wooden structures that kept the sign pole straight while the concrete was drying.
"Initially, we surveyed the area to make sure everything was measured. For the first hole, we used an auger we rented to make the holes quick and easy. Once we got that, we put the concrete around it, and while the concrete was drying, the structures we built held the poles up straight, and then we put the signs on and screwed them in."
He said one of the lessons he learned was the importance of using the proper materials for each situation. "Because the beach area is really moist, the first concrete I bought wasn't going to dry quickly. I had to return that concrete and buy a quick-drying concrete."
Naviaux's Eagle Scout assignment was to plan the project out and get volunteers to develop it. His leadership kicked-in when he anticipated the needs of others. "I brought treats for each of (the volunteers) to eat, so I think most of the kids were having fun supporting their community."
---