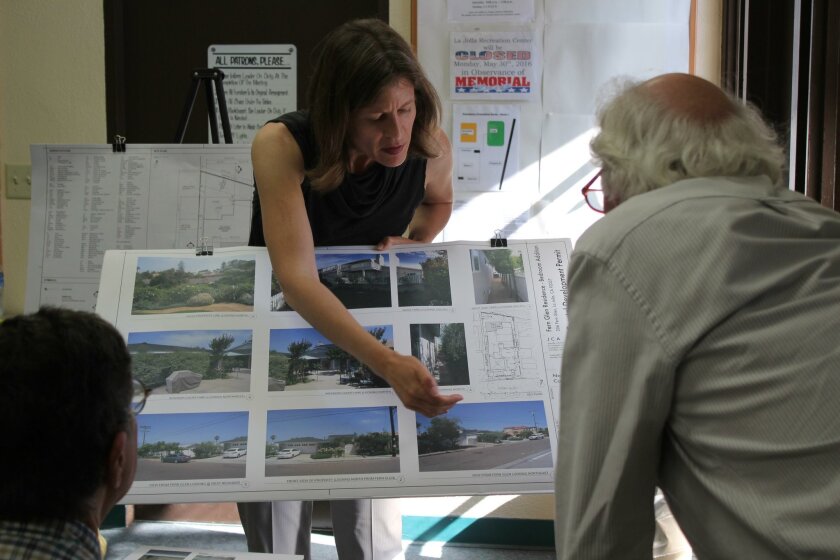 A project to build a two-room second-story addition on an existing first floor at 306 Fern Glen St. was approved by the La Jolla Development Permit Review committee (DPR) and sent to La Jolla Community Planning Association (CPA) during the May 10 meeting at the Rec Center.
The only project on the agenda was recommended for approval in its first review, which only happens once or twice a year, said DPR chair Paul Benton.
Project architect Jennifer Charles said she was prepared to satisfy all boardmembers' concerns, as she brought out a collection of photographs, construction plans and street views. The single family dwelling would add another 425 feet to its 3,962-square-foot space, she said. The house features a second story with a deck, an open family room and a bathroom. The project would extend that second floor all the way across the existing first story, to house extended family.
The 1962 original building already had two stories, and an expansion carried out in 1987 added some of the downstairs space. The 0.18-acre site is three blocks from the ocean.
Board members checked to ensure all project parameters complied with the La Jolla Community Plan. Charles assured them, "We're keeping the same painted shingles, same roof and also the same painted stucco. The homeowners love the look of this house so the addition is meant to fit in and use the same materials."
In response to trustees' concerns about the impact of the expansion on the neighbors, she said the homeowners had talked to all the neighbors within 350 feet "door to door."
"They have made their rounds," Charles said as she provided the board with a list with names and addresses of the contacted neighbors.
Still, board member Mike Costello pressed the question, "There only seems to be the one thing outstanding and that's neighborhood character. If it wasn't for the fact that this home is so close to the ocean where we've had some controversy in the past, I would make the motion that we make this final and let you go, but caution and prudence tells me we shouldn't."
In response to his question, Charles showed a sequence of maps and street views that revealed how the views would change slightly. She insisted that no neighbor would loose ocean view.
That argument seemed to satisfy the board. Jim Ragsdale presented the motion that the committee vote to approve the project on the spot. "With the additional information, it shows the character of the area. I don't recall having other issues with this one (project)," he said.
After that, only trustee Matthew Welsh was leery of giving his OK. "I'm skeptical to vote on something that we haven't gone to the site (to see)," he said.
Eventually, the vote to approve was unanimous and the project was sent to LJCPA with a recommendation for further approval.
— DPR meets 4 p.m. second and third Tuesdays at La Jolla Rec Center, 615 Prospect St. lajollacpa.org
---