In Your Dreams
A year ago La Jolla High School alumna Bonnie Tarwater stood in front of a huge orange, black and white snake that had taken over an entire community center. The animal bit her index finger, and it wouldn't let go. Then, she woke up.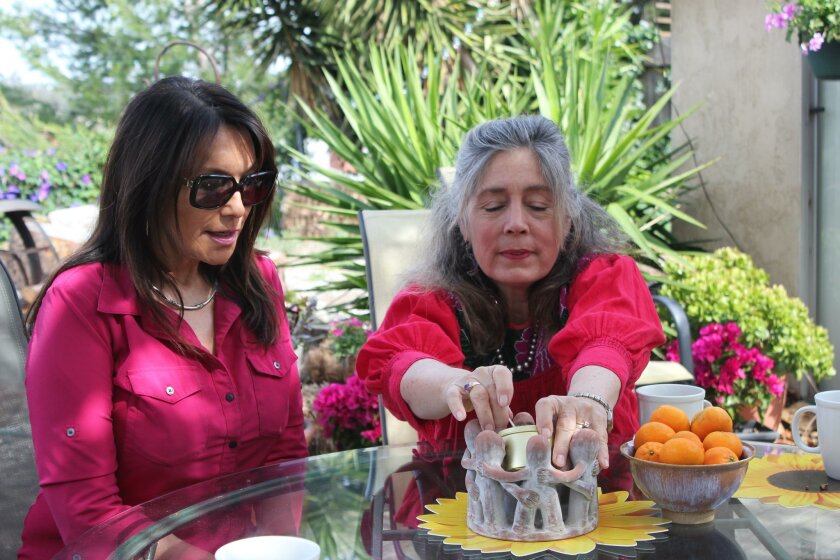 Her interpretation of that dream pushed her into a new adventure: leading dream-sharing groups in San Diego.
"The index finger has to do with authority," said Tarwater. "I was bitten by the fact that I was to be a teacher and lead worship, study groups and meditation."
On May 7, Tarwater and Deborah Waitley (another La Jolla High alumna), will host a first-of-its-kind conference in La Jolla, "The Dreaming World: Creating Local and Global Dream Communities," 8:30 a.m. to 5 p.m. at the Congregational Church of La Jolla, 1216 Cave St. The goal of the event is to create a community of people who honor and share their dreams.
But Tarwater and Waitley are two very different people.
Tarwater is a minister who started out in the most liberal branches of the Protestant Church but ended up rebelling against institutionalization and hierarchy to create her own faith-community, The Church For Our Common Home. She's spiritual, mystical and dreamy.
Waitley has worked in the corporate world for 25 years as a performance consultant and coach. With a Ph.D. in psychology, she is down to earth, fact-driven and practical.
Yet both of them reached the same conclusion along their life journeys: Dreams are healing and powerful, and they want to share their passion with other people.
Although they both graduated from La Jolla High School in 1974, Tarwater said they didn't know each other back then. They met at a class reunion a few years ago and their common interest drew them together in this new enterprise.
As Waitley explained it, "There are a lot of people out there who just do dream analysis or interpretation. This process goes much deeper than that." During their dream-sharing sessions, people verbalize their dreams in very deep detail. Then, the rest of the group asks questions about the dream that will guide the dreamer to realize its inner meaning. "Inner meanings relate to challenges you might be having in your life and may give you some specific revelation or actions to take that can better yourself, lead to deeper personal growth," she said.
Added Tarwater, "Dream group is we drink tea and we share dreams."
image1-c
A Bit of History
Dream theory in psychology started with Sigmund Freud in the second half of the 19th century. However, humans have wondered about their dreams since ancient ages.
"This is an ancient spiritual practice whose time has come back," said Tarwater. "The indigenous people of the world have known intuitively that dreams are divine as they come in the deepest part of the god within us."
Some branches of modern psychology have challenged the Freud-based idea that dreams are initiated in the unconscious. From a neuropsychological point of view, dreams are a reflection of things that happen in everyday life. The La Jolla Light contacted Tim Rickard, a Psychology of Sleep professor at UCSD, for a second opinion on the topic.
"Theory says (dreams) are not really driven necessarily by unconscious sexual aggressive impulses, they may have some emotional content, but they are not necessarily an expression of the unconscious in any systematical way," Rickard said.
Waitley doesn't agree with this notion. "There are a number of theories out there that say dreams are basically a brain damp of things that you have gone through during the day and there's no inner meaning to them," she said. "But dreams live in part of you that's not in your conscious awareness. That's why most people, when they wake up, immediately forget their dreams because they go back to that realm that you don't have access to."
Can dreams save the planet?
The May 7 conference will include a Stephen Aizenstat workshop. Aizenstat is an international authority in dream theory. He's the founder of Pacifica Graduate Institute, an accredited university near Santa Barbara that cover the fields of clinical psychology, counseling, mythological studies and the humanities.
Aizenstat's dream theories go even deeper. He believes that by studying the meaning of our dreams and the symbols in them, we can save the planet. "Many of us have this feeling that the Earth has always been speaking to us in our dreams," Tarwater said.
The night of May 6, Aizenstat will lead a dream incubation ceremony with a bonfire and a sing-along from 5:30 to 8:30 p.m. at La Jolla Shores beach.
Waitley said she believes that La Jolla is the perfect place for a dreaming community to flourish. "La Jolla has so much physical beauty, it's all around us, we tend to think that's enough in our lives," she said, encouraging La Jollans to attend the conference because "our dreams are jewels that can illuminate bring this tremendous amount of beauty and illumination to our lives."
▪
IF YOU GO: The Dreaming World: Creating Local and Global Dream Communities, conference is 8:30 a.m. to 5 p.m. at the Congregational Church of La Jolla, 1216 Cave St. Tickets at asdreams.org/regionals/ are $85 for members of the International Association for the Study of Dreams (AISD), $95 non-members, student members $60 and student non-members $70.
---
Get the La Jolla Light weekly in your inbox
News, features and sports about La Jolla, every Thursday for free
You may occasionally receive promotional content from the La Jolla Light.