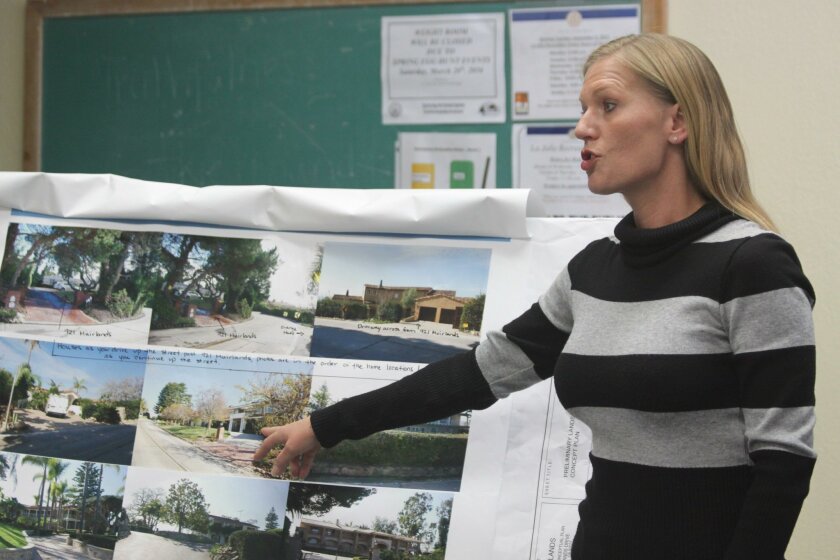 Two home build projects, representing two different styles, came before La Jolla's Development Permit Review Committee (DPR) this month. One, a Hamptons-style home for Muirlands Drive, was approved unanimously. The other, a modern-style home for Sea Ridge Drive, will require additional presentations before garnering approval.
After a courtesy presentation in January and preliminary presentation in February, the Zephyr Project (demolish an existing residence for the construction of a new 8,885 square foot, two-story residence with attached garage and a 703-square-foot guesthouse at 921 Muirlands Drive) was approved unanimously during DPR's March 8 meeting at La Jolla Rec Center.
At previous presentations, discussion of how the beach-house-meets-barn Hamptons-style house might fit in with surrounding homes ensued. Of the architectural style, DPR member Brian Will said, "I feel like this committee doesn't see much that isn't modern or Mediterranean and there is more to La Jolla than that, so this has been nice to see."
After answering committee questions, project representative Mandy Miller presented photos of surrounding homes along the street, and a photo of the existing home to compare with a rendering of the home planned. In the rendering, most of the house is shielded by an existing hedge that runs along the street. "We plan to keep the bushes to keep the feel that already exists on Muirlands Drive," Miller said.
Robert Mapes added that he appreciated the design so much, he almost lamented it would be hidden behind a hedge.
'Not ready for primetime'
Introduced at the March 8 meeting, a home build project for 311 Sea Ridge Drive was presented during the March 15 meeting. The DPR board determined the project was not ready for a vote, citing issues with the Floor-Area Ratio (FAR) and color scheme.
Project applicant Tyler Jones, of the Las Vegas-based Blue Heron architecture firm, plans to demolish a single dwelling unit and construct a 7,388 square-foot single dwelling unit, including subterranean basement and roof deck. The project incorporates a roof-mounted photovoltaic system consisting of solar panels sufficient to generate at least 50 percent of the projected energy consumption on the 0.17-acre site.
"Our firm is known for sustainable design and energy efficient design, with several of our projects certified as LEED platinum," Jones said. "The design philosophy on this property is simple clean lines, it's about the space and the views. We're not big on ornate decorations and more about simple forms. What's unique about this design is our entry sequence, how we relate the home to the curb. What we're trying to do is connect the home from the street to the ocean (in the form of views).
"The idea is, as you are walking up and down the street, you'll see over low fences and orientations that allow for views from different angles. We spent a lot of time on the design and we're really excited about it, we think it's got great elements that are fresh and new to this area, but are tastefully done and integrate well with the street."
However, at the March 15 meeting, components of the project (the roof deck and basement, which are not included in the FAR), created concerns for DPR member Diane Kane. "What's troubling me is that you are really pushing the FAR to its limit, you are out to the property line with the basement, and though it's not an issue with this project, if you get to do that, someone else is going to come along and push it even further."
Additionally, the roof deck/penthouse is not included in the FAR. It meets the San Diego Municipal Code exemption for a "balcony" because it has two sides open and takes up no more than 10 percent of the roof square footage.
Noted member Angeles Leira, "We don't see many projects that have this, and it becomes prominent in this case because the elevation makes it look like a third level. We focused in on that much more." Project representative Elizabeth Carmichael said even with the roof deck, the project is under the 30-foot height limit.
Added Kane, "This is an exercise in giving us more information on what is not counted in FAR that is creeping into these projects … this is an ongoing discussion in the community. There seems to be a lot of stuff that doesn't get counted."
But a larger issue for the board was the color scheme. Carmichael said the project would have a cream-colored stucco exterior, but the renderings presented a buff, brown color to show how the house would look during sunset.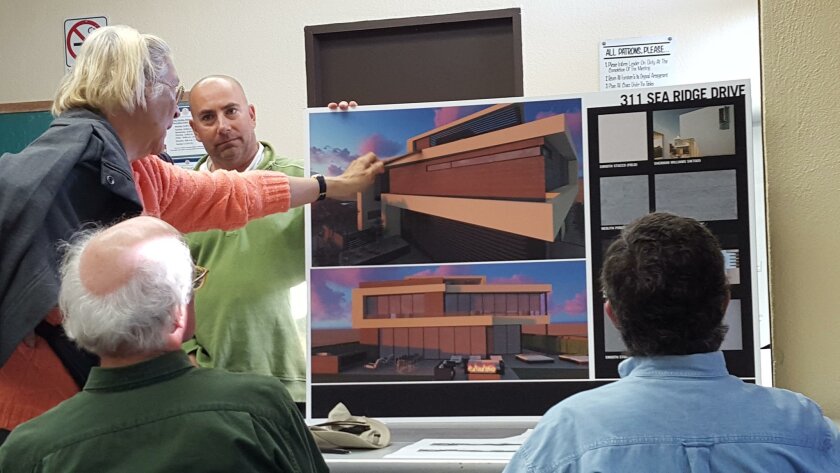 DPR member Mike Costello said, based on conflicting renderings and description, "I'm confused by what color this actually will be. … I wish the rendering was a little more faithful."
Kane noted, "It will look like (how its being presented) for 20 minutes each day during sunset, it's going to look different during the rest of the day. I think you are giving us a rather skewed rendition of what this is going to look like most of the time."
Insisting on the importance of an accurate rendering, Leira said, "Different places have different qualities of light. For example, in the Bay Area, the light is cool so they have the tendency to build in blues and whites and those light colors. In La Jolla, there are a lot of pink-ish buildings here, and the reason is the light is peachy and therefore those pastel colors – yellows, pinks, tans – really light up with our light quality. That's why a lot of traditional buildings have those colors. I like this project, but I wish the color scheme was more in line with La Jolla."
Project representatives agreed to return to a future DPR meeting with addition information, including a new set of renderings.
–DPR meets 4 p.m. second and third Tuesdays at the Rec Center, 615 Prospect St. lajollacpa.org
---