Noting the absence of one District 1 candidate (San Diego City Council President Sherri Lightner's husband, Bruce Lightner), the other four candidates — Barbara Bry, Ray Ellis, Kyle Heiskala and Louis Rodolico stated their positions on a variety of topics in the people-packed community room at La Jolla Village Square on April 27. La Jollans will have the chance to vote for a new City Council representative in the June 7 Primary Election, as current council member Sherri Lightner terms out.
Around 80 people attended the event hosted by the La Jolla Village Community Council, and their many questions about transit and transportation indicated a key issue of this campaign: How to shorten commute times.
Bry, who has been endorsed by the San Diego Democratic Party, said that by using technology, we could get a lot of cars off the road in the next few months. Her strategy would be to encourage employers to subsidize workers who use Lyft and Uber carpool services to commute, and when possible, allow employees to work from home one day out of the week.
Ellis said he's waiting for the SANDAG traffic studies that are due out within the next month before making his recommendations, but in the meantime, he suggested synchronizing traffic lights to make traffic move faster. Ellis has picked up endorsements from the San Diego County Republican Party, the conservative Lincoln Club and the San Diego Regional Chamber of Commerce.
Heiskala, an aide to Council President Lightner, highlighted his experience at City Hall, and proposed extending local public transportation to make it a good alternative for commuters. Heiskala wants to build "bus rapid lanes" that run over or underground and are exclusive to bus transport.
Rodolico was the sole candidate to voice support for the construction of the Regents Road Bridge over Rose Canyon. The project has been contested by environmentalists who want to preserve the canyon as is, and residents who believe an extra north-south artery in one of San Diego's most congested areas will relieve traffic. Bry, Ellis and Heiskala support other alternatives to get cars off the roads and make San Diego more walkable and bikable. Rodolico repeatedly defended his plan, alleging that we need to build roads that "make sense."
Lightner, excused himself from the forum due to a family emergency. The La Jolla Light contacted him post-event to get his take on the transportation issue. Via e-mail, Lightner said he opposes the Regents Road Bridge, adding other ideas to the transit policy debate. "As a City we need to plan for and encourage the coming driverless vehicle revolution and entice companies, like Google, to invest in ultra-fast fiber-based Internet service here in San Diego (to achieve telecommuting jobs)," he wrote.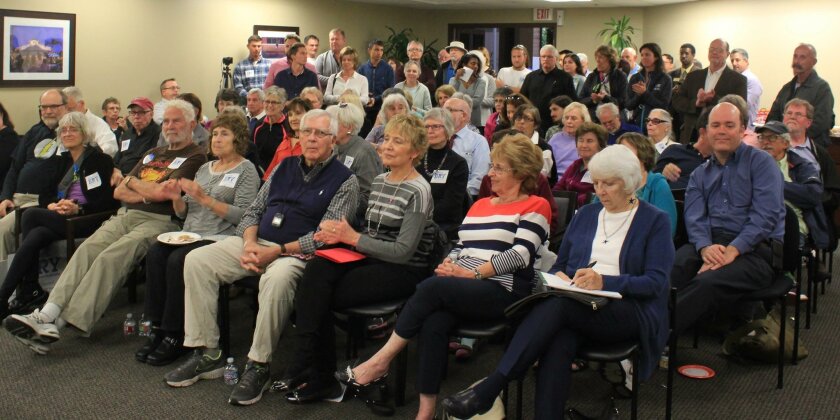 Minimum wage
San Diego's proposal for a minimum wage increase to $11.50 in 2017 (and then tie it to inflation from 2019) will also be on the June 7 ballot. Political analysts called it the No. 1 issue in the District 1 campaign because this elected official could tilt the balance toward a pass or a fail in a City Council vote.
The approval of a statewide minimum wage increase that will put the hourly salary at $15 in 2022 has overshadowed the citywide proposal.
Three of the candidates (Bry, Heiskala and Rodolico) support the extra bump for minimum wage workers at the local level. Bry and Heiskala said the San Diego proposal also increases the number of earned sick days, while Rodolico said, "I would like to see San Diego go its own way."
Bry said increasing the minimum wage will help the homelessness crisis. "This is the least that America's finest city can do for its workers," she said.
Ellis said he would vote "nay" to the measure. "I do not want to make San Diego less competitive," he added.
Fire stations and police officer retention
All the candidates were in favor of building new fire stations in the district and working toward better retention of police officers in San Diego.
Before their closing statements, event host and treasurer of the La Jolla Village Community Council, Janay Kruger, reminded the audience, "One of these four people is going to be the most important person to the community for the next four years."
District One includes the communities of Carmel Valley, Del Mar Heights, Del Mar Mesa, Pacific Highlands Ranch, La Jolla and Bird Rock, Rose Canyon, lower San Dieguito River Valley, Sorrento Hills, Sorrento Valley, Torrey Hills, Torrey Pines, University City and UCSD.
Postscript: In his April 29 column in The San Diego Union-Tribune, journalist and District 1 resident Logan Jenkins, who was at the forum, linked Kruger's "four people" comment to conspiracy theories that Lightner's candidacy (as a registered Republican) is an attempt to split the Republican vote to challenge an Ellis victory over Bry. However, Lightner rebuffed the thought, telling Jenkins he does not like candidate forums because they generate little or no interest. "You're not going to change anyone's mind," Jenkins reports Lightner said, "in hot, stuffy rooms." (Read the column online at https://bit.ly/1NXZGbU)
To put questions before the candidates for the District 1 City Council seat, you can attend the following free community events:
▪
Monday, May 9: La Jolla Community Center presents its Distinguished Speaker Series with the candidates, 6-7 p.m. Monday, at 6811 La Jolla Blvd. ljcommunitycenter.org
▪
Wednesday May 18: Congregation Beth Israel Dinner Forum, 6:30-8 p.m. at 9001 Towne Centre Drive. (858) 900-2998. cbisd.org/events
---
• SEE RELATED STORY:
Ray Ellis ahead in fundraising for District 1 San Diego City Council election
www.lajollalight.com/news/2016/may/04/ellis-ahead-district-1-fundraising/
---