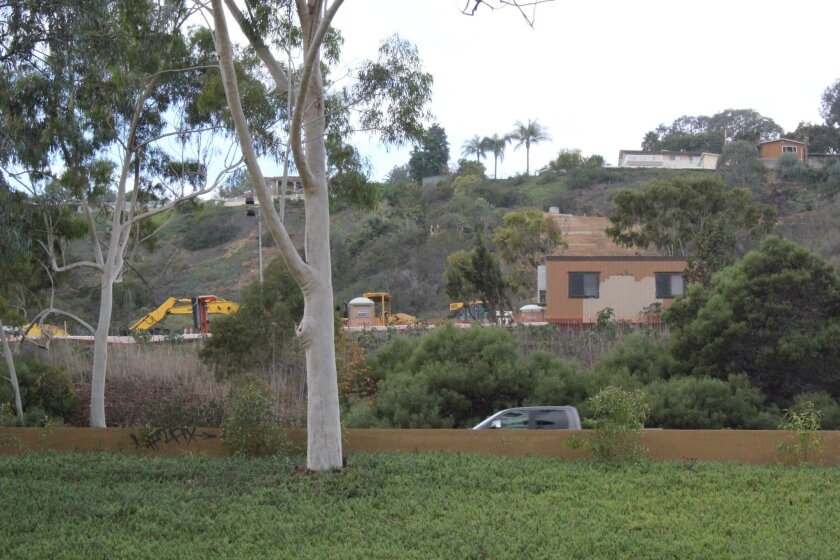 La Jollans traveling along Interstate 5 who have noticed grading and construction work on the hillside west of the freeway and south of the La Jolla Parkway exit need not worry that some unknown development is being erected, according to the City of San Diego Public Works Department.
What some La Jollans have noticed, and called in to La Jolla Light asking questions about, is the city's Desert View Drive Storm Drain Outfall Repair project. The work was deemed necessary because the canyon area below the storm drain outfall pipe had eroded.
Monica Munoz, a spokesperson for the Public Works Department said the city's current building standards don't allow for the installation of an outfall "without having measures at the end of the pipe that slow the flow of storm water and deter erosion."
The installation of such end-pipe measures requires the heavy equipment locals have noticed. The project extended the length of the 24-inch storm drain pipe further down into the canyon. Munoz said the project was not prompted by any specific threat to the hillside or Desert View Drive, such as a landslide, but was undertaken as a maintenance measure upon notice of the erosion at the outfall.
The project, which will cost about $5 million when complete, began in July and is expected to be finished at the end of this year.
"We will then have a four-month plant establishment period followed by three to four years of plant maintenance and monitoring," she said. "This is not a new storm drain system. It's an extension of the 24-inch pipe that is connected to a storm drain system that has been in place for many years."
---