La Jolla Planners swears in new board, debates projects
La Jolla's Community Planning Association (LJCPA) swore in new and re-elected trustees during its April 7 meeting at La Jolla Rec Center. Among its first actions as a newly formed board, the planners elected new officers to serve for the next year, discussed a proposed mixed-use project in Bird Rock and heard from residents concerned about the bulk and scale of a Muirlands project.
To formalize the election of the new trustees, San Diego City Council President Sherri Lightner presided over the oath of office.
"I want to start by thanking all the trustees — current, former and newly elected — for all the hard work and time you put into serving your community," she said. "It is an important role you play with the planning process here in San Diego."
After the new members were sworn in, Cindy Greatrex was re-elected president, Helen Boyden (who termed out as secretary) was elected first vice-president, Bob Steck was voted second vice-president and Janie Emerson was elected treasurer. No secretary was elected and the item will be readdressed next month.
On the agenda for full presentation and vote were the mixed-use project for Bird Rock, located at 5656 La Jolla Blvd., and a Spec House planned for 921 Muirlands Drive.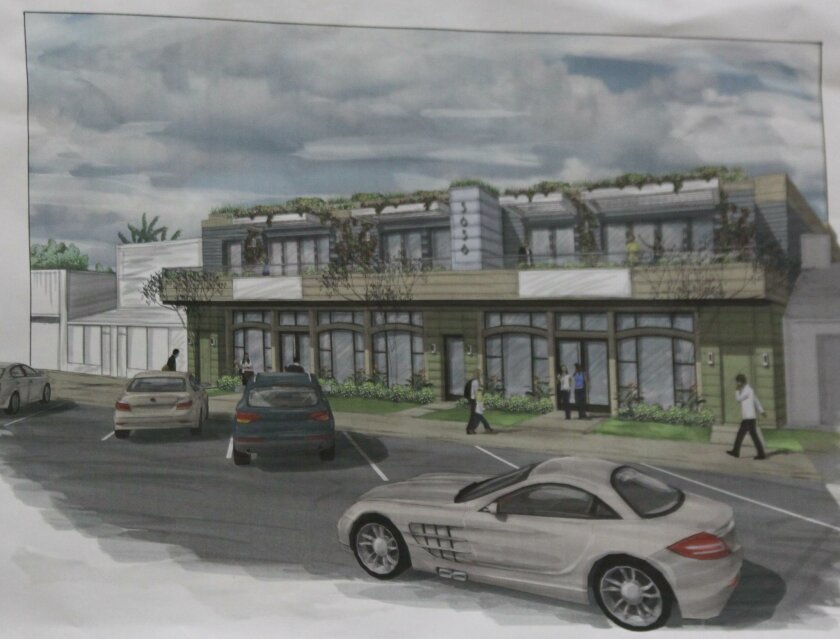 Bird Rock mixed-use project: After garnering approval from La Jolla's Development Permit Review (DPR) committee, a LJCPA sub-committee, applicant Claude-Anthony Marengo sought from LJCPA a Coastal Development Permit and Site Development Permit for the demolition of two existing commercial buildings and the construction of a two-story, 11,433 square-foot mixed-use building with four residential units and two ground floor retail spaces at 5652-5656 La Jolla Blvd.
LJCPA trustee David Little, who called the DPR committee "primarily code checkers," said although the project is two stories, it does not meet the intention of the so-called two-story law, which is to keep buildings small. "The idea was that if you limited new development in La Jolla to two stories, you would get smaller buildings and we wouldn't look like a big, overbuilt city," he said. Then Little questioned the 12-foot ceiling height of the retail ground floor and the nine-foot ceiling height for the upper residential units. "Just because you can do something, doesn't mean you should," he said.
However, Marengo said the project has been presented to several sub-committees and area advisory groups, and that the project meets all applicable building regulations, such as Floor-Area Ratio, setbacks, height limit, parking and more. "There are limitations, and they are there for a reason," he said. "You can't place a line that we can build to, then criticize us for building to that line. Who judges how close to the line we can get?"
Marengo added the 12-foot ground-floor height would attract larger retailers that are particular to higher ceilings to accommodate air conditioning and other features. The market has also reportedly shown that people prefer taller ceilings in residential areas, which is why his project has a higher roof. "We are a product of the economy and the people that are searching for design in development," he said. "We're not doing this just because we feel like it."
A motion to support the project passed, 12-3-1.
Muirlands Spec House: Residents opposed to a project to build a Spec House (short for Speculative House, where the developers do not actually live in the home) at 921 Muirlands Drive came out of the woodwork to discuss the house's proposed bulk and scale. The project applicants, Zephyr Partners, requested a Coastal Development Permit to demolish an existing residence for the construction of a new 8,885 square-foot, two-story residence with attached garage and a 703 square-foot guesthouse on a 30,056 square-foot lot.
Although La Jolla's DPR committee approved the project, LJCPA voted to send it back to them for further discussion.
After neighbors who charged the house would be two or even three times the size of their homes spoke, Zephyr Partners representative Mike Lake said the Muirlands neighborhood has different sub-developments. "Sometimes you'll have areas of 10,000 square-foot lots next to 20,000 square-foot lots. That's what's going on here," he said.
Nevertheless, nearby residents John Dyer and Ruben Islas expressed concern over the size of the house, and the outreach done ahead of the LJCPA meeting.
Dyer, who has lived in La Jolla since 1997, said he did not know the project was underway until story poles, which mark a project's height at various points on the property, went up near his yard. "I had no idea what was going on until those poles went up, and the concern among the neighbors is that this property appears to be about five times the size of area homes," he said.
Lake said neighbors were notified about the project by mail, but not all said they received the notice. One of them was Ruben Islas, who said the project will be "right in my backyard," and that he was unaware of it until just before the CPA meeting. "These architects have designed an amazing McMansion. It's going to be humongous," Islas said.
Lake said he would work with neighbors to assuage all concerns, but Islas said he was extremely worried about privacy and the view of a large house so close to his property. He added that had he known that DPR was discussing the item, he would have stated his opposition sooner.
Faulting the required notification system, CPA trustee Ray Weiss said somewhere in the process, something went wrong. "It might have been the fault of the city or someone not reading their mail, but it's a big deal. The fact that it is a Spec House makes it a bigger deal because the people who build it won't have to live there and deal with the neighbors. The incentive they have to compromise is less than what would have been there if the builders were living in the house."
Added trustee Little, "The most progress we make is when the neighbors and the developers take the time to negotiate and come to something reasonable. I think that's the path this needs to take."
LJCPA voted to send the project back to DPR, 13-1-2
---
Get the La Jolla Light weekly in your inbox
News, features and sports about La Jolla, every Thursday for free
You may occasionally receive promotional content from the La Jolla Light.