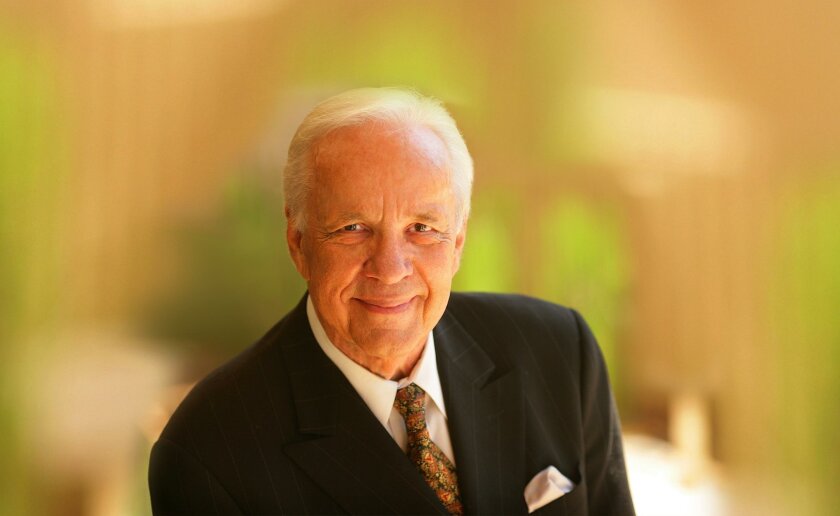 Noted philanthropist Conrad Prebys, whose name graces everything from medical facilities and music centers in La Jolla, died July 24 at Scripps Mercy Hospital San Diego at age 82 following a battle with cancer.
His family requested privacy, but issued the following statement: "It is with great sadness that we announce the passing of San Diego philanthropist Conrad Prebys. … Born with a giving spirit, Conrad's deep generosity has helped strengthen and enrich the community in many important ways, including health care, medical research, music, theater, youth services, and wildlife preservation. Survivors include life partner Debbie Turner."
In his lifetime, Prebys contributed capital and operating gifts to La Jolla organizations such as La Jolla Music Society, for the establishment of The Conrad Prebys Performing Arts Center; UC San Diego Music Department; Scripps Memorial Hospital La Jolla; the Salk Institute; and Sanford Burnham Prebys Medical Discovery Institute.
In the greater San Diego area, he contributed to the Boys and Girls Clubs of East County, the San Diego Zoo, the San Diego Opera, The Old Globe Theatre, Scripps Mercy Hospital, and San Diego Hospice.
La Jolla Music Society President & Artistic Director Kristin Lancino said, "The impact of his generosity on San Diego and to growing and preserving the arts is immeasurable. As we break ground later this summer on a performing arts center that will bear his name, we could not be more humbled, proud and honored to know that his legacy will live on in The Conrad Prebys Performing Arts Center. We know that The Conrad will bring endless joy through music and performances to San Diego for generations to come." The facility is set to open in 2018 and include a 500-seat concert hall, a 150-seat cabaret/multi-use space, new offices for La Jolla Music Society, rehearsal rooms and a large open courtyard.
Prebys' contributions to Scripps Memorial Hospital La Jolla include the largest donation in the health system's history: $45 million in 2011 to build the Prebys Cardiovascular Institute.
In a statement, the Scripps Health said, "The entire Scripps Health family is deeply saddened by the loss of Conrad Prebys. It's impossible to overstate the important role that he played in supporting our organization and the entire San Diego region. … Conrad Prebys was more than a generous Scripps supporter — he was our patient and our friend. We were all touched by his kindness, his enthusiasm for life and his deep humanity."
The namesake for UC San Diego's music center, Prebys gave $6 million to build the facility in 2007. UC San Diego Chancellor Pradeep Khosla said, "I am deeply saddened to learn of the passing of Conrad Prebys, a dear friend and a steadfast supporter of UC San Diego for many years. Conrad touched so many lives through his generosity and kindness, and has left a lasting impact on our campus, our community and our world. We will miss him immensely and cherish his legacy. From his support that created the Conrad Prebys Music Center at UC San Diego to his philanthropic gifts that benefited health sciences and many other fields and organizations, he improved the quality of life of our campus and community members and forever changed the landscape of San Diego."
At the Sanford Burnham Prebys Medical Discovery Center (to which Prebys' name was added in July 2015 after he donated $100 million), several staffers expressed condolences. "Conrad was an extraordinarily generous man and we are privileged to have been a recipient of his thoughtful and giving spirit, which touched all parts of San Diego," said Perry Nisen, CEO. "His most recent gift to our Institute will help fulfill his belief in Sanford Burnham Prebys and his commitment to medical discoveries for future generations," added Kristiina Vuori, President. "We've lost a great friend of our Institute."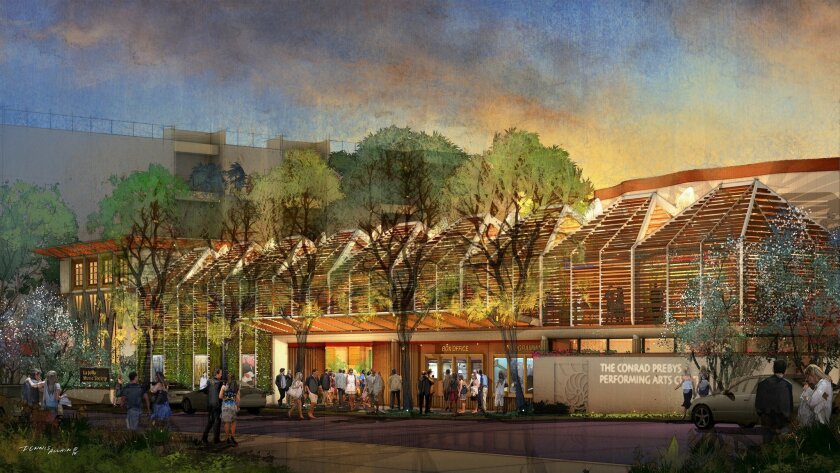 ---