Concours d'Elegance returns April 8-10 at Scripps Park
For this year's La Jolla Concours d'Elegance, April 8-10 at Scripps Park, organizers are focusing on the concept of partnerships. The 12th annual car show will expand its beneficiaries program in a collaboration with San Diego organizations, and has joined forces with area car clubs to bring new and exciting models to the world-renowned, three-day exhibition.
Event chair Michael Dorvillier reports that for the first time, the event has partnered with local organizations that will receive a portion of ticket sales (based on promo codes). Of the 13 organizations offering promo codes four are based in La Jolla (see below): La Jolla Parks & Beaches advisory group, La Jolla Village Merchants Association, La Jolla Historical Society and UC San Diego Moores Cancer Center. Each organization receives $10 back for every code used. The codes are good for $5 off general admission tickets and $20 off VIP tickets."It's our first year doing this, and I think it will be successful," he said. These groups join the Monarch School and La Jolla Historical Society as event beneficiaries.
"Each year the La Jolla Concours d'Elegance raises funds from the event that help our two non-profits, the La Jolla Historical Society and the Monarch School. All proceeds from the event go to these two incredible organizations so they can continue to fulfill their mission," Dorvillier said. "The La Jolla Historical Society is a champion for the La Jolla heritage by discovering, collecting and preserving the community's historical documentation, artifacts, sites and structures. The Monarch School provides an accredited education to homeless and at-risk children, while also caring for their basics needs such as healthcare, food, clothing and personal hygiene. It is with much gratitude and thanks to all of our amazing entrants, sponsors, vendors and supporters that each year they help us raise crucial funds for these two incredible non-profits."
Another partnership new this year is with some of San Diego's car clubs, which have committed to bringing approximately 15 cars each. They are: Rolls Royce Owners Club San Diego, Ferrari Owners Club San Diego, Alfa Romeo Owners Club San Diego and Inland Empire Jaguar Club.
In total, more than 300 cars will line the park and adjoining streets.
While testing the waters on some new ideas, the signature events that have become crowd favorites are back again this year. Tickets for individual events or a weekend package can be purchased at lajollaconcours.com/tickets and all events take place as Scripps Park, unless otherwise noted.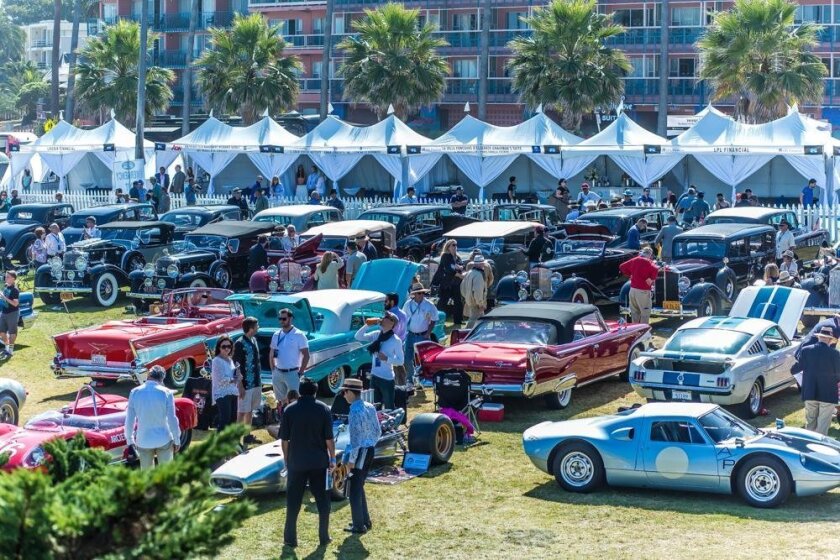 The Rolls-Royce Motor Car Contemporary Classic Cocktail Party will kick off the weekend, 7 p.m. Friday, April 8. According to press material, guests will be escorted into the private event through the showcase of Rolls-Royce Motor Cars on display flanking the extravagant entrance. Once inside the exclusive party, culinary bites will excite the palates of all attendees, especially the foodies. $150 per person.
The La Jolla Tour d'Elegance, 7:30 a.m. to 3:30 p.m. Saturday, April 9, gives a driver and one passenger a rare opportunity to see one of the most incredible collections of automobiles, as well as a view of some spectacular military artifacts, each with a personal story behind them. The Tour d'Elegance will travel through some of San Diego's most scenic highways to take a private behind-the-scenes tour of the USS Midway. The tour wraps up with a gourmet lunch reception and awards ceremony held in Coronado with emcee and special guest Keith Martin, Publisher of Sports Car Market. $195 per car.
The exclusive Aston Martin San Diego Saturday Evening VIP Reception, is set for 6 p.m. Saturday, April 9 on the bluffs of La Jolla Cove at the Ellen Browning Scripps Park. This red carpet soiree will transform the blank space into a magical venue filled with exquisite Aston Martins, incredible food from a multitude of San Diego's top restaurants and live entertainment. $200 per person.
The main event, La Jolla Concours d'Elegance and La Jolla Motor Car Classic at the Concours, 9 a.m. to 4 p.m. Sunday, April 10, will feature spectacular vehicles situated along the Pacific Ocean and include vendor offerings. General admission tickets include two tastings from the wine and craft beer garden and a commemorative program.
Children under age 14 may attend for free. VIP tickets include the above general admission benefits plus the following: a signed poster from the La Jolla Concours d'Elegance official artist Scott Jacobs, complimentary lunch with hosted wines, craft beers and cocktails. $50 in advance, $60 day of, $150 VIP admission.
Don't want to miss out on a single thing? The Ultimate VIP Package includes passes to the Rolls-Royce Motor Cars Contemporary Classic Cocktail Party, the Aston Martin San Diego Exclusive Saturday Evening VIP Reception, and VIP admission to the La Jolla Concours d'Elegance at $375 per person.
When purchasing tickets online, buyers will have the option to use a promo code and receive $5 off the ticket price ($20 off VIP tickets), and each organization will receive $10.
▪
For La Jolla Village Merchants Association, use promo code LJVMA
▪
For La Jolla Parks & Beaches, use promo code: ParksandBeaches
▪
For La Jolla Historical Society, use promo code: LJHS16
▪
For UC San Diego Moores Cancer Center, use promo code: UCSDMCC
▪
Website: lajollaconcours.com
••• La Jolla Light POLL:
---
Get the La Jolla Light weekly in your inbox
News, features and sports about La Jolla, every Thursday for free
You may occasionally receive promotional content from the La Jolla Light.