Strumming Right Along: La Jolla Community Center to offer ukulele classes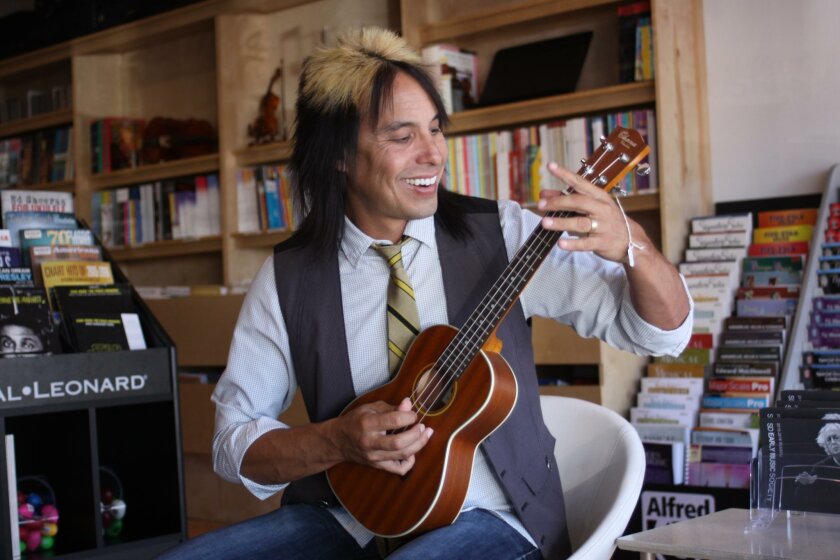 There's just something about a ukulele that makes people smile.
Ukuleles are cute, sometimes brightly colored, and invoke a sense of relaxation and fun. To boot, they are lightweight, have soft strings that are easy to pick, and are simple to learn to play — all of which makes them a perfect instrument for the latest class series at La Jolla Community Center.
Sponsored by La Jolla Music, the monthly ukulele program will be taught by Classic/Flamenco guitarist James Clarkston at 10:45 a.m. starting Friday, April 8 (with registration required by April 2), at 6811 La Jolla Blvd. The nine-month series costs $80 for members, $90 for non-members.
"We've had ukulele classes (on and off) for the last year and the classes were well received," said Community Center director Nancy Walters. "Members have expressed an interest in learning to play the ukulele for many reasons — so they can teach their grandkids or simply reintroduce themselves to the challenge of learning to play the instrument. Anytime I can introduce a program at the center that is not only brain stimulating, but fun and nostalgic, I'm gonna do it!"
Each month, students will learn — at a "very informal, very forgiving" pace, said Clarkston — songs with a particular theme: Jimmy Buffet tunes in May, Patriotic songs in June, Children's melodies to play with grandkids in October, and Holiday hits in November. Monthly music books and ukuleles will be provided with registration.
"The class is meant to be leisurely and the ukulele is pretty straight-forward, not really involved like a guitar or piano. You can learn chords pretty easily and play some songs," Clarkston said. "We're going to start at ground zero, with lessons in holding it, tuning it, strumming it ... simple stuff ... then we are going to grow from there."
A ukulele has four strings, instead of the six found on a guitar, and uses finger placement and strumming to produce common, simple chords (tested by this musically illiterate reporter, who was taught to play "Row, Row, Row Your Boat").
A classic rock enthusiast originally inspired by the band KISS, Clarkston said he finds the ukulele to be "so expressive," but easy going at the same time. He said while operating a guitar shop in Texas with his wife, Mel, he began experimenting with a ukulele to see if there was more to it than simple strumming.
"I thought, wouldn't it be cool to take some classic rock songs and see how they sound. I toyed with 'Jumpin' Jack Flash' by The Rolling Stones and 'Light My Fire' by The Doors. The more I did that, the more I liked it. I realized there was more to it than just strumming, that you could pick a melody."
David Woo, owner of La Jolla Music, connected Clarkston to the Community Center when it came time to bring back the classes. "I used to sit on the Community Center board a couple of years back," he said. "There was a group ukulele class at that time, but then the teacher had other things come up and it fell off the radar." After a recent conversation with board member Glen Rasmussen, the idea was revived, and Woo said La Jolla Music will donate some ukuleles for those who do not have one.
Particularly excited to offer the class to the Community Center's older members, Woo added, "There have been an incredible number of studies that have shown that playing an instrument helps strengthen the brain and one's mental processes to help keep the brain active, young and vibrant. So it's an ideal class for the community center and its membership."
— To register for the ukulele course, call (858) 459-0831 or visit ljcommunitycenter.org
---
Get the La Jolla Light weekly in your inbox
News, features and sports about La Jolla, every Thursday for free
You may occasionally receive promotional content from the La Jolla Light.