Sculpture or Structure? City tells local artist to take down installation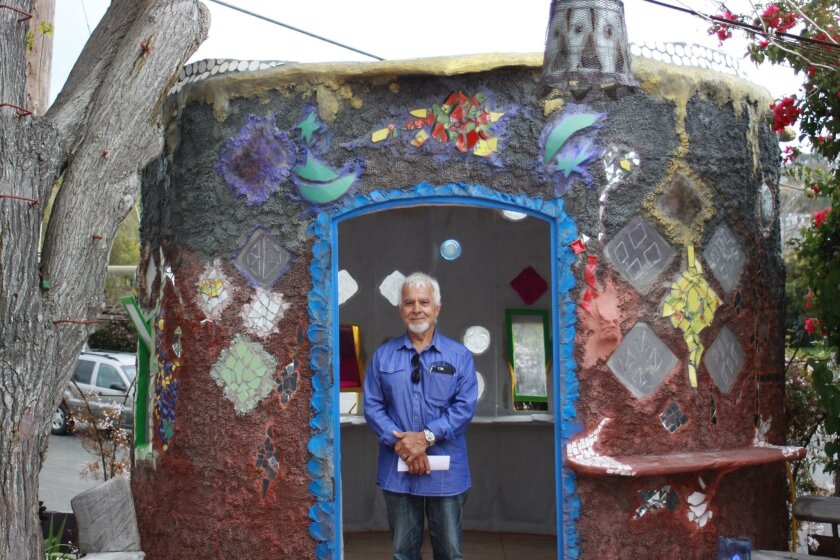 If you've driven down Nautilus Street any time in the last year, odds are you've seen the work by sculptor and La Jolla resident Nasser Pirasteh. His front yard at 6706 Avenida Manana is home to more than 50 sculptures, ranging from pocket-sized to ones larger than a person. But one piece in particular has the City of San Diego asking whether it is just another artistic sculpture or an illegal structure.
The 10-foot dome-like piece with artistic components on the interior and exterior (the exterior is visible from the street) is tall enough for more than one person to enter and sit inside the installation. There are also windows to provide and indoor/outdoor effect. As such, it has raised the concern of neighbors – and the City of San Diego, so much so that the city has issued a notice to the Pirasteh indicating the piece must be removed.
According to a statement issued by San Diego Development Services Code Enforcement, "A Civil Penalty Notice and Order (notice) was issued on March 8, 2016 for an unpermitted accessory structure constructed in the front yard. The residential development regulations prohibit structures (as defined in the San Diego Municipal Code) to be constructed within the front yard setback area. The Notice requires the removal of the structure from the front yard by May 7, 2016."
Pirasteh faces fines of up to $2,500 per day, per violation, should he fail to comply.
The San Diego Municipal Code defines a "structure" as "an edifice or building of any kind or any construction built up or composed of parts joined together in some definite manner including a wall, fence, pier, post, sign, or shelter." Further, an "accessory structure" means "a structure attached to or detached from a primary structure located on the same premises that is customarily incidental and subordinate to the primary structure or use. The term accessory structure includes accessory buildings."
However, Pirasteh is unconvinced what he has built constitutes a "structure" or "accessory structure," and said he plans to appeal the city's request.
He told La Jolla Light, "In my opinion, the definition of sculpture and the definition of a structure need to be looked at fairly. When it comes to structures, they have all the rights, rules and regulations, but … this is a sculpture."
Of its encapsulating nature, he added, "Sometimes we hug a sculpture, sometimes the sculpture hugs us. I feel like the city is not giving me anything to make the city beautiful, but they are ready to punish me and that's unfair. I am a public artist, we do things to make the area more beautiful."
Although a neighbor generated the complaint to the city, several other neighbors have rallied to Pirasteh's side.
John Humphrey, who lives in La Jolla part time, said the installation gave him an emotional response as only art can. "I was jogging and there are about a mile of houses between where I'm living and here, and this house is the only thing I've ever responded to emotionally. It stopped me in my tracks," he said. "What is here provides a certain beauty that you don't see in most neighborhoods. For someone like me who is from the Midwest, La Jolla's beauty brings up a lot of emotions. When you add something like this, it's a whole other component that I would hope the Village would build off of."
Added friend and neighbor Nile Elwardani, "I grew up in La Jolla and it's always been an artistic community … from a pragmatic standpoint, I don't see how he is breaking the law. (The piece is) on his privately owned property, it's not tall … and it's one of many sculptures in the front yard. I'm sitting on a sculpture that doubles as a bench, does that make it a structure? There is a tree house, does that make it a structure?"
She opined, "Art has become something that you are not supposed to touch, and that's why people don't relate to art anymore. They have to keep an arm's distance away from it. They can't interact with it, so it doesn't touch them emotionally. It's great to be able to sit in a piece of art or go inside a piece of art."
Agreeing with her, neighbor Ellen Jacobs added, "I would love to see it stay where it is. The entire outside is full of sculptures and he's given us an outdoor gallery. It's so generous and so wonderful. For a city that purports to care about public art to not honor what he has done seems really ridiculous."
Pirasteh said he spent nine months constructing the piece. "I was constantly redrawing and reworking it, so it has been a work in progress for months. The philosophy I have is that when you have an abstract idea in your mind, it can look one way, but once you have it in tangible form, it takes different shapes, so gradually I had to work on it continuously."
Now that it's complete, he said he has no intention of taking it down. He said he has a hearing scheduled to appeal the city's request.
---
Get the La Jolla Light weekly in your inbox
News, features and sports about La Jolla, every Thursday for free
You may occasionally receive promotional content from the La Jolla Light.