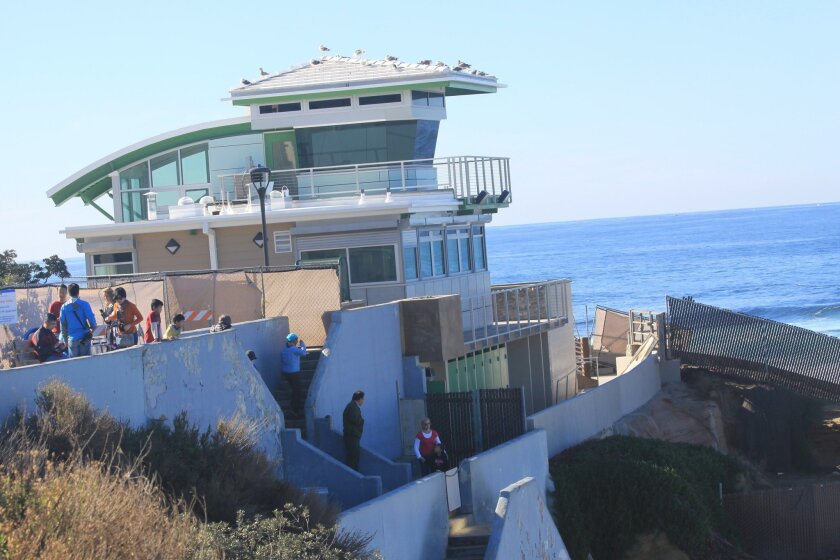 While the site ramp to the middle level of Children's Pool lifeguard tower is open for harbor seal viewing, the rest of the tower will not be finished until the end of the year. With just a short list of tasks to complete — but a cutoff date of Dec. 15 in accordance with harbor seal pupping season — major work on the tower has been suspended to resume in May.
"There are a few items that still need to be completed on the exterior of the building and those items will be addressed after the pupping season is over," said Monica Munoz, senior public information officer for the San Diego Public Works Department, via e-mail. "However, there are items that the contractor is currently working on in the interior of the station, and we anticipate the lifeguard station itself will be substantially completed in the winter of 2016."
These items need to be checked-off before the tower can be opened, she said: Connect electricity to building; start up and test all systems that run on electricity; install telephones, Internet and cable TV; install furnishings, fixtures and equipment; touch up paint; install restroom fixtures; test the new water system; add finishing touches on the handrail installation prior to opening the site ramp to the public; address any items that come up after resident engineer's inspection; perform a final cleanup of the building; demobilize temporary construction facilities provided to the public for the duration of construction (including fence, portable toilets and handwashing station).
Due to the annual harbor seal pupping season moratorium (Dec. 15-May 15), construction activities that might disturb the pregnant and nursing harbor seals that haul-out at Children's Pool must halt. After missing the fall 2015 deadline set this time last year, the intention was to have the exterior completed by Dec. 15 so work could proceed on the interior of the $3.25 million structure during the pupping season, and be finished in May.
Myrna Dayton, deputy director of field engineering with the City of San Diego's Public Works Department, previously told La Jolla Light that work was suspended during the previous two pupping seasons (December 2013 to May 2014 and December 2014 to May 2015), following the previous tower's July 2013 demolition.
A variety of issues caused delays during working months over the last two years. Among them, the project was heavily reliant on material deliveries which lead to crews waiting for these materials to begin work; a discrepancy in the floor elevation was discovered; and a nesting seagull chick was discovered on site, which forced delays until the fledgling could take flight.
The KMA Architecture and Engineering designed lifeguard tower features graffiti-resistant composite panels for the stairwell tower; anodized aluminum railings and window framing; fiber-cement siding with the appearance of redwood; precast concrete and polished concrete blocks; a Bermuda roof atop the observation tower; and energy-efficient, reflective roofing for the rest of the structure.
---