A Joyful Noise: Bodhi Tree concert series kicks off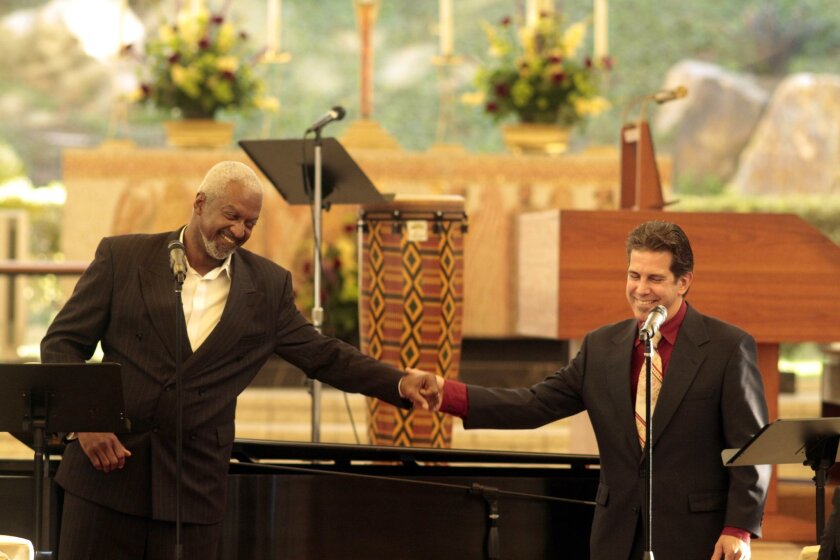 Organizers are planning a festive afternoon of music from local performers to kick off the fifth season of Bodhi Tree concerts and celebrate the best of the last five years, 4 p.m. Sunday, March 6 at St. James By-the-Sea Episcopal Church, 743 Prospect St.
The mission of Bodhi Tree is twofold: 1) solely use local artists to perform an array of concerts in different styles and genres, to reach as broad a public as possible and 2) have a charitable cause for each concert, which is unique to each show. Over the years, the concerts have raised more than $10,000 for local charities, said Walter DuMelle who co-founded the series with his wife, Diana. "What we do is small, but if we get together and do good work in small ways, that spreads and it becomes bigger.
"This is our fifth anniversary season and we are opening it with a look back on some of our most popular performers over the years, calling it 'The Best of Bodhi Tree. It will be an eclectic program of French Cabaret music, spirituals, gospel, musical theater and opera – performed in a fun, celebratory way."
The Best of Bodhi Tree performers include opera singer Laura Bueno, gospel singer Michael Morgan, accordionist Mark Danisovszky, pianists Janie Prim and Bryan Verhoye.
Bueno, no stranger to the Bodhi Tree concerts, said she appreciates the opportunity to perform her favorite works and sometimes introduce them to audiences. "People who are opera fans will recognize some of the arias and musical theater pieces, but people who aren't (opera fans) will hear lighter operatic works."
For the March 6 concert, she will sing two duets and three solos, with "an outdoor café feel," thanks, in part, to the accordionist who will accompany some of the singers. "It's going to be relaxed and very pleasant afternoon of music people aren't familiar with," she said. "I love that we are allowed to do these wonderful pieces, so when I was asked to be in this concert, I jumped at the chance."
While performers for this show were selected for their popularity with concertgoers of the past, the process of picking the performers has evolved over the years.
"Diana and I moved to San Diego from New York in 2008, after Diana got a full-time job at the Lyric Opera of San Diego. It was one of those perfect little companies that hired local artists and did great work, but that company closed in 2010," DuMelle said. "So when the Lyric Opera went away, there was a void in the performing community. We got to know so many talented artists and we were all looking for a performance vehicle that also made us feel good about what we were doing. In the beginning, we'd go to colleagues we knew and trusted, but then as our season went along and word got out, we started getting artists soliciting us and we'd audition them. We work hard to also find those little niche performers the public might not be aware of."
They soon learned that each new artist had his or her own musical circles, which provided a bigger talent pool. For example, when it came to casting for a French Cabaret concert two years, the DuMelles did not know any French singers, but had a French accordionist ready. "Our accordionist knew a great singer, so we followed her recommendation and she became a wonderful addition to our cadre of artists."
As with all Bodhi Tree concerts over the last five years, "The Best of Bodhi Tree" performance will benefit a San Diego charity, in this case, the Free Flight Bird Sanctuary in Del Mar. DuMelle will also bring back one of the first beneficiaries, Mama's Kitchen, who will have bins on site for a food drive. "We found that it resonated with everyone to have a variety of music and these charities to partner with ... it's a great melding for our – hopefully – growing public," DuMelle said.
Over the years, he added, "We've had 20 concerts and 20 charitable partners that have the chance to share what they do – everything from Mama's Kitchen to Knots for Love (which makes hats for cancer patients), and larger ones such as the Foundation for Women, which has international reach and a local chapter."
To give as much as possible to these charities, Bodhi Tree organizers are selective in their choice of venue. As assistant to the rector for St. James by-the-Sea, DuMelle said the concerts started there, and that it made sense for the fifth season kickoff to be there as well. "But we've also established relationships with other partners in the community that have offered us their space – such as the Cuvier Club and All Souls Church in Point Loma."
There are two other concerts in the 2016 season:
▪ June 11: Bodhi Tree will present the San Diego premiere of "Brundibar," a Holocaust-era opera performed by children, 7 p.m. at Qualcomm Hall, 5775 Morehouse Drive. In addition to the show, Auschwitz survivor Edith Egar will speak at the event. She was a child during the Holocaust, and survived by dancing and providing entertainment.
"She has a powerful story about the human spirit to tell and then the children will come on stage and perform this intense children's opera," DuMelle said. Three or four schools, including La Jolla Country Day School, are slated to participate. Proceeds benefit Jewish Family Services.
▪ Sept. 25: Bodhi Tree will present "The Gondoliers," a Gilbert & Sullivan operetta, 4 p.m. at All Soul's Church, 1475 Catalina Blvd., Point Loma. "In addition to the concert, there will be a sing-along portion for the audience. We sell cheap choral books and scores, and people are encouraged to sing with all the chorus numbers ... preferably on key, but we don't really care! It's a joyful noise when you get a full audience singing with performers." Proceeds will benefit the International Rescue Committee.
---
Get the La Jolla Light weekly in your inbox
News, features and sports about La Jolla, every Thursday.
You may occasionally receive promotional content from the La Jolla Light.