A Swimming Carol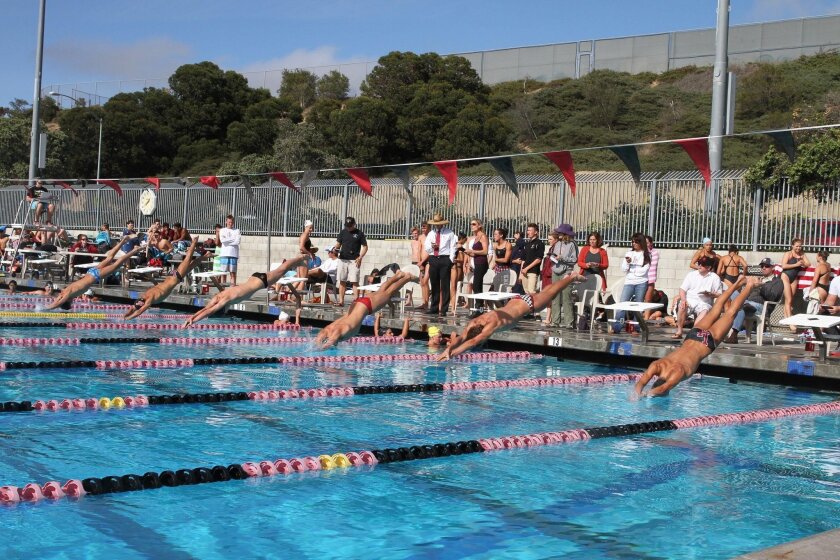 Like a tale straight out of a Charles Dickens novel, Friday's meeting between The Bishop's School and La Jolla High featured glimpses into the present and future of elite San Diego swimming.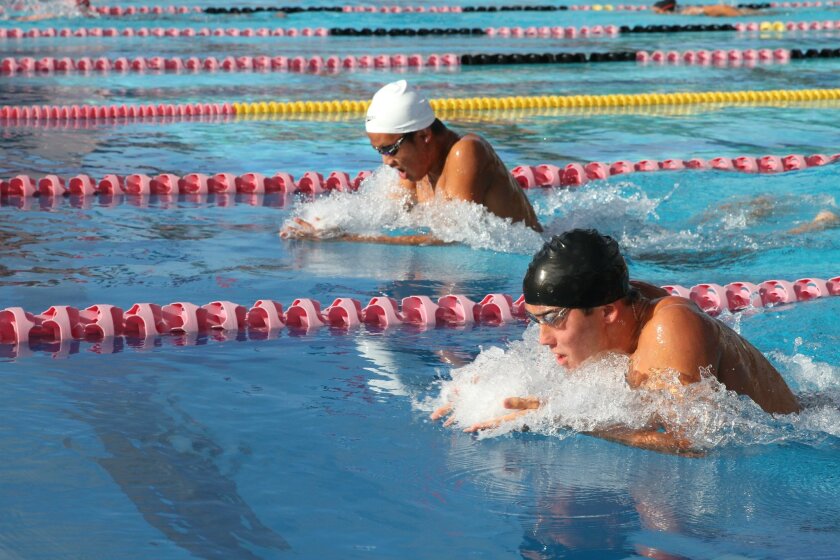 The homestanding La Jolla Vikings represented the present as they captured both the boys and girls contests at Coggan Family Aquatic Complex, while the Bishop's Knights' mix of youth and talent hinted at a bright future.
Within La Jolla's two victories — the boys won 101-72 and the girls cruised to a 120-58 triumph — the two teams delighted the crowd with a few fantastic finishes and a poolful of outstanding individual performances.
The fans got loudest during the 100-yard breaststroke race, where Bishop's freshman Michael Xu edged Vikings junior Parker Seale by a hair, 1:02.44 to 1:02.50.
Xu — who also joined Knights teammates Noah Fales, Phillip Richman and Pierce Dietze to win the 200 freestyle relay in 1:33.32 — got revenge on Seale after the La Jolla standout nipped him 2:04.49 to 2:07.89 in the 200 individual medley event earlier in the afternoon.
In all, the Vikings won five of the nine individual boys races and two of the three relays.
"I was impressed with their breaststroker (Xu) to out-touch Parker there at the end because I thought Parker swam a really good race," said La Jolla coach Tom Atwell. "I was proud of the way we swam. We are always a little bit stronger than (Bishop's) just because we have a little more depth, a few more kids than they do."
Seale teamed with sophomore Johnny Dickerson, junior Dominick Wallace and senior Simon Hirschfield for victories in the 200 medley relay (1:42.78) and the 400 free relay (3:17.75).
Wallace added a pair of individual wins — going 53.86 in the 100 butterfly and 54.49 in the 100 backstroke — while Vikings senior Paul Hedlin took a close 200 free race in 1:48.40 and teammate Jordan Schultz was the day's top diver (222.20).
Dietz, a freshman for the Knights, was victorious in both the 50 (21.95) and 100 free (49.43) races and sophomore William Tian touched first in the 500 free, posting a 4:54.34.
image1-l
"William Tien swam one of his fastest 500 times, he didn't think he could go that fast," said first-year Bishop's boys coach Sean Guthrie, who noted that his team gave a great showing considering they were missing five athletes and swam with just nine.
"I'm excited to look toward city, CIF and the years coming. We have a young team, only a few seniors … and my fastest guys are all freshman and sophomores."
Though the girls competition wasn't as close — La Jolla won all three relays and swept the top three spots in three of its five individual event victories — the 500 free, 100 back, 50 free and 100 breast races provided plenty of excitement.
In the 500 free, a 20-lap marathon, Vikings freshman Leigh Ann Malinger came on strong in the final 100 yards to edge Knights sophomore Klara Chisholm by the slimmest of margins (5:35.10-5:35.39).
A few minutes later, Chisholm notched a victory when she nipped La Jolla's Margaux Kelley, 1:09.43 to 109.98, in the 100 back.
Bishop's freshman Athena Leota got a win for her school in the 50 free, out-touching Viking sophomore Bennett Bugelli at the wall (25.55 to 25.70), before it was Bugelli's turn for a close win, edging Knights junior Skylar Gering, 1:11.63-1:12.95, in the 100 breast.
Gering won the 200 IM (2:20.62) for Bishop's, which saw freshman Leah Parsons take top honors in the diving event with a score of 219.70.
"Sklar Gering did a great job in her 200 IM, finishing strong. She looked really smooth and she was really happy with that performance," said Knights first-year girls coach Kaley Kastrup. "We only have a few seniors, so we want to finish strong this year and then push forward to next year.
"A lot of girls have been sick so it's put damper on us actually scoring points and winning these meets, but the girls have been dropping a lot of time which is great to see."
For the La Jolla girls, Ciara Franke contributed to a pair of relay wins then led 1-2-3 Viking sweeps in two individual events. The junior went 2:00.16 to capture the 200 free, just ahead of teammates Sydney Boland and Malinger, then posted a 55:30 to edge Boland and sophomore Izabella Brazell in the 100 free.
La Jolla sophomore Phoebe Dillard captured the 100 fly (1:04.42) ahead of second-place Viking Hazel Friedman and third-place teammate Chloe Cisneros for another sweep by the hosts. Dillard also contributed on relays, as did senior Lexi Atwell.
"The kids that were supposed to come in first, for the most part, came in first, and I thought our second-tier group actually out-performed what we expected," explained coach Atwell. "So I was really pleased with the results (Friday). It really set us up for city and conference. Coming up on the end of the season, we are looking good.
"I think we have a really good shot at winning the whole thing, on both the boys and girls sides. We really need to keep fine tuning the relays … and (Friday) helped us figure some of that out."
---
Get the La Jolla Light weekly in your inbox
News, features and sports about La Jolla, every Thursday for free
You may occasionally receive promotional content from the La Jolla Light.