Analog machines gaining converts in the digital era
"You simply sit down at the typewriter, open your veins, and bleed."
— Red Smith, sportswriter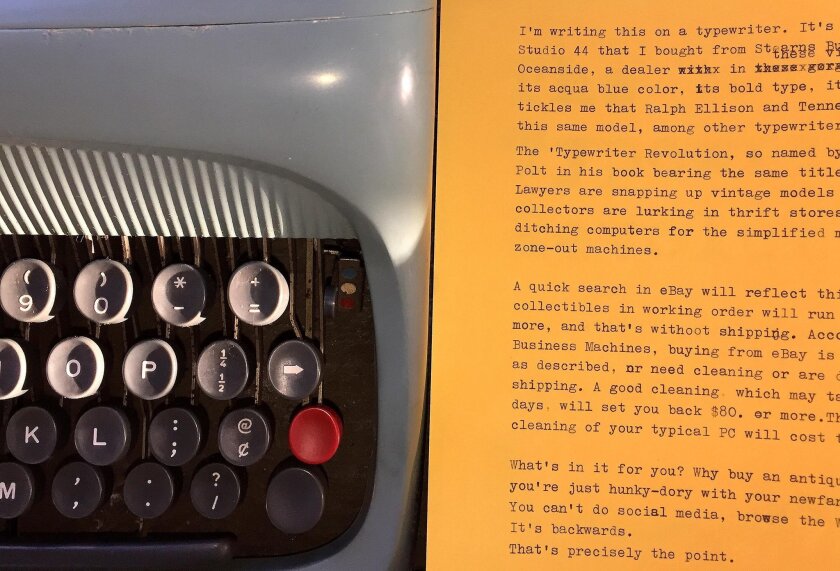 I'm writing this on a typewriter. It's an Underwood-Olivetti Studio 44 that I bought from Stearns Business Machines, a dealer in Oceanside's Vista Way. I love its acqua-blue color, its bold type, its crisp keys. It tickles me that Ralph Ellison and Tennessee Williams used the same model, among other typewriters.
The "Typewriter Revolution," so named by Richard Polt in his fascinating book of the same title, is upon us. Lawyers are snapping them up for display, collectors are lurking in thrift stores and writers are ditching computers for the simplified mechanics of these zone-out machines. Bracelets and earrings made of old typewriter keys have become fashion statements.
"We have lawyers, collectors, writers and poets coming in," says Stearns Business Machines owner Rick Ernst.
The trend has boosted sales. "When Channel 8's Larry Himmel did a story on us several years ago, kids saw it and we had parents coming in for them. We sold six that Christmas," says Stearns. Author Paul Korins's "The Magic Typewriter" narrates a 12-year-old's discovery of typewriters. Stearns's shop is the only storefront typewriter specialist in San Diego and Riverside counties.
Public type-ins, buzzing with typewriter lovers inviting passersby to try out their machines and join the fun, are being held throughout the world. In Santa Cruz, the "Love Letters" event held by Santa Cruz Writes, a grass-roots nonprofit, pairs participants with writers, who type a love letter or poem. In Nebraska, tens of thousands gather annually throughout the state to type valentines that flood local post offices.
An eBay search will reflect this cultural shift. Most collectibles in working order will run you $150 to $200 or more, and that's without shipping.
"I've had so-so experiences with eBay. Most typewriters aren't as described, or need cleaning or are damaged during shipping," says Stearns. Plan on spending $40 or more for a typewriter bought online.
Rick charges $80 or more, depending on condition, for a cleaning, which may take days. Keep in mind that similar work on your typical PC will cost twice as much.
Back to basics
What's in it for you? Why buy a relic when you're just hunky-dory with your newfangled computer? You can't do social media, send e-mails, browse the Web or play games. It's backwards, man.
Precisely.
Web browsing can be a hazard for writers. You write a sentence or two, get stuck and start wandering. You visit Facebook, maybe start Tweeting. You shop at Amazon or eBay, maybe dash off an e-mail or two. You play some poker. Time passes and the writing doesn't get done. Before you know it, it's time for bed. You didn't even get a graph down and you're pooped.
You can't cheat a typewriter: You get it done or not. To my left there's a stack of yellow paper, which Mickey Spillane said enhanced focus, and on my right is a sheet of typed paper. That's what I have to show for three hours' work. Results are easily quantifiable.
Writing tends to get pared down with a typewriter. You're more deliberate with word choice. You learn economy. You kill adjectives. You simplify.
That's not entirely accurate. Typewriters invite a free-flow of words; after all, that's how we got Jack Kerouac's "On the Road." (Kerouac wrote the manuscript on a 120-foot roll of paper. He used an Underwood Portable).
Typing often prompts stream-of-
consciousness writing. Unlike hyper-editing common with computers (writing, rewriting what you just wrote, tweaking it, adding or deleting sentences, shifting paragraphs and so on), typing is about getting the message down and worrying about condensing and cleaning up later.
It's a markedly different approach to writing and editing that requires an adjustment period. For the first weeks, you'll probably be overanalyzing as you type. Relax: edit and tighten later at ease. It may require additional typing, but that's part of the fun.
'Dirty some paper'
When I began my career in journalism in the '80s, a grizzled reporter advised that the only way to overcome writing blocks was to "dirty some paper." He wrote his literary investigative pieces on a typewriter.
Writer's block was why I turned to typewriters again. Or maybe it was laziness.
I'm working on two manuscripts. One is a book of fly-fishing stories; the other, a book of poems about dealing with loss while maturing as a fly-fisher. Both had progressed nicely (I had 12 stories and was closing in on the book of poems) until the rigors of work and the daily three-hour commute undermined my writing schedule.
The manuscripts languished. After a month of attempts, I couldn't even complete the first paragraph of my latest story.
I remembered that while working in Palm Springs, I used to write late at night on an old electric typewriter. I liked the physicality of typing, the staccato of the keys, the bell at the end of the line. It hummed under my fingertips like a live wire.
I bought an Underwood Standard from Stears and, in a moment of weakness, an Underwood Champion from eBay. It's in excellent condition, but as Rick warned, it needed a cleaning. When I returned to the store, I played with the Olivetti. I typed a few sentences, marveling at its crispness. My finances were shaky, but I bought it.
In love, go for broke.
Some typewriters are like that: they fire off your synapses — searing the black holes in your creative recesses. The more I type, the tighter a manuscript gets. It's like stretching a drum's skin.
You're my type
It hasn't been as tidy as that. I still struggle to find time and energy to write (T.S. Eliot said poets need a certain amount of laziness), but find I'm doing more of it since I started using a typewriter.
Part of that may be because I don't have a printer hooked up in the house (I have a brand-new Canon wireless, but I'm still recovering from the hour or so it took me two years ago to set it up over the phone) and have regained my fascination for the printed word in terms of its immediacy in my writing. I like to see my thoughts in Pica type, and I love the messiness of a rough draft wounded by strike-throughs and a fountain pen.
The clack of the keys striking the platen (that's the rubber spindle) makes me want to write more. I even started typing my to-do lists on index cards. Writers like the sound of their machines: Henry James allegedly asked someone to type on his beloved Remington as he lay dying.
Every typewriter has a unique personality. Find the one that jives best with you. I shelved the Underwood Standard after a few days because it's too bulky and sluggish for my tastes. The Olivetti is compact and jaunty. The former is film noir; the latter, Technicolor.
Don't feel bad about buying several machines during your quest for "the one." Compared to a state-of-the-art computer, they're relatively cheap, rarely break down and may boost your creative currency. They may give traction to your book or play, and add a new aesthetic to your creative life.
— E.A. Feliu is a copy editor and page designer at La Jolla Light, and author of a poetry collection, Postcards from the Tattooed Man's Chest.
---
Get the La Jolla Light weekly in your inbox
News, features and sports about La Jolla, every Thursday for free
You may occasionally receive promotional content from the La Jolla Light.