One Step (or Stroke) at a Time: Adult Learn-to-Swim program helps San Diego journalist in La Jolla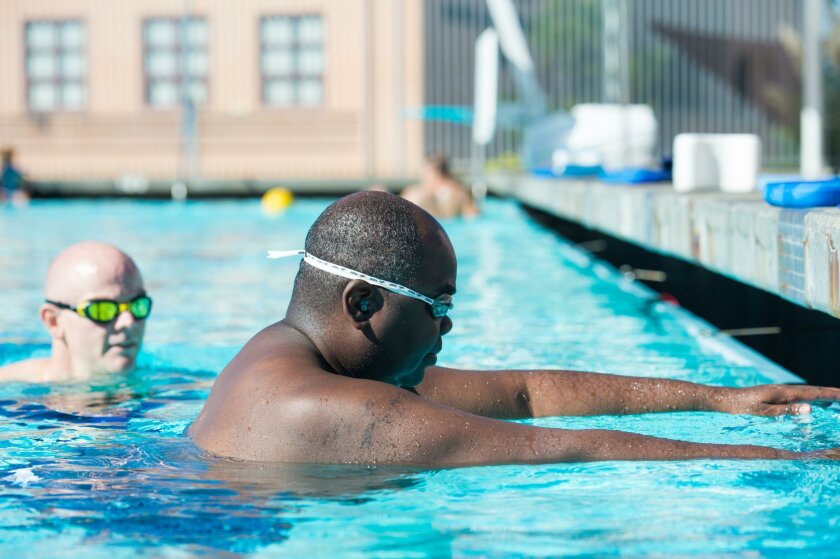 Learning how to swim as an adult has some serious challenges — both for the student and the instructor. First, there's the shock factor when people living in San Diego hear that a grown person doesn't know how to swim. Then there's the over-analyzing adults tend to do when learning something new. And the list goes on ...
But one success story, in honor of Adult Learn-to-Swim Month (April), is 47-year-old Jerry McCormick, who recently learned how to swim at the Coggan Family Aquatic Complex on the La Jolla High School campus.
Now a writer and producer with FOX 5 San Diego, McCormick said he grew up in South Carolina and was never close enough to a pool or other body of water to swim. "I've always wanted to learn … going through life, I never had the opportunity," he said.
When he moved to San Diego nearly 20 years ago, McCormick knew he now had the opportunities, but he still never learned. "What people need to understand is that we all go through life differently. For me, it was about access. Yes, I live in San Diego and the water was right there, but I didn't grow up near the water, so the beach was a place to walk or sit and think for me."
After a brief period of living out of state, McCormick came back to San Diego and decided to execute a "Southern California re-do," he said. At the top of that bucket list of California activities,was learning to swim.
In February, McCormick started taking lessons with instructor Chris Holley at the Coggan Pool. "The hardest part was making the decision to commit to it. The first lesson, I promised myself I would go in with no fear," McCormick said.
Of his early encounters with McCormick, Holley explained, "He was a little apprehensive about first getting into the water, but he slowly went through the steps and finally I watched him go from one end of the pool to the other for the first time. You could see the emotion on his face and I'm honored that I got to be a part of that."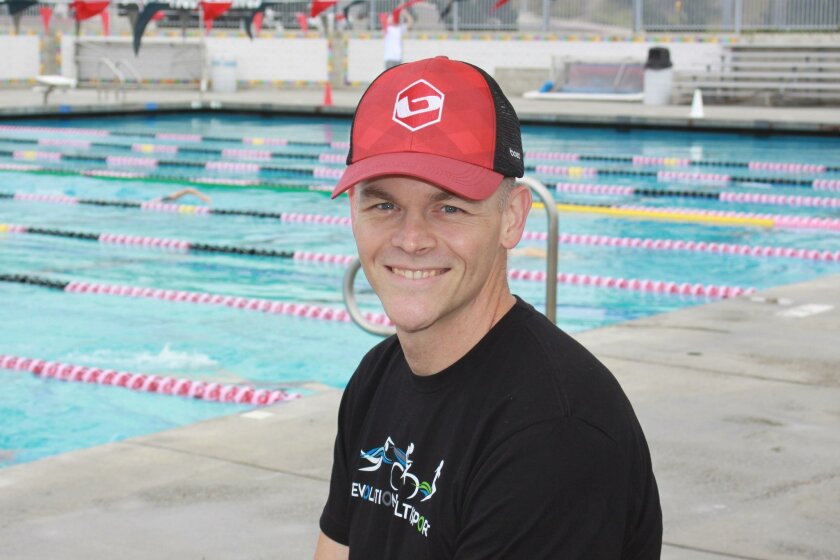 Contrary to McCormick, Holley grew up near the lakes of Minnesota, and has been swimming since he was 5. "I was also a swimmer in high school and college. After I graduated, I let my swimming, and my fitness, fall to the wayside," he said. "At one point, I tipped the scales at 400 pounds. When I decided to get healthy, swimming was something I knew how to do. And unlike running, it was easy on my joints. So I used swimming to get back in shape."
Wanting to give back for all that swimming has done for him, Holley decided to get certified in teaching adults. He would like to establish Coggan Pool as an Adult Learn-to-Swim site with time slots just for older learners.
"Most swim instructors teach kids, who are fearless and don't over-analyze everything; some don't know how to handle the unique challenges that come with teaching an adult," he said. "Adults have different fears and it takes more patience."
For example, when an instructor tells children they have to stroke their arms and kick their legs, "they kind of go for it," Holley said. "Adults start to think about how what they're doing looks like compared those around them. With adults, we have to break down the lessons to focus on one thing at a time, so they can develop that one thing and not get overwhelmed."
Breaking it down, step by step, Holley said the very first step is to get into a pool. And it has to be a pool. "Many people think swimming in a pool is boring, but it's crucial to start learning in a pool to build these skills because of the security that comes with it. When you're in a pool, you can look down and see the bottom and if you get tired, you can just stand up."
From there, he instructs on the five basic safety skills as guided by the American Red Cross: Be able to jump in the water, tread water for 60 seconds, turn around in the water, find an exit and exit the pool.
These skills are considered lifesaving in the event that someone who doesn't know how to swim or has less than strong skills finds themselves in a body of water. More than once, Holley said, he's heard of a vacationer relaxing poolside, when someone pushes them into a pool (assuming they know how to swim) or slipping and falling into a body of water. Not to mention the many people he's met who come from circumstances like McCormick's — to San Diego as an adult who never learned to swim.
Swimmers who eventually transition to open water not only have to face the changing conditions not found in a pool, but the mental stresses, as well. "We ask ourselves, 'what if I get tired,' 'what if I can't see the bottom,' 'what just touched my foot?' Panic can set in. Ocean swimmers have to build confidence first in a pool," Holley said.
Although slowly building confidence, McCormick said he is not quite strong enough for open water, but he would like to be soon. "Once I get more time in the pool, I may tread out in the ocean and see how it feels ... I want to get out there and eventually learn how to surf," he said.
With the support of those around him, and working with "a great teacher," in Holley, McCormick recommends other non-swimmers face their fears and try something new.
"Don't let fear stop you – you are never too old to learn," he said. "If I can do it, anyone can do it. It was terrifying for me, so if I can take this fear and, pardon the expression, swim with it, anyone can."
—If interested in learning to swim, visit usms.org or to reach Holley visit evolutionmultisport.com
---
Get the La Jolla Light weekly in your inbox
News, features and sports about La Jolla, every Thursday for free
You may occasionally receive promotional content from the La Jolla Light.