'WindanSea Farms' pop-up shops on the way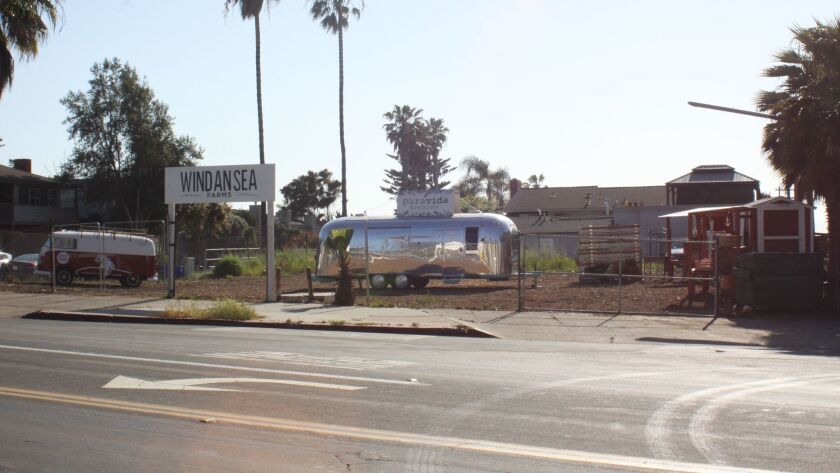 The vacant lot at 6710 La Jolla Blvd. at Gravilla Street, which provides a place for pumpkins in the fall and holiday trees in the winter, has a new tenant — a pop-up shopping space for multiple businesses. The lot will still house the seasonal offerings, but until then, it will be home to Everyday California surf apparel, Pura Vida bracelets and accessories, and fresh organic produce.
Dubbed WindanSea Farms, the collaborative is slated to open April 29. Ahead of the opening, a Volkswagen bus from Everyday California and an airstream trailer from Pura Vida have parked there, and a farm stand is being set up.
Griffin Thall, CEO and co-owner of Pura Vida, said he is a friend of the pumpkin patch and Christmas tree operator, who rents the lot for the whole year, but only uses it during the applicable months. "I asked my friend if, during the down months, I could put a pop-up shop there. He said I could, but it had to be on wheels (due to permitting limitations)," Thall said. "We wanted something cool that matched our brand, so we researched airstream trailers and found one on Craigslist, gutted it, and made it like a functional retail store."
The "store" will sell Pura Vida bracelets and other accessories, as well as shirts and sweatshirts. "A lot of people are familiar with our brand through social media, but we wanted to offer a different shopping experience and way to extend that personal connection," Thall added.
As the idea developed, Thall said, other businesses got on board. One of them was Everyday California surf apparel.
Chris Lynch, owner of Everyday California, said, "We wanted to bring a fun, unique shopping experience, and because it's San Diego, one could be outside all year round. We wanted something in the sun where people can come and hang out, shop and learn more about the brands available here," he said.
The Everyday California van will serve as a display for surf-inspired apparel for men, women and children, and a place to sign up for the outdoor recreation activities offered by the La Jolla Shores-based business. The van was supposed to be a display at the 2261 Avenida De La Playa brick-and-mortar in La Jolla Shores, but it was too tall and disrupted the line of sight for shoppers.
"We were using the van for other events and street fairs, but when we realized we had the opportunity to use it at WinandSea Farms, we decided to build some shelving on the inside for storing apparel," Lynch said.
Once the "farm" is established, other vendors, such as a coffee cart and/or a flower shop, might post there. When the holidays arrive, Thall said, the lot would likely be reconfigured to accommodate the pumpkin patch and holiday trees.
Hours are 11 a.m. to 7 p.m. Monday-Friday and 10 a.m. to 7 p.m. weekends, but Lynch said they might change to reflect customer traffic. Learn more at windanseafarms.com
---
Get the La Jolla Light weekly in your inbox
News, features and sports about La Jolla, every Thursday for free
You may occasionally receive promotional content from the La Jolla Light.