City Planning Commission OKs La Jolla 'Su Casa' project: New retail/condo complex poised for La Jolla Blvd.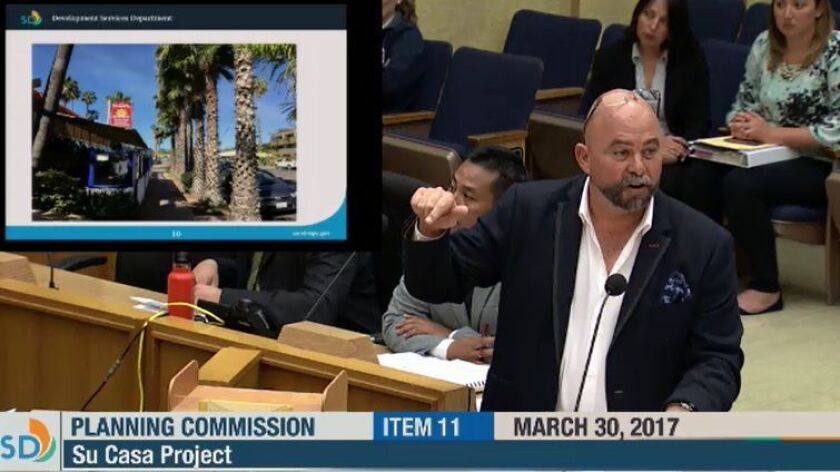 Plans for the Su Casa project — to demolish the existing restaurant and adjoining residential building on La Jolla Boulevard — were approved by the San Diego Planning Commission April 27 after two hearings. Project applicant, Claude-Anthony Marengo of Marengo-Morton Architects, said the next step is to proceed to the City Council for final approval.
The plans call for tearing down Su Casa restaurant at 6738 La Jolla Blvd. along with the two-story residential building at 350 Playa Del Sur, and constructing in their place, three buildings totaling 28,884 square feet: one, three-story building with six, two-bedroom units; one, two-story building with six, two-bedroom units; and a two-story mixed-use building with four, one-bedroom units and 3,000 square feet of retail space, and a 18,639-square-foot basement garage with 37 underground parking spaces.
Locally, the project made the rounds to community advisory groups in 2015 and 2016. It was discussed and approved by the La Jolla Development Permit Review committee in December, 2015, and then by the La Jolla Community Planning Association at its January, 2016 meeting.
The project was heard by the Planning Commission at its March 30 meeting, and the presentation took more than an hour. Without color renderings or a digital presentation, Commissioner Douglas Austin said there wasn't enough project information provided. Other issues included the driveway placement and street trees.
It was heard a second time at the Planning Commission's April 27 meeting, when the board ultimately voted to recommend approval to the San Diego City Council. At the April meeting, Austin said he was "happy" with the newer renderings and breadth of presentation.
Addressing Commissioner concerns, Marengo was asked to justify the driveway configuration, which feeds to and from La Jolla Boulevard (rather than the surrounding one-way streets) into the underground garage. At previous meetings, Marengo said the driveway was placed there to minimize impacts to the residential streets. "There is already a center lane painted down the middle of La Jolla Boulevard, which is wide and very visible, to allow for traffic to come and go with ease in the center aisle and blend into traffic and accelerate and go," he said in 2015.
He reiterated at the Planning Commission meeting, "We started by putting the driving on Playa Del Norte … but to get to surface and underground parking would require a driveway that is much too large. In going over the traffic analysis with City staff, La Jolla Boulevard is a better traffic scenario … than putting the driveway onto a one-way street that would come back to La Jolla Boulevard through another one-way street. And we purposely kept the driveway off Neptune which is a beach access route," he said. And that there would be a visibility triangle so "pedestrian and cars can see it each other better."
Commissioner Susan Peerson, who originally posed concerns about the placement, said with the added information, she was convinced the La Jolla Boulevard egress and ingress was the most appropriate place. She was also impressed that the sidewalk surrounding the property would be widened to 10 feet, contributing to "pedestrian flow."
Marengo was next asked to explain the landscape plan, which he said includes alternating palm and jacaranda trees, and select landscaping being moved away from the La Jolla Boulevard side of the property and closer to the residential side to "green up" otherwise blank walls.
Marengo did not release renderings of the development to La Jolla Light, but aesthetically, the project looks similar to the nearby 10 West mixed-use property on La Jolla Boulevard at Bird Rock Avenue (also a Marengo project), but rather than a stone facade, the new project has more wood and sandstone features.
Marengo said he didn't know when the City Council would consider the project because it has been "bogged down" with building proposals, so there is a longer-than-expected wait to get on the docket. Once the project is approved by the City Council, it will break ground four to six months later. Construction will take 16-24 months after that. In the meantime, Su Casa is operating as usual, offering its Mexican fare and happy hours.
---
Get the La Jolla Light weekly in your inbox
News, features and sports about La Jolla, every Thursday for free
You may occasionally receive promotional content from the La Jolla Light.