La Jolla Park & Rec board debates next move in playground project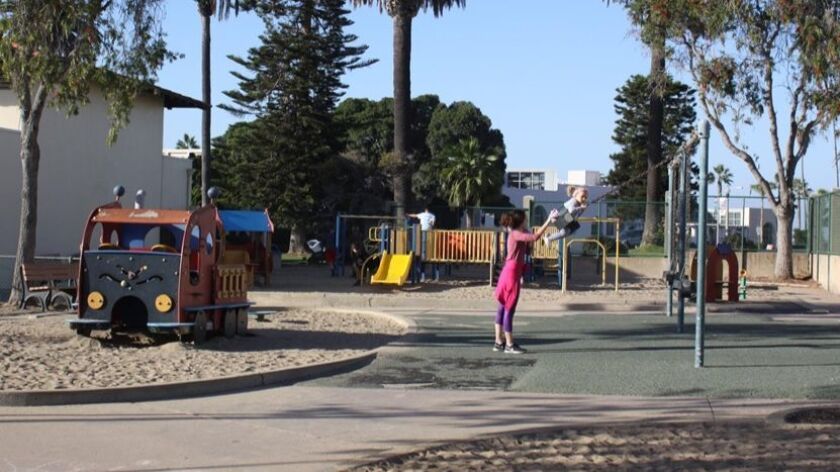 When it comes to moving forward on the La Jolla Rec Center playground renovation project, the La Jolla Park & Recreation (LJPR), Inc. board, admittedly worried about "spinning our wheels," debated their next move for over an hour at the May 24 meeting. Board members ultimately decided to ask for color renderings of different playground layouts, and present them for community input over the summer.
At issue was whether the board has given the community enough time to provide feedback, how to make decisions that would best appease residents, and the appropriate time for taking such actions.
LJPR announced plans to renovate the playground in November 2016. Some of the play equipment is as much as 60 years old. In December, the board hosted a town hall forum to collect ideas. A question of whether to replace existing structures or completely redesign the playground was raised.
Since then, only one new plan has been presented: to move the basketball courts to what is now the "tot lot" and combine both play structures into one in the center of the playground. The board has discussed playground plans and welcomed additional presentations at each of its monthly meetings in 2017. There was also an information booth at the Spring Egg Hunt in April, and a survey that went out online at reviveljrc.org/survey
LJPR acting chair Mary Coakley-Munk opined, "At this point, we've been available to the community at the Egg Hunt, the town hall meeting, our meetings have been completely open, and most people have not expressed an opinion about anything."
Member Jeff Gerwin added, "This has been going on since last year … and we can have another town hall meeting and present what we have, but we are dragging our feet. We need to step up, especially if we are going to start fundraising and see this progress. We should have plan A, B or C and create something people can see and ask the community for feedback."
Conversely, some board members argued that the community had not had enough time to properly weigh in. Parent Hilary Daly said, "I know you (as a board) want to move this along, but this is an important place, it's an important historical building and … you can't just snap your fingers and come to a decision. This is bigger than just moving things around or not. I want my kids to have a place to play, but it's more than that. You can't force it through at this pace."
LJPR member Gail Forbes added, "If it takes us two or three more months to build consensus in the community, it will pay off in the long-run. I can't tell you how many projects went through full review and then at the last minute, opponents came out of the woodwork and the project had to be re-done."
Hoping to meet somewhere in the middle, LJPR member Bill Robbins suggested presenting any available color renderings at the Kiwanis Club of La Jolla's Pancake Breakfast, July 22 at the Rec Center. "The pancake breakfast is the first opportunity, not the only opportunity, so if renderings are available at the pancake breakfast, let's present them there," he said.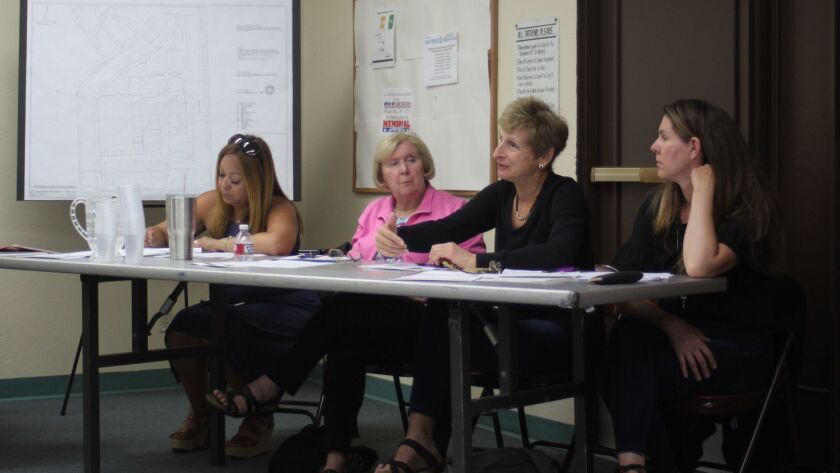 Any additional playground ideas could also be presented, and those interested in submitting plans may contact Coakley-Munk. The proposals thus far that would be presented in renderings are 1) to leave the layout as it is, but with an upgrade to the play equipment and increasing the space between the structures to accommodate ADA laws; 2) rearrange the playground and move the basketball courts; 3) a plan with the playground at its current footprint, but with the addition of shade structures.
The shade structure concept emerged as a playground need as a result of the online survey that went live in April. As of the May meeting, LJPR members had 217 digital responses and additional ones that were hand written. The deadline to complete the survey is June 1.
"The No. 1 thing (respondents) said they wanted, thus far, was a shade structure — that's from 64 percent of responders," said survey facilitator and volunteer Dan McCandless. The No. 2 thing was improved bathrooms. "There was also an 'other' option where people could write out comments, which included everything from sand volleyball courts to support for a skate-park and then, some directly asking that a skate-park not be constructed," he explained.
Because no other additions or changes were definitive front-runners, some board members supported including shade structures in the plans they would present, but little else.
LJPR Pat Miller suggested reaching out to architects and landscape designers to ask them to create the renderings. Coakley-Munk said she would see if it is feasible and advocated for a "concerted effort" to have detailed renderings at the Pancake Breakfast. In addition to the Pancake Breakfast, several board members supported hosting a day at the Rec Center at which the renderings could be posted and the community could come by and cast their votes.
As to when the board would vote on a layout or concept, Coakley-Munk noted many people are out of town during the summer and questioned whether there would be a quorum at the June and July meetings. The board does not meet in August. The soonest LJPR could likely take action is September.
In other Park & Rec news:
Support for track access: After a presentation by La Jolla High School track access advocate Kay Plantes, the board voted to sign a letter in support of restoring the community's access to the track. "The track used to be open to the public, but the current school principal (Charles Podhorsky) has closed the access and we think having the track open is important for the health of residents. It's the only level place where people can run and walk without proximity to cars," she said.
She added that she and those hoping for restored access would be willing to pay a nominal fee to use the track, or some other mutually agreed upon compromise, such as a waiver. Plantes also said she would plead the case at other community advisory groups.
Funding approved: The board also approved expenditures associated with hosting the Kiwanis Club of La Jolla Pancake Breakfast (not to exceed $1,000), the Senior Luau dance (not to exceed $1,800), digital advertising in the form of E-blasts (not to exceed $1,000) and the purchase of two small fans for the meeting rooms (tentatively $77, with more to be bought if needed).
Teen programming: At the next meeting, LJPR will hear ideas for expanding the program offerings for teens to go beyond pick-up sport games and basketball teams. The board next meets 5 p.m. Wednesday, June 28 at Rec Center, 615 Prospect St. bit.ly/ljreccenter
---
Get the La Jolla Light weekly in your inbox
News, features and sports about La Jolla, every Thursday for free
You may occasionally receive promotional content from the La Jolla Light.