La Jolla Park & Rec board debates playground plans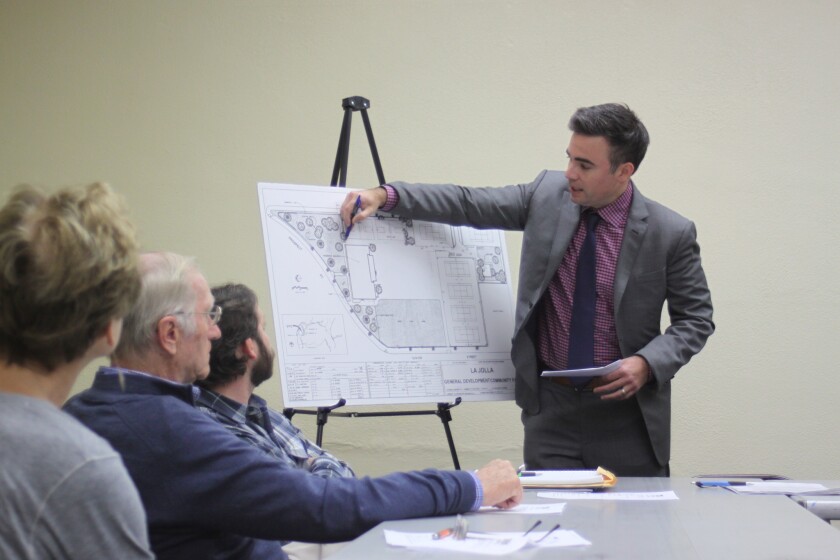 La Jolla Park & Recreation, Inc. debated the pros and cons of completely redesigning the La Jolla Recreation Center's playground during its Jan. 31 meeting. After a brainstorming session in December, at which dozens of La Jollans turned up to suggest improvements to safety and visibility, the board heard from private citizen Dan McChandless, who presented an idea to reconfigure the layout of the playground.
The board did not vote on the plans as presented, deciding instead to keep the item "Playground Updates" on its next few agendas, so anyone else with ideas can come forward. With a commitment of more than $350,000 for playground improvements from an anonymous group of donors, the board set began collecting community feedback on how best to spend it.
McChandless said he advocates for a complete redesign over a "repair and replace" strategy because a new layout could maximize play area space. He said it's a given that major changes would be required to get the facility in line with ADA laws, so it might be more efficient to completely overhaul it.
His rendering calls for the basketball courts to be moved closer to Draper Avenue, and be fenced-in to prevent errant balls. Then the big open space in the middle of the playground could be re-designed for a play area for younger children right next to a play area for older children. Seating and shading could be incorporated, to separate the areas.
"Since our last meeting, (board member Mary Coakley Munk and I) have had multiple conversations with the City. When we met with vendors to get cost estimates, we learned we might lose usable space by keeping it the way it is but bringing it up to ADA-compliance," McChandless said. Further, he said in the course of structures being removed, tractors and equipment would likely damage the basketball courts, and they, too, would need to be replaced.
However, not everyone favored the reconfiguration idea, noting it could be more expensive (costs have yet to be determined) and that moving the basketball courts might not be feasible because it's unknown if there is City infrastructure underneath. Additionally, the move would mean parents walking their children through the basketball area and potential conflicts with existing events.
Parent Hilary Daly, who said she has been bringing her children to the Rec Center since they were babies, was "skeptical" about the new layout. "Most parking is done by parents on Draper Avenue because there is more of it and easy access to get kids out of the car, through the gate and onto the playground. With the change, they would have to walk through the courts. My kids are 11 and 12 now, but when they were little, the basketball games were overwhelming for them."
However, a brief discussion about the basketball courts led to the discovery that the toddlers who might be intimidated by them are typically at the Rec Center in the mornings and early afternoons, while basketball games take place in the late afternoon or evenings. It was then suggested that one of the two courts be removed to use the space for something else.
Park & Rec board member Lizzet FitzCluster said the land-use rearrangement could create a conflict with the Rec Center's three big community events — the Kiwanis Club of La Jolla Pancake Breakfast, the Easter Egg Hunt and Halloween Party. Coakley-Munk countered that the basketball courts could be used as open space for set-up, chairs or whatever other staging is needed for these events.
Given there is no timeline for the playground project, the board agreed to continue the discussion and encouraged anyone else with ideas to come forward at its monthly meetings: 5 p.m. fourth Wednesdays at the Rec Center, 615 Prospect St. (The next is Feb. 22.)
Board member Carolyn Parrish noted, "Let's get other ideas and more definitive before we vote."
---
Get the La Jolla Light weekly in your inbox
News, features and sports about La Jolla, every Thursday for free
You may occasionally receive promotional content from the La Jolla Light.