La Jolla News Nuggets, Jan. 19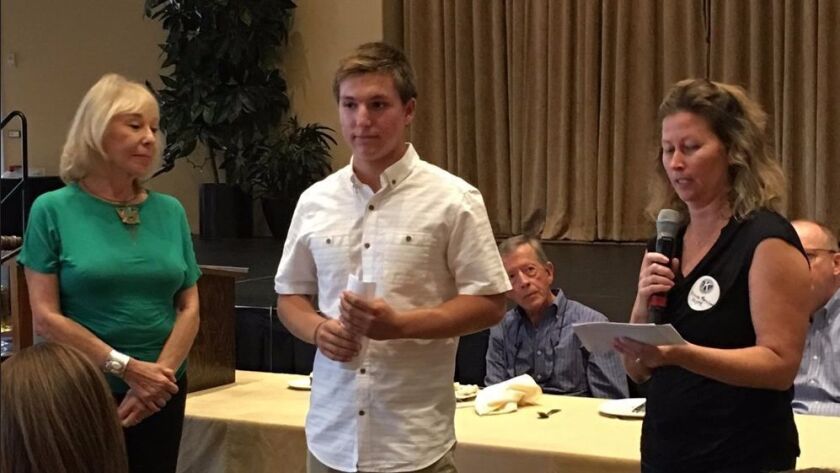 Teen gets Kiwanis grant to build home for needy in Tijuana
Mason Matalon, a member of the La Jolla Chapter of the National League of Young Men (NLYM), was awarded a $5,000 grant from the La Jolla Kiwanis Club to help build a home in Tijuana, Mexico through Project Mercy. Matalon applied for the grant and shepherded it through the Kiwanis Club process to earn the funds.
"We are very proud of the work our young men do on behalf of this organization," said League president Alice Mo. "Mason, in particular, has shown great initiative in earning this money for the second year in a row."
In 2015 Matalon also won the Kiwanis Club grant on behalf of NLYM, which sent 11 young men and their parents to Tijuana for the philanthropy's first experience with home building. "I am so excited to be part of such a great experience again," said Matalon, a junior at La Jolla High School. "Last year's build gave us insight into another way of life that made an impact on us all."
NLYM was founded in May 2014 to provide teens an opportunity to serve their community while gaining leadership skills, along with protocol knowledge and cultural experiences. The program is open to young men and their mothers who reside in or attend school in the La Jolla ZIP code 92037. Membership requires at least 10 hours of service, as well as attendance at cultural events and meetings. For more details, visit nlymlajolla.org
SeaWorld offers $10 pass for tots, teachers
SeaWorld San Diego is offering children ages 3-5 living in San Diego and Orange counties, a SeaWorld Preschool Pass for $10, good through Dec. 31, 2017. Parents interested in registering can visit seaworldsandiego.com/preschool by March 17. Guests should then print and bring the confirmation along with a valid form of ID for the child (a copy of a certified birth certificate or travel passport) to any ticket window at SeaWorld. Redemption and first use must occur by March 31, 2017.
In salute to California and Arizona educators, SeaWorld San Diego is offering free admission through the 2017 Teacher Appreciation Fun Card. Register at seaworldparks.com/swcteachers by May 19, 2017. Teachers will also be eligible for two free, single-day companion tickets that will allow them to bring two friends or family to SeaWorld as guests. Companion tickets must also be claimed and redeemed by May 19. SeaWorld tickets are $93 for ages 10 and older; $87 for ages 3-9; free for children under age 3. (800) 257-4268.
Irish girls sought for Miss Colleen Pageant
The Irish Congress of San Diego is looking for contestants for its 2017 Miss Colleen Pageant to be held Jan. 29 at the Imperial House in Bankers Hill.
Contestants must be single, Irish girls, ages 21-30, and willing to travel to Ireland this summer as part of a paid vacation. The pageant is part of the ramp-up for the annual St. Patrick's Day Parade & Irish Festival taking place March 11 in Balboa Park.
Interested lasses may contact Samantha Bonner at samantha_bonner@outlook.com by Jan. 21.
Scripps to offer cancer writing workshop
San Diegans living with a cancer diagnosis can attend a free expressive writing workshop series sponsored by Scripps Health, beginning 9:30 a.m. Monday, Feb. 6 at Scripps Clinic Torrey Pines in La Jolla.
"When Words Heal" is a six-week writing workshop series designed to help San Diegans with their difficult journeys through cancer. Workshop sessions will take place Monday mornings from 9:30 a.m. to 11:30 a.m., and will run through March 13.
The workshop series will be led by breast cancer survivor Sharon Bray and will take place at Scripps Cancer Center in the Anderson Outpatient Pavilion at Scripps Clinic Torrey Pines, located at 10666 North Torrey Pines Road in La Jolla.
Writing experience is not required to benefit from this workshop, which is designed to help participants learn to navigate the complex emotions that come with a cancer diagnosis, and to gain perspective and cope more effectively with life's hardships. The program is open to men and women living with cancer, regardless of where they are receiving treatment. Cost for parking is $4. Advance registration is required by calling (858) 554-8533.
Soroptimists attend taping of Dr. Phil
As a fundraiser for the Soroptimist International of La Jolla club, member Vici Willis arranged for a group of 32 San Diego women to attend a taping of the Dr. Phil show.
They left at 5 a.m. Monday, Jan. 9 by bus and arrived at the CBS Studios in Hollywood about 8:30 a.m. Two episodes were filmed – one involving a woman who was held captive and abused. This was especially poignant for the Soroptimist International of La Jolla members, who are deeply involved with taking steps to end human trafficking.
The event generated over $1,600 for the La Jolla club and its mission to connect women and girls with resources and opportunities so they can reach their full potential and live their dreams.
Soroptimist International of La Jolla meets several times a month, with rotating breakfast and dinner meetings. On first Tuesdays of the month, the club holds dinner meetings at various venues, with location given upon RSVP. On the second and third Wednesdays of the month, there is a breakfast meeting, 7:15 a.m. at the Shores Restaurant, 8110 Camino Del Oro. The club will celebrate its 70th anniversary with an awards ceremony and luncheon, 11 a.m. Saturday, Feb. 18. Location given upon registration ($70) at soroptimistlj.org
---
Get the La Jolla Light weekly in your inbox
News, features and sports about La Jolla, every Thursday for free
You may occasionally receive promotional content from the La Jolla Light.