Getting Down to Business: La Jolla Library opens Start-Biz Club, seeks audience participation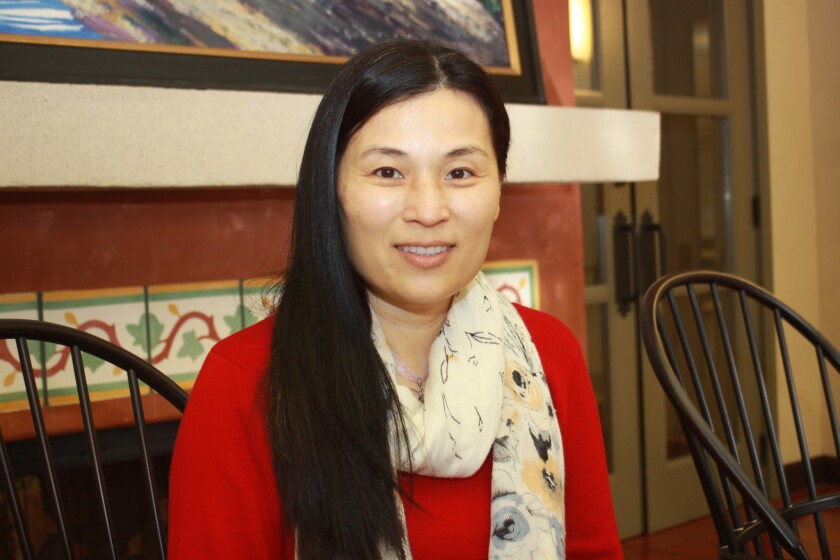 The La Jolla Riford Library launched a Start-Biz Club Jan. 7, which will feature a weekly meet-up session where those with inventions and new business ideas can pitch them to an audience and field questions to garner tips on how to grow those ideas.
The Club meets 9:30 a.m. Saturdays and all the January presenters are booked, so ideas are being vetted for February. What the Club needs now, is an audience.
As Club founder and business teacher Lily Zhou explained, "The goal is for young people to present their ideas and get feedback from senior citizens with experience in business ... or really any experience. Through these sessions, I want to spark the creative side of our local seniors and give them something to look forward to. I want them to see what's being created today and see what the young minds of the world are coming up with.
"The presenters are high school and college students and young entrepreneurs. At each meeting, they get a few minutes to talk about their ideas, and the rest is a question-and-answer session so they learn what to address as they go forward with their ideas."
Zhou added that all sessions would be streamed on Facebook Live. "People with great ideas need to get feedback … With the help that comes from these meetings, entrepreneurs can grow their ideas and strengthen their business models. For the people that see these ideas at their onset, imagine how exciting it would be to see them grow and be the first to see the latest technology break-thoughs."
At the inaugural meeting, Faizan Masood, founder and CEO of Lean Volts, presented his concept for a solar umbrella, a shade structure that collects solar energy, so people can charge their electronic devices outdoors.
"(Faizan and his partner have) been working on this for three years," Zhou said. "They have the technology and the design, but that's where their expertise ends."
Although the first library session was meagerly attended, there were 25 people watching the video on Facebook Live. During his talk, Masood explained, "When I was at UCSD, we would do group studies and go to coffee shops and the first thing we'd look for was a wall outlet so we'd have a place to charge our laptops. I noticed there was always so much space left out in the open, but no one would sit there because there was no opportunity to charge their devices. I also noticed this on campus and in libraries. During finals, you'd see all this open space on the outdoor patios, but everyone would be crowded around the nearest wall outlets.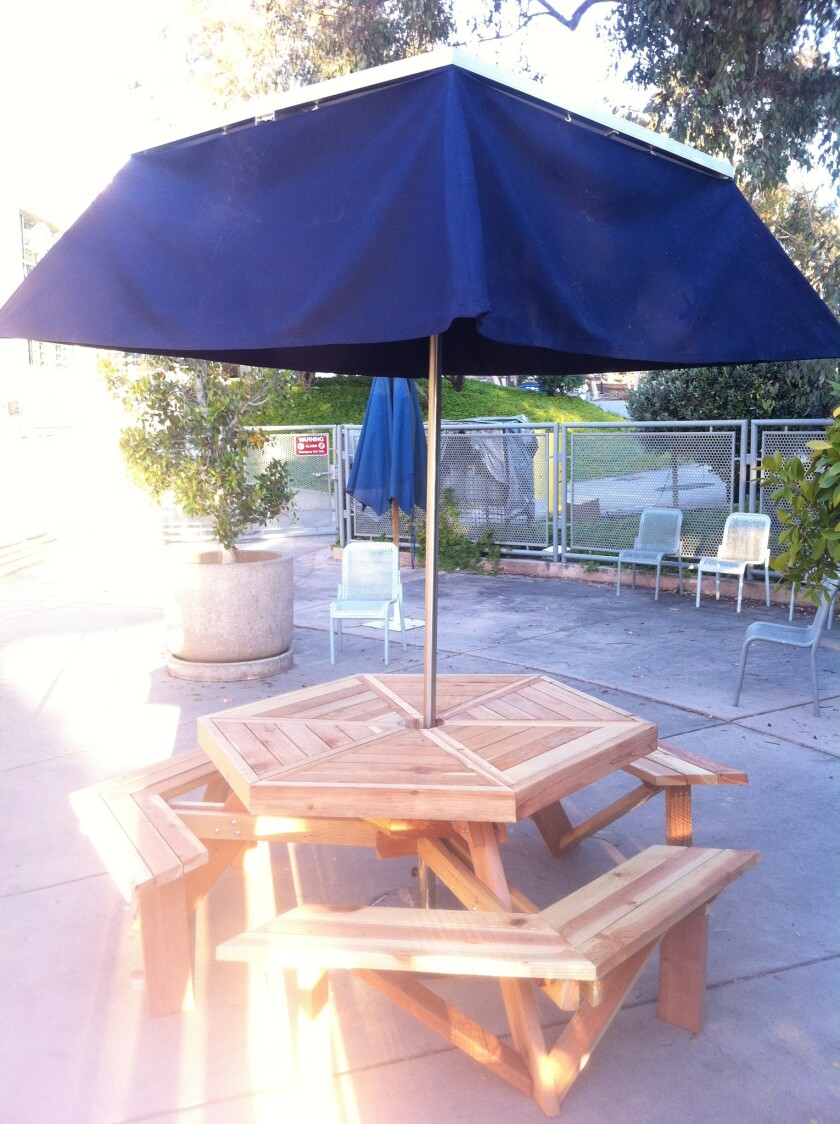 "The solar umbrella allows space to be used more efficiently. There is no new construction required, but it provides more outlets. The solar umbrellas could also be used in any setting with a patio area."
In the coming weeks, those who listen in (with no commitment to comment), can hear about a a wrist device that measures whether the wearer has received too much or too little sun (Vitamin D), and a new model for small business development.
Zhou, a UTC resident who also chairs the La Jolla Library's Chinese Book Club, said she ran a similar new business program in Rancho Bernardo when she lived there. "I saw that the (audience) participants liked to give of themselves and liked to learn. People were disappointed to see it end. I hope in La Jolla, many retirees will come and share their expertise (and life lessons)," she said.
By having Riford Library as home base, entrepreneurs can create prototypes using the library's in-house 3-D printer. As branch manager Shaun Briley pointed out, "several entrepreneurs" have already taken advantage of the library's 3-D printer to model and create prototypes, and going forward, he would like the Library to serve as a hub for small businesses.
"We hope to provide an outlet for seniors or working business people in our community to share their expertise through the Start-Biz Club. I'm big on the idea of the library as a community connector," Briley said. "(To further assist budding small businesses) we are also offering a wide range of high-quality online services, such as a database of real, successful, business plans compiled by Gale; along with resources on funding, marketing and technology for small businesses. We have Reference USA, a database that offers the white and yellow pages nationally, and tools for creating targeted mailing lists.
"We also have several online courses for small business owners on the full range of Microsoft and Adobe office products, Rosetta Stone language courses, and much more. Like everything at the library, all this is offered for free as a community service."
The library is at 7555 Draper Ave. (858) 552-1657. lajollalibrary.org/events
---
Get the La Jolla Light weekly in your inbox
News, features and sports about La Jolla, every Thursday for free
You may occasionally receive promotional content from the La Jolla Light.