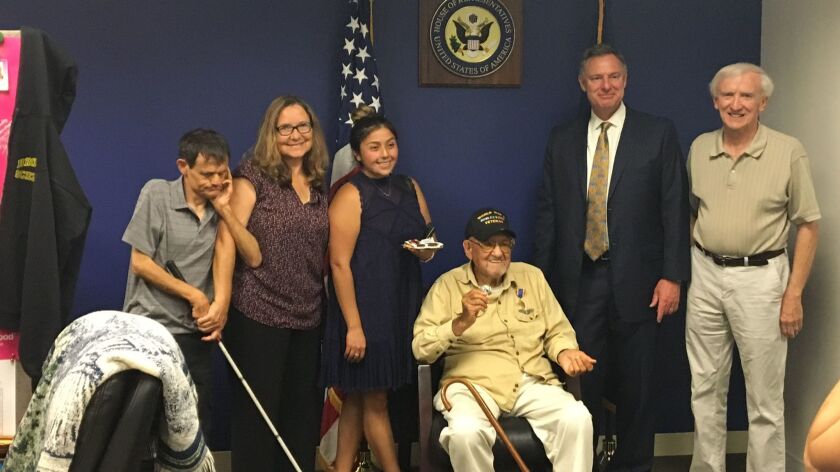 World War II Army Air Corp veteran and La Jolla resident Milton Blackstone — highly decorated for his military service — recently received yet another special honor. In the La Jolla office of Congress member Scott Peters on June 18, Blackstone had commemorative ribbons replaced with medals.
Peters' office reports Blackstone's list of decorations include: Air Medal, Good Conduct Medal, American Defense Service Medal, American Campaign Medal, Asiatic-Pacific Campaign Medal with one Bronze Service Star, European-Africa-Middle Eastern Campaign Medal with one Bronze Service Star, World War II Victory Medal and Honorable Service Lapel Button.
Peters said of the recognition, "It's an honor to present Pfc. Milton Blackstone with these long-overdue medals he earned in World War II. One of my most rewarding jobs is getting San Diego veterans the benefits and recognition they earned through their service. Heroes like Pfc. Blackstone should be recognized for their brave role in defending our freedom and I'm glad we were able to get him these medals."
Blackstone served in the 7th Ferrying Group of the Air Transport Command, delivering aircraft to theaters of war (strategic places where military activities occur or are occurring).
"I was thrilled to get the medals because I always felt the ribbons didn't represent the significance of my activity as a World War II aviator," said the 93-year-old veteran. "I had some family there (at the presentation) and a couple of friends who wanted to commemorate the occasion."
The medals, along with certificates, commendations and other recognitions are on display in Blackstone's bedroom because "I like to look at them every once in a while," he said.
A mechanical engineer with a photography background, Blackstone met five U.S. Presidents during his service and bore witness to one of the most iconic wartime images, the "Kissing the War Goodbye" photo, in the making.
"I was on furlough at the USO on 45th Street in New York, when myself and two other men walked out and saw the news crawling across The Times building that the war had ended. We looked around and saw that everyone was hugging each other and kissing each other, and my friend grabbed the woman in the white dress, kissed her and someone snapped the picture. I was eight feet away when that picture was taken," he explained.
Long-since retired, Blackstone has resided in La Jolla for decades, and now receives bi-weekly visits from La Jolla Friendly Visitors. "I have two guys who come and visit me," he explained. "One comes on Tuesdays and brings me tacos, and the other comes on Thursdays and likes to talk to me," he said. "For people like me who are home-bound and cannot drive any more … having people that know me and visit me is great. … I'm particularly sensitive in that I have a blind and deaf son who lives with me, and my big concern is that something could happen to me and no one would know to check on him. Now I have people that know me and him, and that's a great comfort."
---