La Jolla Traffic board hears requests for two parking changes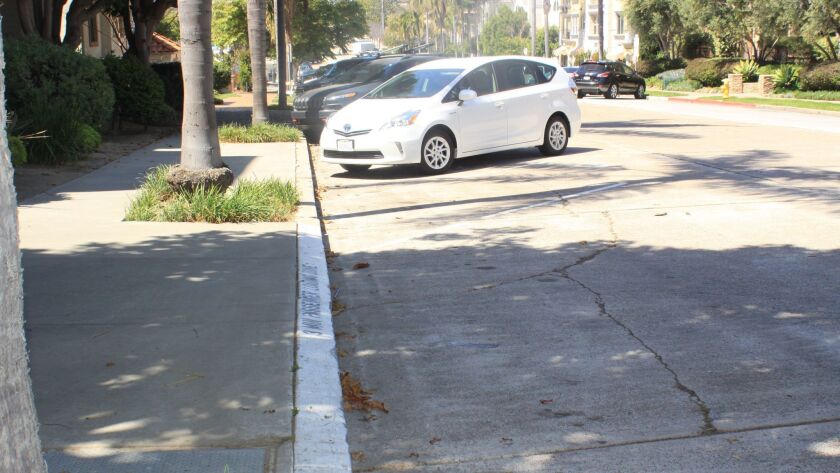 Two issues over adjusting parking in La Jolla to better accommodate those who live nearby came before La Jolla's Traffic & Transportation (LJT&T) advisory group meeting April 19 at La Jolla Rec Center. The first was a request for a blue-painted handicapped parking space on Camino del Oro in front of the apartment building at 2120 Vallecitos in La Jolla Shores, and the other was a request to establish a legal three-minute Passenger Loading Zone in front of the Clinton Manor condos at 7550 Eads Ave. in The Village. The board did not vote on either, but will continue discussions at a future meeting.
Mercedes Lafond of La Jolla Shores told the board that after taking a fall in an area park, she's had difficulty walking and that's why she was requesting a disabled person's parking space be installed near her apartment. "I'm not only asking for me, but asking for everyone who lives in The Shores," she said. "I know the space would be first-come first-served.
"There is no handicapped parking in that area. I have a designated underground parking space in my building, but the only elevator is on the other side of the building, so I still have to walk quite a ways, with a 19-step staircase in between, so having a parking space on the street would be a big help."
Lafond said she broke several bones in her leg and though she thought the disability would be temporary, she recently learned it would be long-term, if not permanent.
Rather than take away a public parking space without time limitation (in what was noted as an area where parking is at a premium), several board members recommended reaching out to the building's homeowners association (HOA) and other resources to resolve the issue.
LJT&T member Cory Bailey suggested contacting the local Americans with Disabilities Act (ADA) offices. "The ADA can strong arm the HOA to accommodate her and her injury. There are legal options … I've seen buildings install an elevator where there wasn't one to accommodate ADA issues," he said.
Lafond cited personality issues as why she was reluctant to deal with the HOA, but said she would do more research and present again at a future meeting.
The second parking issue, an identified "strange situation," involved a Passenger Loading Zone fronting The Clinton Manor on Eads Avenue.
LJT&T chair Dave Abrams said the City denies installing the space, but after it was anonymously reported on the San Diego Get It Done app, the City would like to reconfigure it. The parking spaces on that street are angled, yet the White Zone is parallel to the street.
"The City (said it) wouldn't put a parallel space between angled spaces," Abrams said. "So the fact of the matter is it's an illegal space." Because the City "isn't going to leave it as is," Abrams said the offers are to: convert the space into two, two-hour parking spots in line with the rest of the street, convert one to two-hour parking and one to a Loading Zone, or convert both spaces to angled Loading Zones.
Speaking on behalf of residents wishing to keep as large a Loading Zone as possible, Bob Williams and Debbie Hill-Williams said several of the building's residents are older and rely on others to drive them places or deliver groceries. "We have someone in a wheelchair and others who use walkers, and for a taxi or other type of driver to pick them up at the curb would certainly be advantageous," he said.
Hill-Williams added, "Large trucks park there to make deliveries and my concern is if we lose that space, trucks will double park on the street. People already speed on that street and if they can't see around a truck, someone could be hit trying to cross the street."
However, they could not confirm whether residents would want two spaces to be Loading Zones (the current space is large enough for one car/truck).
One meeting attendee noted that with a white Passenger Loading Zone, the driver must stay in the vehicle, which would not allow for food deliveries. Further, Abrams said the building may not qualify for a Passenger Loading Zone because of the number of units. According to City guidelines, a property must meet one of the following to qualify: be a hotel; be a hotel or apartment with 50 separate living units (the building in question has 40 units); be a commercial building of more than 50,000 square feet; be a place of public assembly; be a hospital or convalescent home.
Wanting more information, including whether residents would prefer an alternative, such as a 15-minute short-term parking space, Williams and Hill-Williams requested the item be tabled a future date.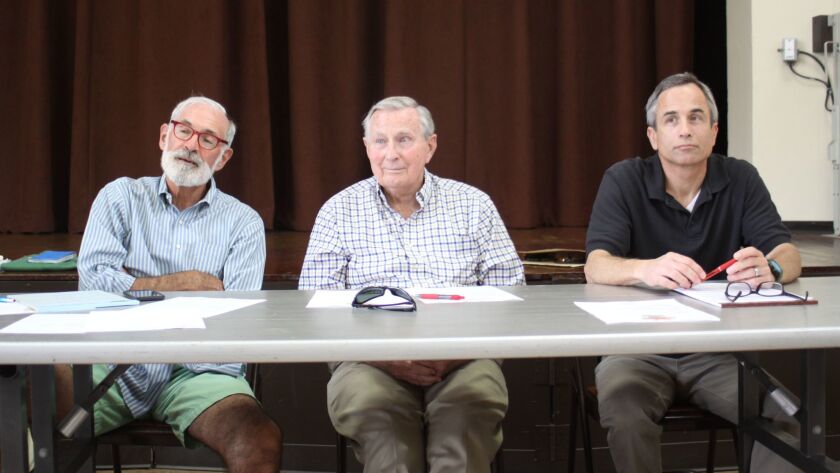 In other T&T news:
Green light for End of Summer Run: A four-mile fun run scheduled for Sunday Aug. 27 would require temporary street closures and temporary No Parking signage along Prospect Street (starting at Fay Avenue) into Bird Rock via La Jolla Boulevard and into Pacific Beach.
"We have been fortunate to not have any issues with street closures or temporary No Parking zones on the course," said applicant Kathy Loper when asked if there were any changes or complaints from previous years. "Some people disregard the No Parking signs and get towed, but we can't help that. A funny thing is that police have reported when they tow cars away, they find the No Parking signs in the back seat."
She added 1,200 people are expected at the race, which starts at 8 a.m. and benefits area schools, including La Jolla, Mission Bay, Clairemont and Patrick Henry high schools. A motion to support the event and associated street closures passed unanimously.
New member seated: Representing the La Jolla Village Merchants Association — one of five community groups with representation on the board — Aaron Golding was seated as at LJT&T member during the April meeting.
—La Jolla Traffic & Transportation next meets (pending items to review) 4 p.m. Wednesday, May 17 at La Jolla Rec Center, 615 Prospect St. lajollacpa.org
---
Get the La Jolla Light weekly in your inbox
News, features and sports about La Jolla, every Thursday for free
You may occasionally receive promotional content from the La Jolla Light.