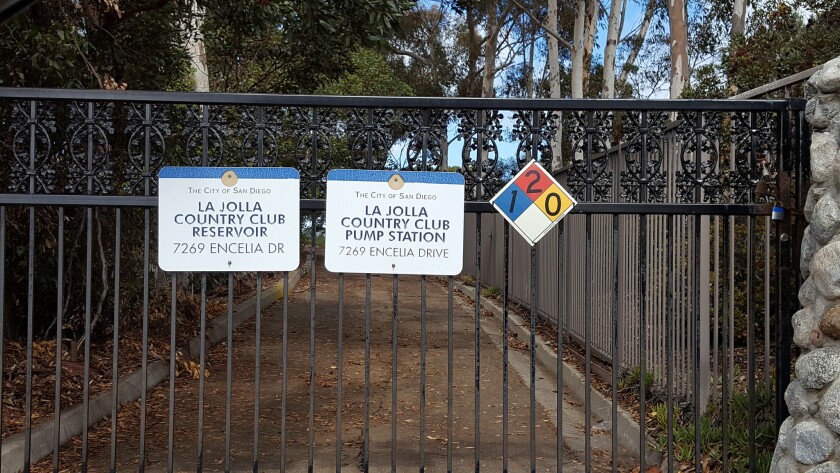 The first of two reservoir projects planned for La Jolla is slated to imminently start construction in the Country Club area off Encelia Drive.
Known as the La Jolla Country Club Reservoir & Pump Station project, the City says work involves replacing the existing 500,000 gallon reservoir (built in 1927) with a new concrete rectangular reservoir containing an increased storage capacity of 880,000 gallons. The new storage reservoir will be constructed within the existing reservoir footprint. The Pump Station will be upgraded with three new pumps that can provide more than 3 million gallons per day.
The reservoir and pump station are secured behind a gate and out of public view.
City spokesperson Alec Phillipp said on Feb. 20 that the project would begin "in about four weeks." The La Jolla Country Club Reservoir & Pump station project's planning, design and construction budget is approximately $10.2 million and work should be completed in late 2019.
One year later, in late 2020, the La Jolla View Reservoir project, which was hotly debated at La Jolla's community advisory groups, is scheduled to begin.
The La Jolla View Reservoir project will demolish and replace the existing 720,000 gallon La Jolla View Reservoir, an above-ground water storage tank (built in 1949) located in the La Jolla Natural Park, also off Encelia Drive in the Country Club area. According to the City project description, a new 3.1 million gallon underground reservoir will go in its place, which will be located at a higher elevation within the park. The project will restore the site back to its original topography and condition, and install 3,000 feet of 30-inch pipeline to connect the new reservoir to the City's water distribution system.
When heard at La Jolla Parks & Beaches advisory board and La Jolla Community Planning Association from 2013 to 2017, the boards cited concerns with the amount of trucks that would be required to carry out the work, how the sensitive habitat in the park would be preserved and more. The City produced a Mitigated Negative Declaration (MND), which states there are no environmental impacts that have not been accounted for, but several groups have requested the City draft an Environmental Impact Report. The latter report would require the City to acknowledge the environmental impacts and what would be done to address them.
The project will also demolish and remove the existing 990,000 gallon La Jolla Exchange Place Reservoir, located near the corner of Country Club Drive and Pepita Way. This partially above ground reservoir was built around 1909, and placed out of service in 2002. The reservoir site will be back-filled and landscaped to blend in with the surroundings.
The reservoir's pump station and pressure reducing station will continue in operation, supporting the local water distribution system.
See information, including a video explaining the La Jolla Country Club Reservoir & Pump Station project, here
---