'Father of Modern Architecture': The legacy of Irving Gill still evident in La Jolla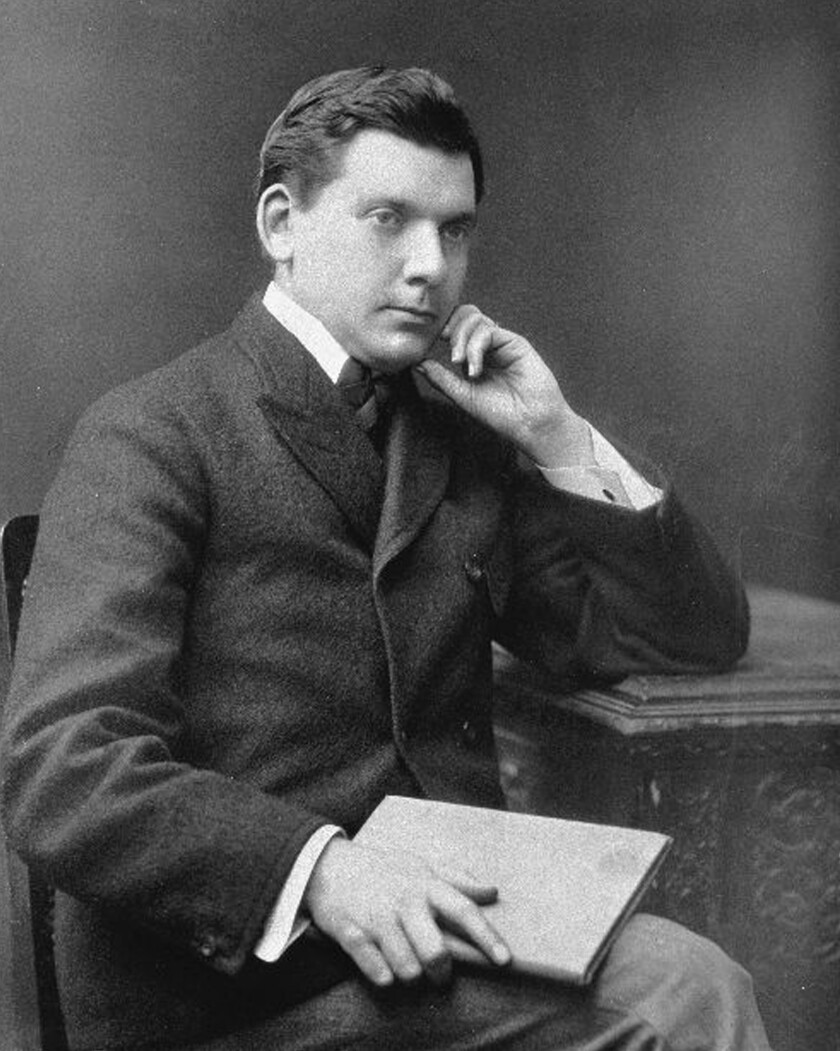 Oct. 7, 2018 marked 82 years since architect Irving J. Gill left this Earth. But his legacy remains in La Jolla by way of the properties he designed. To this day, to say that a property was designed by Gill is a badge of honor.
Gill is credited with giving La Jolla benefactress Ellen Browning Scripps' legacy a physical presence as one of the "Fathers of Modern Architecture," and his "classic" period was right here in La Jolla.
Here's a peek into the life of the man behind many of the Village's historic buildings.
The early years
Gill was born in a rural town outside of Syracuse, New York in 1870, but little is known about his upbringing. Irving J. Gill Foundation president James B. Guthrie, AIA, said when he was a young child, Gill moved to Syracuse and that there are Quakers in his family background, but not much else is known about Gill before he was 19 years old, when he started his architectural career in New York.
Notes from Journal of San Diego History articles written about Gill explain: "Gill favored buildings made of concrete with long arcades, stark white walls, and simple lines. He eschewed complex ornament, preferring to let nature provide its own accents. His style was influenced but not dictated by the California missions."
Despite never having attended college, by 1891, he joined the Chicago-based firm of Dankmar Adler and Louis Sullivan.
"At that time, the Arts & Crafts Movement, which started in England, was very big in Chicago. Gill was very aware of that and was tuned into it," Guthrie said. "There is not really a 'style' of arts & crafts in terms of windows or a doorway, it's more of an approach. When you look at Gill's arts & crafts work, it's distinctive and comes from the spirit — handmade, comfort based, and materials were used in their native way. He became a really big proponent of redwood, he would expose it, he wouldn't paint it or cover it in varnishes."
In 1893, "seeking warmth and health," according to Journal of San Diego History articles, Gill moved to San Diego, and he brought the Arts and Crafts architectural movement with him.
"When he got here, he was able to develop further," Guthrie said.
La Jolla roots
One year after his arrival, he designed La Jolla's Green Dragon colony, which would ultimately become a haven for artists and musicians, and when they were not being rented, Bohemian parties were held there.
With the coming of the 1900s, Gill's "classic" period began — considered to be 1908 to 1916. During this period, most of his La Jolla projects came to fruition.
Some of Gill's La Jolla properties constructed in the early 1900s include the old Scripps Institution of Oceanography building, Wisteria Cottage, La Jolla Woman's Club, the George Kautz House (now the La Jolla Bed & Breakfast Inn), the Wheeler J. Bailey residence and apartments, Bentham and Scripps Halls at The Bishop's School, and La Jolla Recreation Center.
One of his most prominent clients was Ellen Browning Scripps, who moved to La Jolla in 1897 and was behind many of his most lasting projects in The Jewel. Scripps' biographer Molly McClain explained how Gill's name became intertwined with hers.
"She built a house, but within two years of moving to La Jolla, her house was leaking and she needed someone to make some changes. She probably already knew about Gill because he designed the Green Dragon Colony. She saw his bungalows in Hillcrest and described them as 'cheap, concrete and artistic,' which is very telling," McClain said. "Cheap was important because she famously watched her money, concrete interested her because it was relatively new so it was innovative, and artistic, which she appreciated."
Adding that Scripps "had a good eye idea for talent," McClain added: "they hit it off."
"He believed in open air, high ceilings and big windows at a time when most houses had little rooms, were boxed up and collected dirt," she said. "He was about making people healthier by the spaces he created. His structures were indoor/outdoor, which suited the climate and made people healthier."
A known philanthropist that famously intending to die penniless, Scripps contracted Gill for her major projects, which ultimately yielded some of La Jolla's most iconic institutions. "Her life has a physical manifestation because of his works. If they had been done by a lesser architect, they could have been torn down and we wouldn't know as much about her as we do," McClain noted.
Broader reach
In 1916, Gill moved to Los Angeles, where he began experimenting with materials. During this time, he designed small residential buildings in LA, churches in Coronado, civic buildings in Oceanside (including the Oceanside City Hall in 1934), and more.
Gill philosophy
When it came to his personal and design philosophies, both were rooted in nature. "We have no knowledge about his religion or spirituality, and he didn't talk about it in his public writing. He designed churches and religious buildings in his career. He was a member of a congregation, but we don't know which one. However, when you read what he writes, he was clearly tuned into nature," Guthrie said.
"You can see it in all his mature work. Take the La Jolla Woman's Club, that building was designed to very carefully take advantage of its proximity to the ocean. The covered walkway that goes all the way around provided a buffer from the elements. You get ocean breezes, and because it is so open, it allows heat to go up. Many of his buildings have features like that."
Personal life
La Jolla Historical Society historian Carol Olten said the Society's publication The Timekeeper had an entire issue dedicated to Gill. In the course of Olten's research, she found a simple marriage license that ran in the LA Times.
It published in May 1928, when Gill was 58, and announced that "Marion Brashears became the bride of Irving J. Gill of San Diego" and that "Mr. Gill is one of the best know architects of San Diego."
Olten explained Brashears was a wealthy widow for whom Gill was a landscape architect for her Palos Verdes home.
"Records indicate they knew each other for 10 years, so there was some speculation of a marriage of convenience," Olten said. "Gill's nephew, Louis, said (Marion) had money and he was sick, but others believed he married for companionship in his older age." (Marion died in 1952, Louis in 1969.)
Olten further theorizes Marion and Irving met in Chicago years prior. "He was working in Chicago and met a lot of highfalutin architects at that time. Marion was living in Chicago, about the same time, and my theory is she was a get-about town girl. I have a feeling that these two probably met in Chicago at some point and reconnected when they moved here."
Health and death
In the later years of his life, Gill was documented to have had at least one heart attack that he survived, and is believed to have been killed by a second one. At the time of his death, he was living on his and Marion's avocado farm in Carlsbad.
"There wasn't a lot of architectural work to be done because of the Great Depression, so he helped on the farm. (We believe) he died while he was working on the farm, probably picking avocados wearing a T-shirt and dungarees. But because he was such a man of the earth, it probably wasn't too sad to go that way," Guthrie said.
Lasting legacy
To this day, La Jolla architects still feel the power of his influence.
Guthrie, himself an architect, said Gill's legacy is being the "Father of Modern Architecture" and that "he invented a language no one had ever seen that continues to be used to this day."
Because of his lifetime of work, Gill was posthumously bestowed the Maybeck Award in 2017 by the American Institute of Architects California Council. To preserve and honor his legacy, the Irving J. Gill Foundation was formed in 2015 and provides events and exhibits that honor their namesake.
The "J" is particularly important, as it signified how Gill was known to friends. "His middle name is John, but he was known to his friends as 'Jack,' and it was a part of his identity," Guthrie said.
Paul Benton of the La Jolla-based Alcorn and Benton architects added: "Irving Gill was essential to the start of the Modern Movement on the West Coast — lending a vision of simple elegant design based on local building traditions, tied to new ways of using spaces for all kinds of buildings. This was a vision for the likes of (architects) Rudolph Schindler and Richard Neutra, and all of us who follow.
"Gill tried some really advanced construction techniques, even tilt-up concrete construction!
"He produced some truly durable buildings that have also endured the test of time and changing uses. His attention to proportion and scale of architectural design is exquisite and sublime — that is what makes his buildings usable through all of these generations, and what makes them instantly recognizable icons of design."
---
Get the La Jolla Light weekly in your inbox
News, features and sports about La Jolla, every Thursday.
You may occasionally receive promotional content from the La Jolla Light.