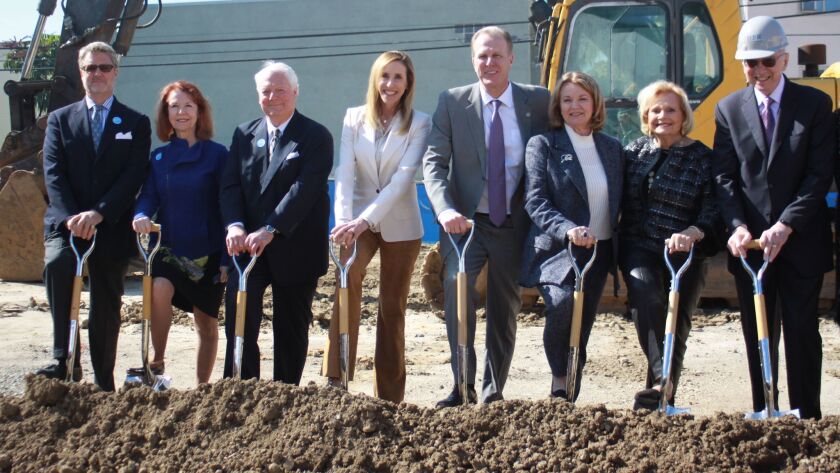 "Conrad (Prebys) supported many organizations in San Diego because he knew they were good for everyone. Supporting La Jolla Music Society he did for himself, out of love. He chose to support organizations when their mission hit him in the gut, this one hit him in the heart. Music was such an enormous part of his life … Conrad was so very proud and honored to help make this day happen," said the late Prebys' partner, Debbie Turner, after a seemingly endless applause, at the groundbreaking ceremony of The Conrad Prebys Performing Arts Center, aka The Conrad. Prebys gave $15 million for the center's construction before his passing in July 2016.
La Jolla Music Society (LJMS) broke ground on what will be its new permanent home at 7600 Fay Ave. on Feb. 1. The $76 million, 49,000-square-foot performing arts center is set to open in January 2019 and will feature a 500-seat concert hall, to be known as the Baker-Baum Concert Hall; a 140-seat flexible performance space, to be known as The JAI; new LJMS offices; rehearsal rooms; and a large open courtyard. LJMS's former home, the Museum of Contemporary Art San Diego, is being torn down for a major renovation to quadruple its gallery space.
Kristin Lancino, LJMS president and artistic director, opened the groundbreaking ceremony, "The Conrad promises to be inviting to all San Diegans and international artists alike. It will be the proud home to La Jolla Music Society as well as a home to local organizations, traveling artists and those who wish to use the facility. It's a once-in-a-generation addition to San Diego and I believe to this country."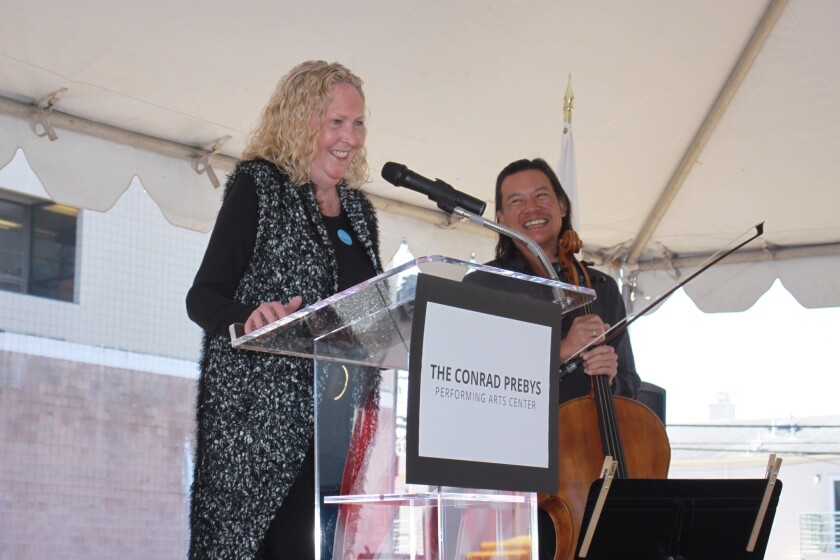 "I can't wait to come back in 2019," added San Diego Mayor Kevin Faulconer. "This is going to be a phenomenally impactful, powerful addition, not just to our city but to our state and indeed to the country. Today is a great day for arts and culture, and that commitment to arts and culture is part of what defines us as a city."
In the concert seasons before the facility opens, LJMS performances will continue at the La Jolla Presbyterian Church, UC San Diego and venues in downtown San Diego, among other locations.
The Conrad is funded through private donations, and LJMS board chair Katherine Chapin recognized major donors at the groundbreaking: Joan and Irwin Jacobs (for whom The JAI is named); Brenda Baker and Steve Baum (for whom the Baker-Baum Concert Hall is named); Rita and Richard Atkinson; Raffaella and John Belanich; the Beyster Family; Silvija and Brian Devine; Joy Frieman; Peggy and Peter Preuss; Gary and Jean Shekhter; and Clara Wu and Joseph Tsai. She also thanked current and past LJMS board members.
After a yearlong search, Massachusettes-based Epstein Joslin Architects, Inc. was selected as the firm to design the facility. Yasuhisa Toyota, president of Nagata Acoustics America was also chosen to handle the acoustics following the company's work on concert venues such as Walt Disney Concert Hall, Tokyo's Suntory Hall and Kyoto Concert Hall in Japan.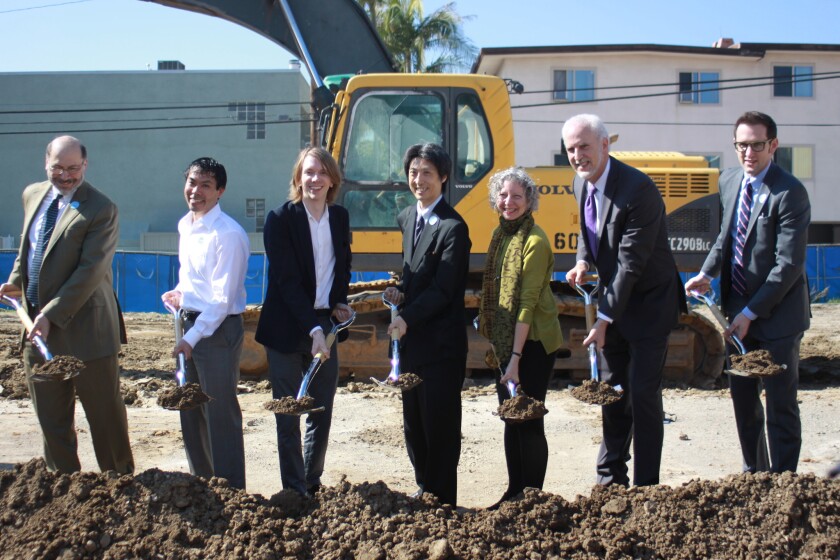 Alan Joslin, architect with Epstein Joslin, described the firm's vision for the site. On the north end of the site, for example, the Baker-Baum Concert Hall will feature, "A wood nest floating within a mysterious light … (atop) a remarkably intimate space that wraps both the performer and the audience in a cocoon of warm wood and rich sound, from which subtleties of performers' expressions and audience rapture will be experienced with both eyes and ears," he said.
On the south end, The JAI will provide "a hip and lively setting" that will "allow for experimentation and youthful creativity that will captivate audiences," Joslin said.
But as for the celebration at hand, "As we embark on this venture, especially today, we have to remind ourselves the building is far more than brick and mortar, more than color choices and city permits, this building is an embodiment of a dream, values and aspirations of La Jolla Music Society ," he said. "(It will be) a home for your community, a place to celebrate freedom of artistic creativity, inspiration of those aspiring to the highest level of human expression, the education of culture to coming generations, the commitment to the flourishing of the human spirit and the friendship that this shared appreciation fosters."
Concluding, Lancino announced the groundbreaking marked the beginning of the public fundraising campaign needed to raise the remaining $14 million needed to complete The Conrad. "We are proud to announce we have attained $62 million toward our goal of $76 million. The public portion of this financial campaign … will serve to underscore the excitement we feel today and the pride we will feel when we have this cherished hall open."
Learn more or contribute at theconrad.org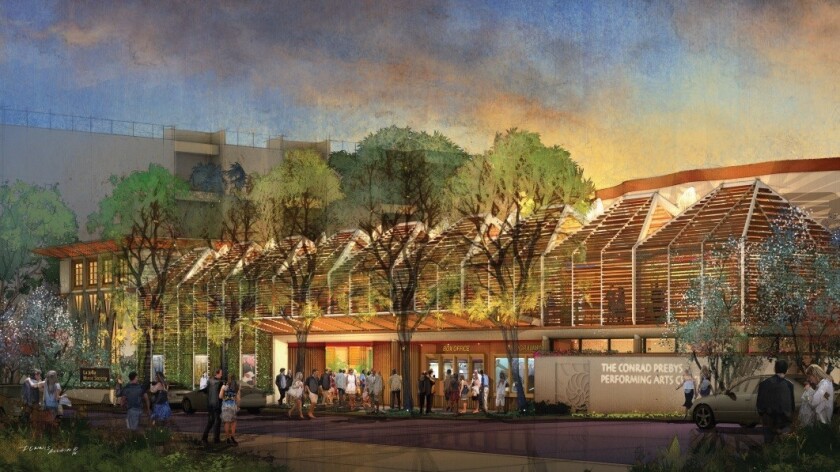 ---