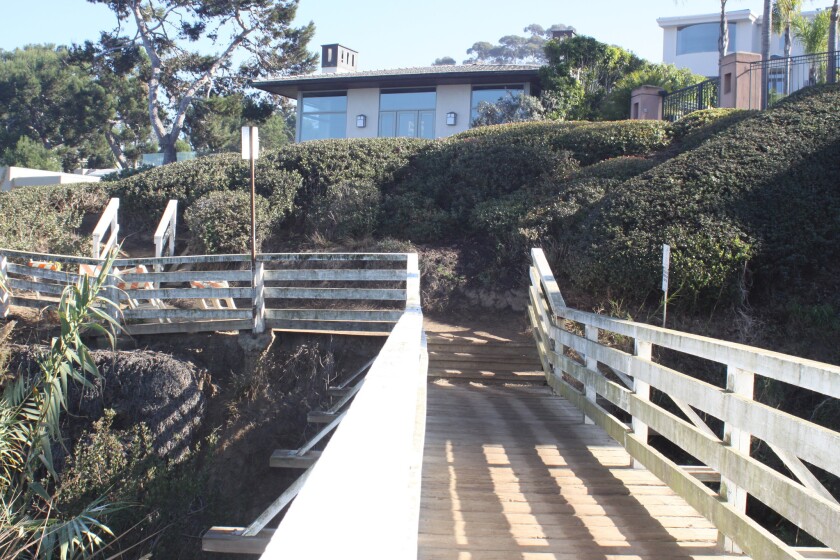 Next month, the City of San Diego expects to have the permits secured to start work on the Coast Walk Bridge restoration project. The bridge was closed by the City in March 2017 due to "erosion and slope failure," and as a temporary measure, the bypass will be constructed to re-establish pedestrian access.
The bridge itself is stable, but a segment of footing that supports the bridge at one of its access points was "wiped out" last year and the City determined it was not safe for pedestrian access and posted "Bridge Closed" signs. The bypass would be a temporary measure until the bridge, which was built to its current configuration in 1932 (it's unknown when it was originally built) and reinforced in the early 1990s, can be restored. The bridge is part of the third-mile Coast Walk Trail, with ingress/egress points on Coast Walk at Torrey Pines Road and Coast Boulevard near The Cove.
A City memo was issued about the project in November, requesting a Coastal Development Permit and Site Development Permit. Within it, representatives from the Public Works Department state: "The proposed scope of work includes construction of approximately 60 feet of new, four-foot-wide trail realignment about 10 feet to the east of the (existing) Devil's Slide pedestrian bridge."
Construction also includes new wood stairs connecting the east end of the trail to Coast Walk.
"We anticipate getting a coastal permit by February to start work," said City information officer Anthony Santacroce. "The work involves re-routing the trail around the slope failure area and constructing stairs up the slope to the new trail alignment beginning at the northerly end of the existing pedestrian bridge. The new trail will then connect back to the existing trail to the west as soon as possible."
None of the existing structures, including handrails and staircases on the trail would be removed or impacted.
The City memo further states: "The Department of Park & Recreation would construct trail surface improvements such as clearing vegetation and construction of trail surfaces. It is anticipated that the work would take one to two work days" and that "Facilities Divisions' Operations and Maintenance crew would construct the landing and staircase for the trail improvements over four working days."
More than 200 feet of lemonade berry plant and 36 square feet of non-native ornamental vegetation above the existing and unsupported pedestrian bridge will be removed to accommodate the bypass.
"The project is funded … with costs split between the Transportation Department and the Park & Recreation Department," Santacroce added. "Since City crews will be performing the work, a cost estimate has not been prepared for the project."
When the trail was originally closed, the City reported there were no plans to reopen it. Last fall, the City changed its tune.
In September 2017, Transportation and Storm-water department spokesperson Bill Harris told the La Jolla Parks & Beaches advisory group: "It is our intent to restore the bridge, restore access to the bridge, restore the stability of the bridge and find a way to keep that trail active."
---