J. EDGAR'S LA JOLLA: Remembering the Hotel Del Charro
It's no secret the FBI is headquartered at the J. Edgar Hoover building in Washington, DC. What few realize, however, is that, every summer from 1953 through 1971, it was headquartered in La Jolla for two weeks and sometimes longer. During the Del Mar Racetrack season, J. Edgar himself stayed here, at the storied Hotel Del Charro, once located on four acres near the intersection of La Jolla Canyon (now Torrey Pines Road) and the part of Ardath Road that is now La Jolla Parkway.
Other regulars who could afford the resort's $100-per-night bill in 1960 included movie stars (John Wayne and Elizabeth Taylor), TV stars (Lucille Ball and Desi Arnaz), future presidents (Lyndon Johnson and Richard Nixon) and billionaires (Howard Hughes and Del Webb). Hoagy Carmichael once played "Stardust" on the piano by the kidney-shaped pool.
But Hoover managed to outshine them all. He and FBI associate director Clyde Tolson typically held court with high-profile friends at their perpetually reserved poolside table a short walk from their perpetually reserved Bungalow A. (There were seven private cabins.) Ditto when they dined in the Jacaranda Room, built around a giant jacaranda tree, on culinary masterpieces made to order by Chef Karl M. Thaler.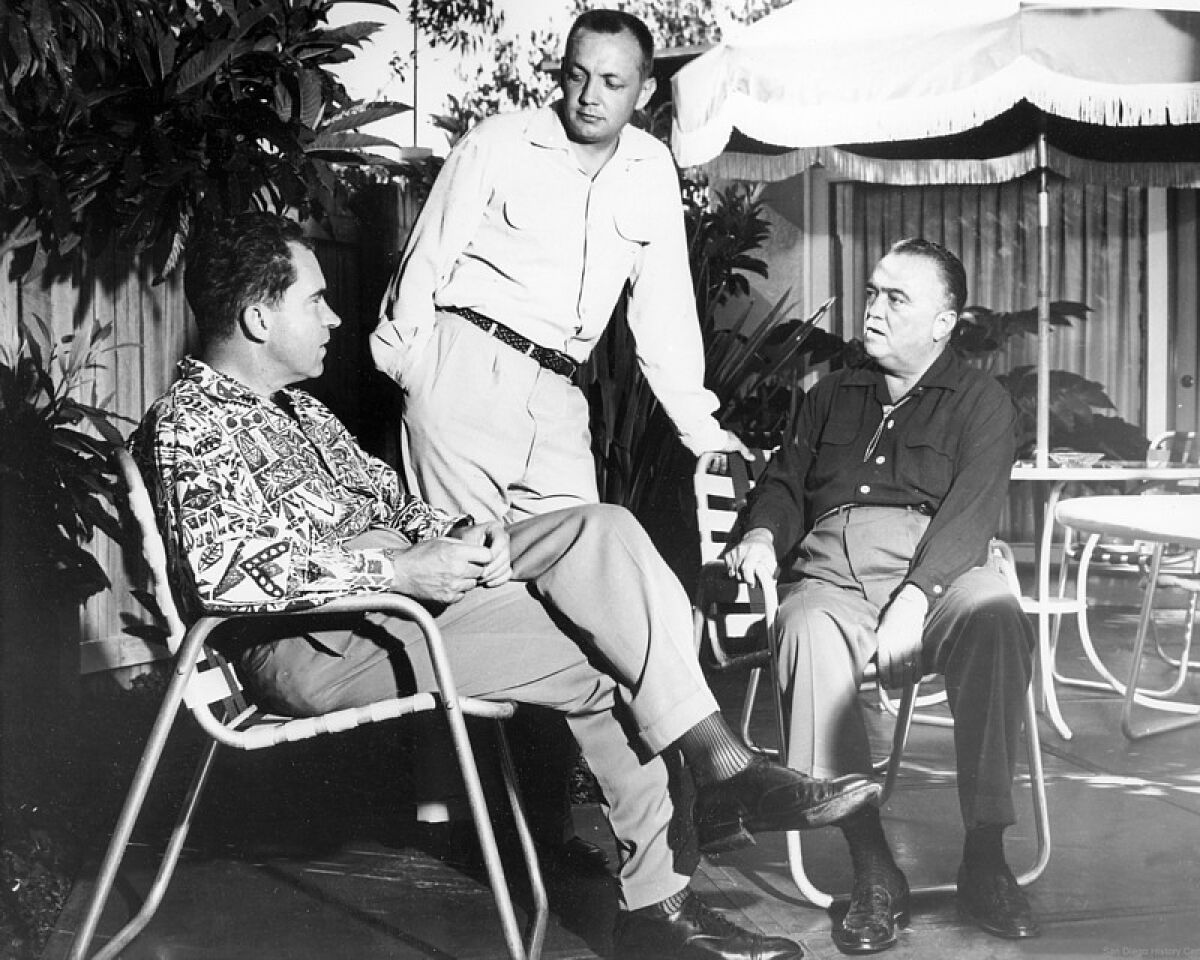 "Hoover and his partner were always perfectly dressed individuals — suit and tie," said Steve Alkazin, who worked as a Del Charro valet from 1958 to 1963, parking fancy new Lincolns, Cadillacs and Jaguars across Torrey Pines Road on the vacant lot that has since become Fire Station 9."

Hoover would always say good evening when he walked by," Alkazin said. "Then (Hollywood gossip reporter) Walter Winchell would come up later and ask me if I had seen Hoover."
Hotel history

The hotel was opened in 1948 by owner J.R. Marechal as the Rancho Del Charro (Cowboy Ranch), incorporating the 1931 structure and riding facilities of its predecessor on the property, the La Jolla Riding Stables. Hoover and Tolson became permanent summer fixtures after Hoover's friend, Texas oil tycoon Clint Murchison, took over in 1953, greatly expanding and rebranding it the Hotel Del Charro, crafting bungalows out of its stables.
According to author Anthony Summers, writing in 1993's "Official and Confidential: The Secret Life of J. Edgar Hoover," former FBI agent Harry Whidbee was in charge of meeting Hoover's requirements for Bungalow A each summer, which included a direct phone line to Washington for him to conduct FBI business every day.
Inside the bungalow — which sported three bedrooms, two baths, a living room, kitchen and two patios — Hoover and Tolson reportedly also took secret meetings with people like Arthur Samish, a Sacramento lobbyist strongly rumored to have mafia ties, and other shadowy leaders of legal and illegal industry. As syndicated columnist Jack Anderson reported in 1970, Hoover "stayed at the Hotel Del Charro at the same time some of the nation's most notorious gamblers and rackateers have been registered there."
Writing in his 1993 autobiography, "In History's Shadow: An American Odyssey," Del Charro regular John Connally — who went on to become the governor of Texas and take one of the bullets meant to kill President John F. Kennedy in Dallas — observed that Hoover "tried to avoid the mobsters who also enjoyed their afternoons of horse racing, but a few of them he got along with quite well."

One day in 1961 or 1962, Don Dewhurst recalls being asked to take a paid gig in Hoover's posse up at the racetrack. Back then, the chairman of Dewhurst & Associates construction company was a 19-year-old University of Redlands student, working on summer breaks at the valet-parking gig that Alkazin, his fellow 1959 La Jolla High School graduate, recommended him for.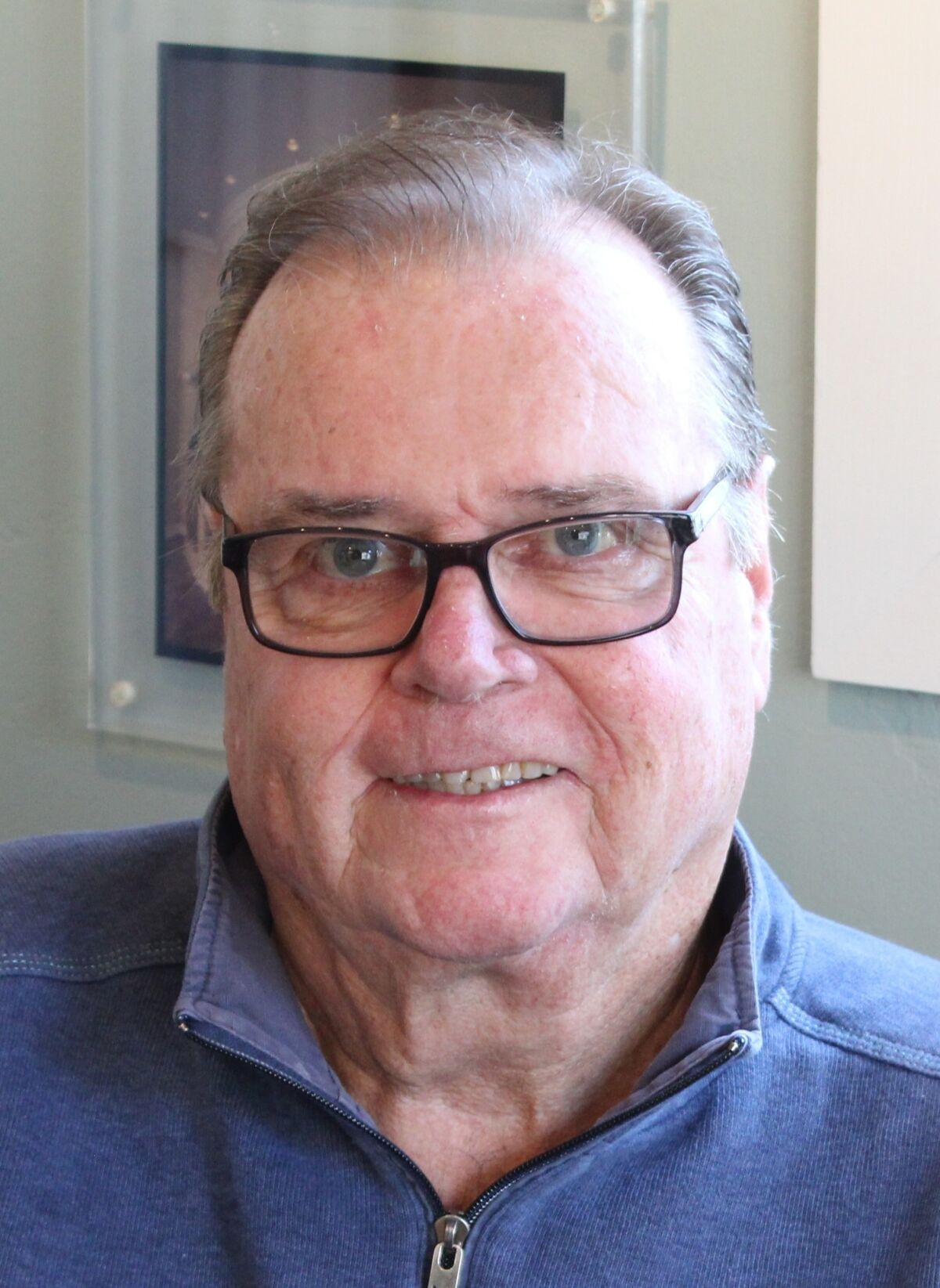 "Art Forbes, who was the general manager, was asked by Hoover to find half a dozen guys to go up to the races with him," Dewhurst said. "He had his bodyguards, but he wanted a little bigger contingent of people for the box he had up there."
Dewhurst said he was overjoyed by the prospect of such an historic assignment, much more so than his parents were. They put their foot down when their son told him he would need to buy a gun "because everybody he was with had guns." Dewhurst added: "I don't think they wanted me hanging out at the racetrack all day, either."
Not all the criminals at the Del Charro were invited guests, according to Dewhurst. Two robberies, in fact, occurred at the hotel while Hoover was in residence.
"My understanding is somebody came in, held up the hotel clerk and took money out of the cash register," Dewhurst said. "And then, in another case, there was a cabana around the back and some gal was staying there and had all these jewels in there. Someone broke in and took all that stuff."
Last resort

It was Anderson, writing in that same 1970 column, who broke the news that Hoover and Tolson never paid a single Del Charro room bill; that all were comped by Murchison over the years, to the tune of $15,000. Author Curt Gentry — writing in the 1991 book "J. Edgar Hoover: The Man and The Secrets" — speculated that this special treatment bought Murchison advance warning about oil regulations and other federal actions. (Author Summers went so far as to suggest that two FBI agents paid a visit to Al Hart, owner of the Del Mar Racetrack's seasonal lease, after Hart refused to sell the lease to Murchison and his business partner, Sid Richardson, and that Hart ended up changing his mind.)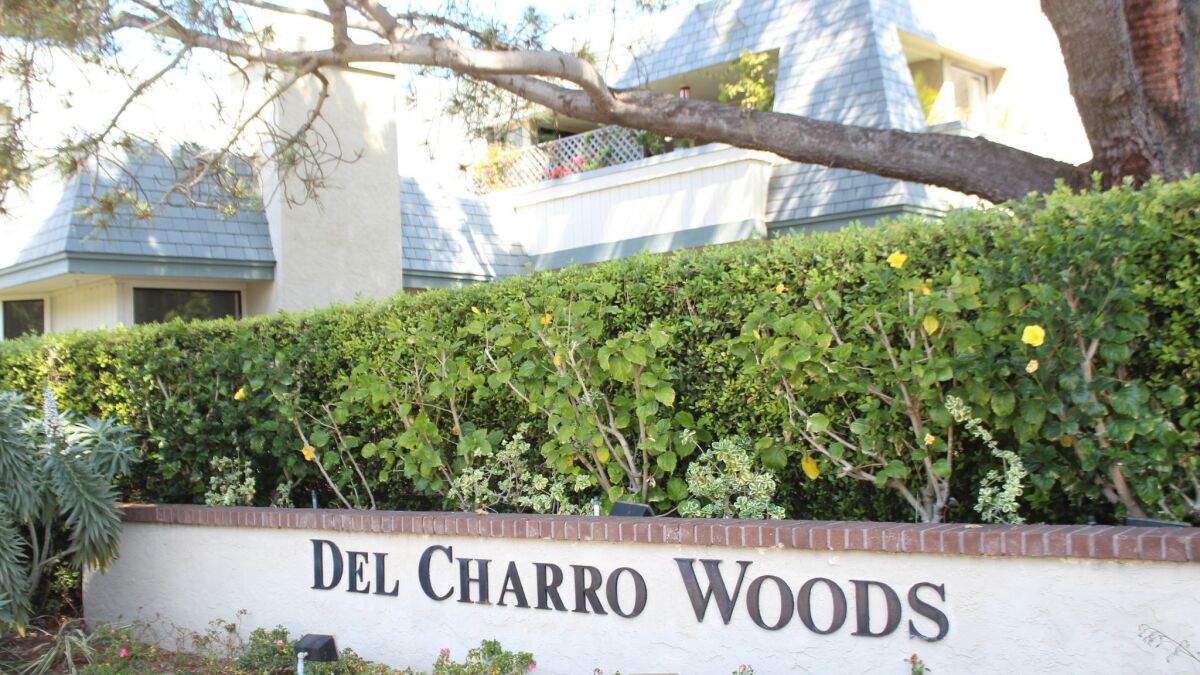 Hoover returned for one final Del Charro summer in 1971. Murchison had died two years earlier, and the hotel began declining in the hands of a new owner. In 1973, it met its end the year after Hoover did. Its buildings were demolished and replaced by the cookie-cutter complex of 70 condos that stands there today: Del Charro Woods. Some trees were all that were salvaged, thanks to pressure at the time from the La Jolla Town Council, but the famous Jacaranda Room showpiece wasn't even among them.
"It was sad," said Alkazin, who now lives in rural Washington State. "It was an important part of my experience as a young guy." But Alkazin said he understood the inevitability.
"It was a seasonal operation," he said. "Racetrack time, it was packed to the gills with the rich and famous. Wintertime, it was a ghost town. La Valencia was smack in the middle of town, but not much was around the Del Charro. It made a ton of money for three months out of the year, then there was nobody there."
Coincidentally, Dewhurst found himself back on the site in 1985 or 1986, in his current occupation as a contractor. He was hired to perform maintenance work that he could barely keep his mind on due to the rush of memories.
"We went in and put in all new drainage and landscaping and steps, the whole shebang," Dewhurst said. "I was thinking, 'OK, the pool was over here and the cabanas were back here.'
"It doesn't ever leave you," he added. "I think about those days every time I drive by there."
Get the La Jolla Light weekly in your inbox
News, features and sports about La Jolla, every Thursday for free
You may occasionally receive promotional content from the La Jolla Light.