La Jolla 'medium priority' on City bike lane plan; DecoBikes could be needed to bridge travel gaps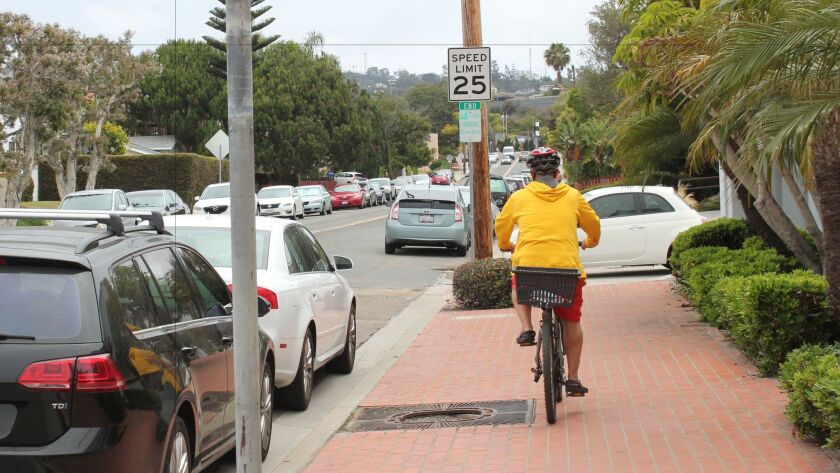 On a scale of "medium," "high" or "higher," two La Jolla bike lanes among the 90 projects in the San Diego Bicycle Advisory Committee (BAC) Strategic Implementation Plan, ranked "medium" in priority. A one-mile stretch of Villa La Jolla Drive (between its two intersections with Gilman Drive) and a 1.2-mile bike lane at La Jolla Village Drive (between Gilman Drive and Regents Road) are in the BAC plans for future construction.
However, District 1 appointee to the BAC, Nicole Capretz, told La Jolla Light the projects aren't funded yet. "The list of needs for funding and infrastructure is very long, so (the fact that) La Jolla didn't make the highest priority just indicates how far we have to go." She explained the two criteria that determined priority: 1) Projects in traditionally underserved communities and 2) Projects within Vision Zero corridors. (Vision Zero is a City initiative to reach zero traffic deaths by 2025) .
Although it wasn't identified in the first Vision Zero list from the non-profit Circulate San Diego, a City staff report released March 6 pinpointed the intersection of La Jolla Village Drive and I-5 (within the proposed bike lane), as one of the most dangerous pedestrian spots in the City.
The BAC Strategic Implementation Plan was presented to the City Council's Environment Committee, which endorsed it April 13. The plan focuses City resources to reach the self-imposed goals in Mayor Kevin Faulconer's "Climate Action Plan," which includes an increase to 6 percent more people biking to work in 2020, and 18 percent by 2035.
"The Climate Action Plan calls for a significant shift in the number of people who take public transportation and who bike to work, but funding (to support that) has not been identified, so the Bicycle Advisory Committee has some serious concerns about that," said Capretz, who's also author of the City-endorsed Climate Action Plan.
To achieve its goals, the 32-point implementation plan calls for the creation of a managerial figure within the City who dedicates 100 percent of his/her time to push for the advancement of the bike plan. Andrew Hanshaw, Mayoral appointee to the BAC said, "We made the recommendation to have a Bike Czar, someone beyond a traffic engineer, someone to focus specifically on infrastructure … a leader that pushes the City plans forward. Not having someone solely dedicated to bikes doesn't move things quick enough."
Another recommendation requires the City to up its outreach policies with tasks such as bicyclist education for all fourth-graders in the San Diego Unified School District and hiring staff to coordinate safe biking routes to schools.
Proposed initiatives also include incentivising bike parking, boosting police enforcement of bicyclist protections and financing initiatives to get employees to their worksites by bike. "It really gets down to increasing ridership, having a healthier San Diego community and providing safe bicycling networks," said Hanshaw, adding that in the meantime, BAC proposals help achieve another one of the City's ambitious goals, the Vision Zero plan.
The Strategic Implementation Plan will be back before the City Council Environment Committee in July with modifications, and eventually move to the full Council. "The City has set a high bar for ridership with the Climate Action Plan, and this is a strong pull to get them there," Hanshaw said.
DecoBike
When asked where La Jolla sits in future City bike and transportation plans, Hanshaw said he would recommend installing a bike-sharing program in town by the time the Mid-Coast Trolley extension provides service to UCSD.
"Bikes at our transit connections are going to be really key," he said. "I know there's been an issue and I hope the City is going to continue to do outreach and work with the community to eventually locate DecoBike stations."
But Capretz, disagreed with him. "If there is enough demand for a shuttle (from the Trolley station) the City should provide a shuttle for people working in La Jolla Village. That's something that must be looked at and evaluated, for sure. That seems more viable than bike-sharing in La Jolla, given the hills and the terrain," she opined.
For the past two years, La Jolla community planning groups have turned thumbs down on proposals to install DecoBike kiosks in town, arguing that parking spaces would be lost, advertisements would pop up in public spaces, and other beach communities reported negative experiences with the bike-sharing company.
---
Get the La Jolla Light weekly in your inbox
News, features and sports about La Jolla, every Thursday for free
You may occasionally receive promotional content from the La Jolla Light.