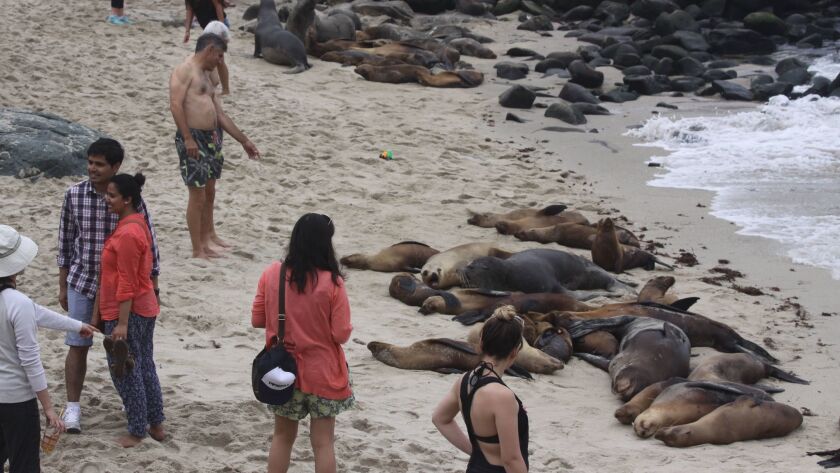 The San Diego City Attorney's office has issued a memorandum on the sea lions at La Jolla Cove, indicating the City cannot transfer its authority to remove or deter sea lion congregation to a nonprofit organization, such as the La Jolla Town Council or La Jolla Parks & Beaches advisory group.
The opinion could effectively cut the legs out from under the La Jolla Sea Lion Task Force (formed under the auspices of La Jolla Town Council), who for months have been asking the City to designate a local organization as "authorized" to shoo the sea lions away from La Jolla Cove, and implement other approved deterrence methods.
The five-page opinion was issued by letter Jan. 24 to Herman Parker, director of the San Diego Department of Park & Recreation from the office of the City Attorney.
The opinion states: "Community members have asked the City to authorize a nonprofit organization and its volunteers to undertake certain (sea lion) deterrence methods under the Marine Mammal Protection Act (MMPA)" and poses the question "Does the MMPA allow the City to transfer its authority to a nonprofit organization to deter sea lions at La Jolla Cove without approval from National Oceanic and Atmospheric Association (NOAA)?" The short answer, it reads, is "no."
It continues: "The MMPA allows City officials, in the course of their official duties, to take sea lions at La Jolla Cove under certain circumstances; however, based on the plain language of the MMPA and narrow construction of exceptions to its broad prohibition on taking marine mammals, the language of the statute does not support the City allowing a nonprofit organization to engage in the same takings without approval from NOAA."
After it was announced at the Feb. 27 La Jolla Parks & Beaches meeting, newly seated chair Ann Dynes said, "I read the letter and it's a classic example of a letter whose author is seeking to come up with reasons why you can't do something, not how you can get something done."
Board member Debbie Beacham added (as the La Jolla Parks & Beaches representative on the Sea Lion Task Force), "The opinion is being dissected and looked at as a way to move forward, even though the City is hesitant to work with (an organization not associated with) the City. The important thing to note is there are still discussions being had with the City, the Town Council and with NOAA. There is nothing to suggest that this is finished, as this will constantly be moving."
The Sea Lion Task Force formed after La Jolla Town Council held several "Crisis at the Cove" forums in 2016 to address the growing population of sea lions at La Jolla Cove and their increasing acclimation to humans. Fed up with a lack of action at the City level, the Task Force, chaired by Ann Kerr Bache, asked that a local entity be given authority for removing the sea lions, so there would be consistent implementation and accountability.
Undeterred by the City Attorney's opinion, Kerr Bache told La Jolla Light, "This will not stop us from asking to work with the City to get the authority delegated to us. The problem with the opinion is that is misunderstands what we're asking for, we are not asking for the complete transfer of authority, we're asking for the City to maintain its authority but delegate us as authorized to do something. We're going to continue to meet with the City and try to do something before the sea lion situation gets worse."
The item will likely be discussed at the La Jolla Town Council meeting, 5 p.m. Thursday, March 9 at La Jolla Rec Center, 615 Prospect St. lajollatowncouncil.org
---