La Jolla Children's Pool Walk project delayed: City evaluating 'scaled down' alternatives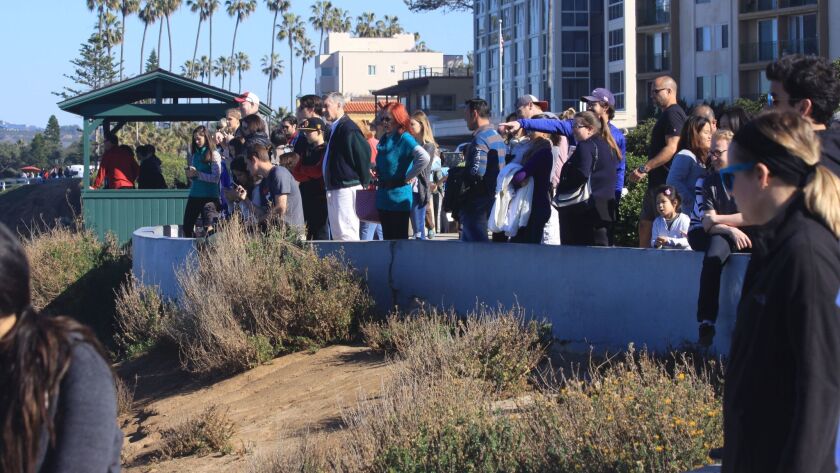 Two months before construction was set to begin, the Children's Pool Walk Beautification Project is facing yet another setback, causing some La Jolla Parks & Beaches (LJP&B) advisory group members to question whether the project (which could cost anywhere from $250,000 to $690,000) will ever come to fruition.
Project plans would aesthetically improve the sidewalk and viewing area above Children's Pool (originally built in 1931 with the construction of the seawall) and open up pedestrian flow and access.
Construction was slated for June, but LJP&B president Ann Dynes said three new "developments" have come up, which need to be addressed, and she and other LJP&B members met with City engineers on April 10 to get the details.
Chiefly, City engineers have determined that 1) the short wall that surrounds Children's Pool may qualify as "historic," which would affect any improvements done to it; 2) there are safety issues, which may result in the wall being raised or some form of screen being put in place; and 3) engineers discovered a storm drain that needs to be repaired before work can proceed.
Addressing each of these points, San Diego Public Information Officer Alec Phillipp told La Jolla Light, via e-mail, "The retaining wall system was determined to be eligible for designation in the National Register. As a result, any improvements to the retaining wall as part of the project should be consistent with the U.S. Secretary of Interior's Standards for preserving historical resources. City staff is currently reviewing the project and assisting Public Works staff to ensure consistency with the standards."
Further, he said, "Any improvements to existing structures would trigger modifications to meet current (safety) code requirements." Regarding the drain pipes, he said, "An investigation of the condition of the line must be made from the outlet side of the pipe, but must wait until after June 1 when the harbor seal pupping season ends. This will be part of determining any corrective measures necessary for pipe repair."
All said, Phillipp reports the City is "evaluating alternatives that scale down the scope of work." To present these alternatives, City engineers have agreed to attend LJP&B's July 24 meeting.
LJP&B member Phyllis Minick, who has been heading the project for six years, said she considers the City's continued interest a good sign.
"Whether the sidewalk is changed, whether the wall is changed or repaired, the main idea was to open up the sidewalk for better pedestrian flow. That area is grossly overused," she said. "The City has agreed to look at that and report back. If they do nothing else but replace the spikey Natal Plum plant, and just put down decomposed granite, it would open up a considerable walkway. That would satisfy the access issue. The planners want to give us what we'd like to have, but the obstructions are there and there's nothing we can do about it. We'd be wise to overlook them as much as possible and move forward in July to make the area better."
However, LJP&B member Ken Hunrichs said he has a different impression of the situation.
"My takeaway is that the City didn't want to complete this project so they found a way, using this historical, safety and code regulation processes to kill this project."
A blessing in disguise?
In the meantime, Dynes said the board would investigate whether it would want to pursue getting the wall designated "historic." To shed some light on the pros and cons of such action, La Jolla Historical Society preservation committee chair Diane Kane spoke at the meeting.
"You are actually lucky that the wall (could be) historic because it gives you some slack. What tends to happen when you have works of engineering like this — which are both historic and serve a safety purpose — the safety aspect tends to override the historic aspect," she explained. "And engineers get very enthusiastic about bringing the thing up to code … so they will raise the bar up to the required level, which can be completely inappropriate for a historic resource. It can also be unnecessary."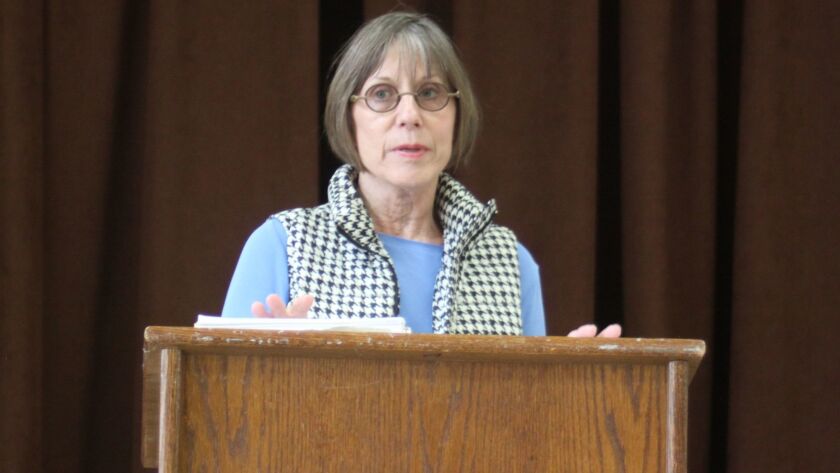 According to Dynes, safety enhancements the City is considering include, a guardrail at a height of 42 inches from the ground at different locations along that wall. "A drawing of what was proposed showed a metal mesh screen that would be installed along the top of the wall," she said in an e-mail about the situation.
Kane, who worked for Cal Trans for 20 years as its architectural historian, said if the Children's Pool Wall is deemed "historic," it would not necessarily need to meet current safety standards. She advised the board to find out how many, and types of, accidents have happened at the site to determine if there is a problem that would need to be addressed.
"If the (only) issue is that this was built a long time ago and it doesn't come up to current standards, that doesn't mean it's inherently unsafe, it's just not at current standards. The State Building Code allows you to keep historic material in its condition as long as it is not unsafe. If it is unsafe, you have to consider in what way it's unsafe and what's the minimum amount of treatment necessary to correct whatever safety issues are identified," she said.
Dynes noted that if the board were to proceed with getting the wall designated "historic," "we might be able to restore the wall without having to put the safety precautions on it, and that would put this whole project back on track." She added that she would like to meet with representatives from the La Jolla Historical Society to better understand board options and next steps.
— La Jolla Parks & Beaches next meets 4 p.m. Monday, May 22 at La Jolla Rec Center, 615 Prospect St. lajollaparksandbeaches.org
---
Get the La Jolla Light weekly in your inbox
News, features and sports about La Jolla, every Thursday for free
You may occasionally receive promotional content from the La Jolla Light.