Bird Rock Council urges residents to report rain, wind damage: Unstable trees and street flooding top the priority list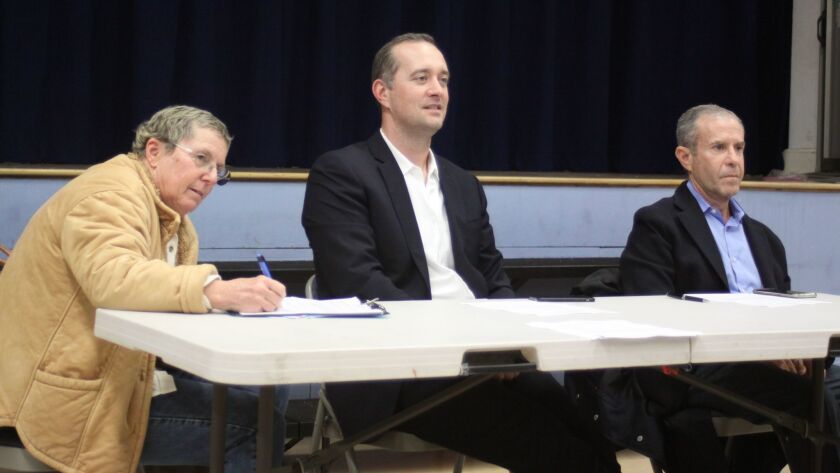 A discussion about how the winter storms of late 2016 and early 2017 impacted Bird Rock (and what to do about it going forward) took place at the Feb. 7 Bird Rock Community Council (BRCC) meeting at Bird Rock Elementary School. The talk was led by BRCC treasurer Barbara Dunbar.
She reported that a median light on the 5700 block of La Jolla Boulevard blew down during the high winds Jan. 21. No one was hurt, and there was minimal vegetation damage. She said there were also reports of street flooding and broken tree branches, adding that a service request was submitted to the City to replace the median light.
"We have other ongoing requests for repairs due to damage caused by rains and high winds," Dunbar said. Because of one fallen structure, a new priority is to proactively look for unstable trees. "It's very important that people report unstable trees ahead of high winds and rain. We have crews going out on a very regular basis, checking all the trees in the (boundaries of the) Maintenance Assessment District (MAD) for stability."
Residents who want to report unstable trees can e-mail info@birdrockcc.org or use the City's Get It Done app, which can be downloaded to any mobile device from sandiego.gov/get-it-done
"The app allows citizens to report to the City directly … and has streamlined the way the City deals with reported issues," Dunbar said. "You can also take photos and upload them, and the City will use the GPS information from the photo to pinpoint where the problem is.
"We get reports from people that say 'the damage is on La Jolla Boulevard' but they don't say which block or anything specific. So having that GPS information is a help."
Problems that can be reported through the app include: abandoned vehicles, curb and gutter blockages, dead animals, graffiti, potholes, sidewalk issues, storm drain issues, street light outages, traffic light malfunctions and tree hazards.
"Everyone who has used it says it is better than the old system, and does result in things getting done," Dunbar said. "But as community members, you could help the whole neighborhood and report the problems. It's a squeaky wheel situation."
Mosquito caution
With the excess of rain thus far, Dunbar said San Diego County Vector Control Program is issuing an early warning about mosquito growth in standing water.
"It only takes two days of standing water without circulation for mosquitoes to lay their eggs and one to two weeks later, the mosquitoes mature. So it might not be the season, but our weather is not that cold here, it could still happen," she said.
"Check for anything that can hold water including pot bottoms, buckets, folds in lawn furniture or grill covers, toys, even fallen palm fronds (and dump the water inside)."
A sinking street?
Recently, each time it rains, a small "lake" forms at the Forward Street roundabout on La Jolla Boulevard, Dunbar reported. Residents are concerned that the water's weight has created a burden on the pavement and is damaging the infrastructure.
"It is our belief that the road is sinking a bit ... the asphalt is disappearing and potholes are appearing. The rain makes it worse," she said. "The road was not installed properly and it seems there wasn't much forethought because no matter what we do to the landscape areas on either side, we can't solve the problem of pooling water (which has contributed to the undermining)."
Meeting attendee Sharon Wampler added, "We've been told for years there was going to be some replacement (project) and when it's done, the road will be repaved. But it's been years and nothing has happened." She also joked the next time it rains, "Everyone should take a picture and upload it to the Get It Done app."
In other BRCC news:
Tour of Homes: BRCC member Ron Fineman announced the Jan. 28 Bird Rock Tour of Homes, which returned this year after a three-year hiatus, was a success. "We had six homes that were kept secret until the day of the event. I'm told a good time was had by all. We had 50 volunteers and 168 attendees. We have it on the schedule for next year, around the same time," he said. Those in attendance who walked the Tour of Homes said they would happily be at next year's event.
DecoBike: During the public comment period, there was a brief discussion on whether the City's bike-share program, DecoBike, could soon establish a presence in Bird Rock. The City is proposing bike-share kiosks on La Jolla Boulevard at yet-to-be-disclosed corners.
Speaking against the program, meeting attendee Gillian Ackland said, "The City Council is starting to force communities, including La Jolla, to accept DecoBikes. (In Bird Rock), there are several locations proposed with 14 bikes at each stand. They are pushing for the coastal communities because DecoBike has not been successful in other areas of San Diego. Most of their revenue comes from advertising, rather than the bike rentals. They want to come to La Jolla because the return on the advertising would be better."
Among the reasons she opposes DecoBike, Ackland said that in Pacific Beach, a kiosk was placed "in one of the key gathering areas" with a "very tall advertising pillar" and she did not want to see something similar in Bird Rock.
Mauricio Medina, representing District 1 City Council member Barbara Bry, read her statement on the issue: "If the program starts to move forward with any sites in La Jolla, (Bry) will ensure City staff present to community planning groups, work with the community and address any concerns. She's been assured that City staff will notify her and La Jolla's community organizations before any steps are taken toward implementing DecoBike in La Jolla."
Bry will reportedly be in attendance at the next BRCC meeting, 6 p.m. Tuesday March 7 at Bird Rock Elementary School, 5371 La Jolla Hermosa Ave. birdrockcc.org
---
Get the La Jolla Light weekly in your inbox
News, features and sports about La Jolla, every Thursday for free
You may occasionally receive promotional content from the La Jolla Light.