Rescued sea turtle at La Jolla's Birch Aquarium gets her latest checkup. So how is she doing?
Recording the turtle's measurements is important to see if she's outgrowing her exhibit space.
The loggerhead sea turtle at Birch Aquarium in La Jolla has come a long way in the past 10 years — from surviving an injury that left her paralyzed and underweight in 2013 to her most recent exam that puts her about the size of a bodyboard.
Birch's husbandry team conducted the unnamed turtle's annual health checkup in May, measuring her head, shell and flippers, taking a blood sample and weighing her to make sure she is growing normally.

For the record:
12:58 p.m. June 24, 2023The turtle's back flippers are paralyzed but do not have prosthetics on them, according to Birch Aquarium's Alex Feltes. This article has been updated to correct that.
The turtle was rescued from a New Jersey power plant in 2013 with a large gap in the bottom right part of her shell, according to Birch. The gap, along with an abnormal curve of her spine and paralysis in her back flippers, likely are due to experiences in the wild before she was rescued. When she arrived at Birch Aquarium the following year, she weighed 74.5 pounds.
In 2017, Birch developed and affixed a 3D-printed brace on her shell.
The team conducts annual checkups to make sure her care meets her needs. Given her special circumstances, her growth pattern is of particular interest.
The most recent exam measured her shell length at 3 feet and her width at 2½ feet. She weighs 210 pounds.
"We try to keep track of those things because she is relatively young," said aquarist Jessenia Hernandez. "She is estimated to be 20 to 30 years old, which is considered adulthood for an average sea turtle."
The turtle was the same size during last year's physical. Though it is common for turtles to stop growing at a certain point, Birch wants to continue to record her measurements to be sure when she has reached that point.
"We don't want her to get too big because if she outgrows her exhibit space, then she would have to be re-homed," Hernandez said. "We aren't stunting her growth, but we are seeing how much she is growing. If she continues to get larger and larger, we may have to reassess if she should still be staying here. But she has been at a consistent size for the last two years. If we see there hasn't been a drastic change, then that will be her size for the rest of her life."
Because of the brace on her shell, "we have to make sure that if she is growing, the prosthetics are growing with her and her shell isn't caving in," Hernandez added. "If we see she is outgrowing her prosthetics, we are going to replace them."
Overall, she said, "growth is the goal in general, just like a person, and she is considered average for a female loggerhead."
To conduct the exam, the turtle has to be extracted from her tank, said Hernandez, who has worked with sea turtles at two different aquariums and describes the Birch turtle as "sassy."
"We start everything by making sure we get divers in the water to get her out, and that can be the hardest part because we put her in a lift basket to crane her out," Hernandez said. "We target-train her to follow a red buoy around the tank … but it can be hit or miss. Sometimes she will do fantastic — she'll see the target and [go] right away. And other times she just won't."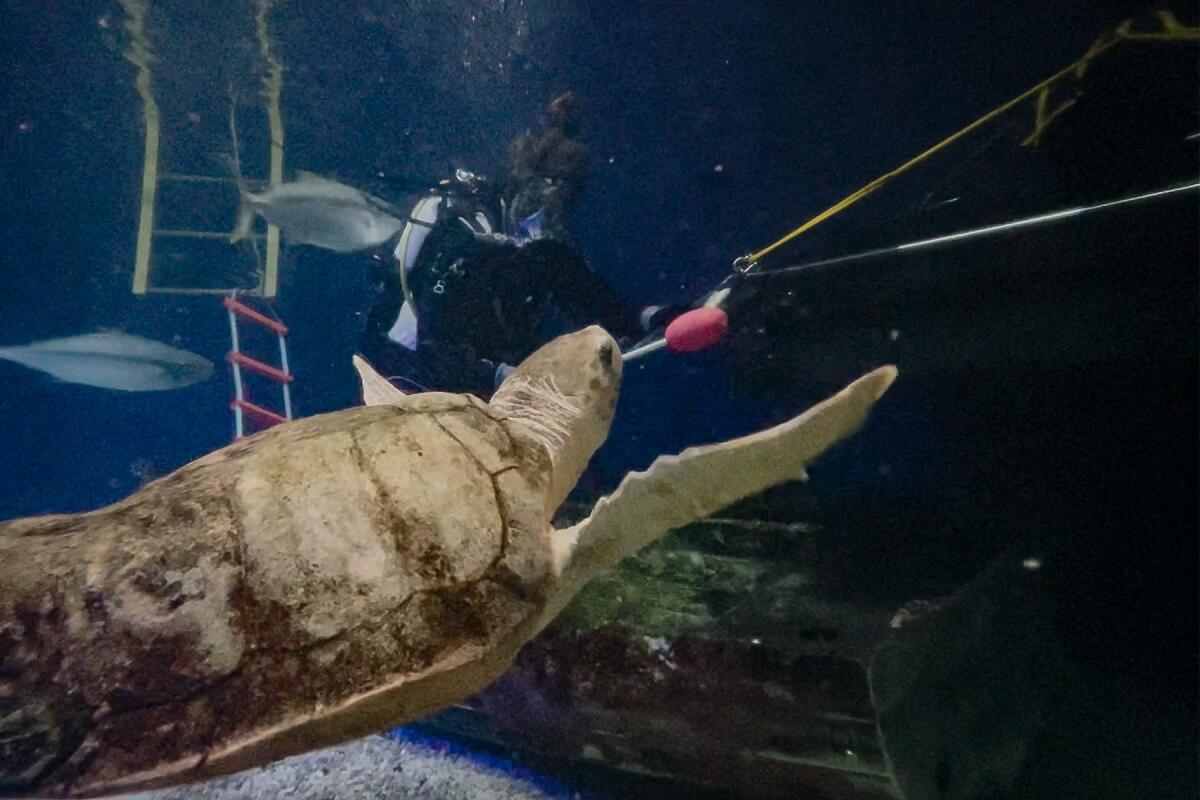 Once extracted from the tank, she is placed on a tire. "It helps with turtle physicals because they are off the ground and are not able to get away," Hernandez said. "Even though she is paralyzed [in her] back flippers, her front arms are so strong and she can move around."
Though the turtle does not have a name, she has plenty of nicknames from guests.
"Since she was found near a power plant in New Jersey, a lot of people call her Jersey," said Alex Feltes, a Birch Aquarium digital marketing and communications specialist. "And there is a little boat in her enclosure called Lola, so a lot of people call her Lola as well."
There are no plans to officially name the turtle anytime soon.
Loggerhead sea turtles are one of the most widespread of all marine turtles, found in all but the coldest waters worldwide, according to Birch. They also are the most migratory — Pacific loggerheads migrate more than 7,500 miles between nesting beaches in Japan and feeding grounds off the coast of Mexico.
Green sea turtles are more commonly seen locally, but loggerheads have been found in the Matlahuayl State Marine Reserve off La Jolla Shores as well as the National Wildlife Refuge.
Loggerheads are the largest of the hard-shelled turtles, typically weighing 165-360 pounds as adults. Identifying features include large, strong jaws and head, a reddish-brown carapace (top shell) and a yellow plastron (bottom shell). Their average life span is at least 50 years.
Birch Aquarium is slowly starting to bring back public feedings, including for the loggerhead, with a schedule that will be posted on the aquarium website, aquarium.ucsd.edu.
Seeing the turtle eat is not guaranteed because "it does depend on how she's feeling," Feltes said. "But it can be a happy surprise if you happen to be here during a scheduled feeding."
Beginning Saturday, July 1, Birch Aquarium members will no longer need a reservation to visit, though reservations will continue to be required for the general public.
Little blue penguins photo contest
Birch Aquarium is celebrating the first anniversary of its Beyster Family Little Blue Penguins exhibit with a photo contest.
To enter, post a picture from the exhibit on Instagram or Facebook, tag Birch Aquarium and use #BirchPenguinPhoto and say in the caption why you chose that photo. The contest closes Sunday, July 2.
Birch will choose five winning photos that will be posted on Birch Aquarium social media accounts Wednesday, July 12, and displayed in the little blue penguins exhibit July 12-31. Each winner will receive two general-admission tickets to the aquarium.
To learn more, visit aquarium.ucsd.edu/exhibits/penguins/photocontest. ◆
Updates
1:03 p.m. June 23, 2023: This article was updated with information about Birch Aquarium's little blue penguins photo contest.
Get the La Jolla Light weekly in your inbox
News, features and sports about La Jolla, every Thursday for free
You may occasionally receive promotional content from the La Jolla Light.