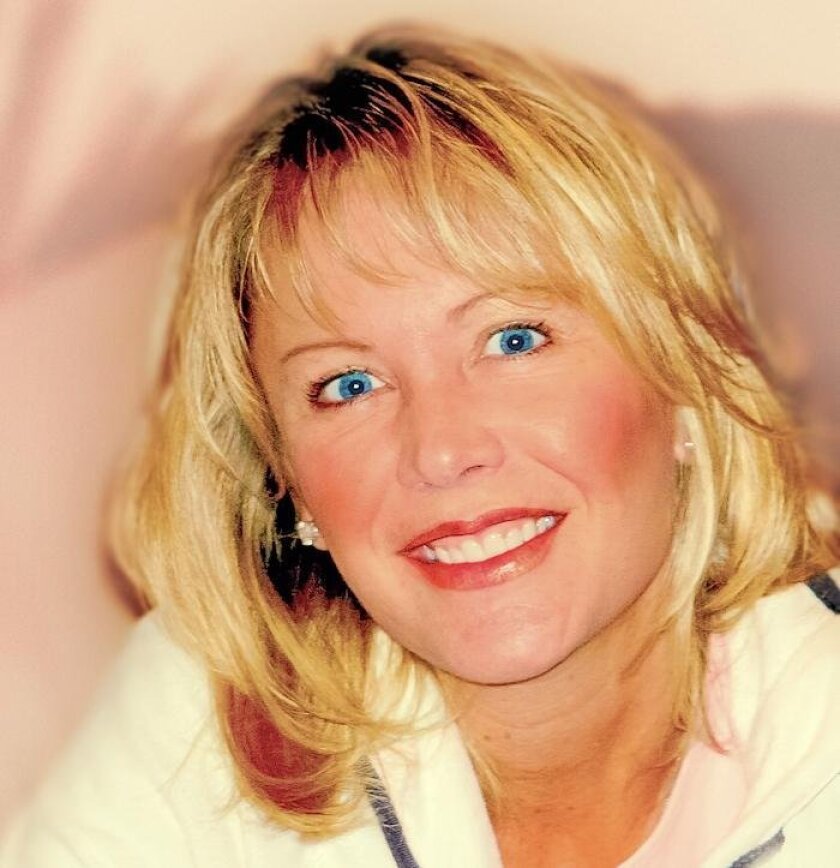 What began 16 years ago for La Jolla resident Paula Marie Jackson as an experiment in self-healing is now being considered for further study as a treatment of the debilitating symptoms of multiple sclerosis.
Jackson, a certified hypnotherapist who in 1999 — at the time of her own multiple sclerosis diagnosis — worked full time as a senior sales executive with a medical device company, has for the last 14 years dedicated much of her time helping others with the disease. Coined Healing Light Guided Imagery, or HLGI, her novel approach to therapy is now in the closing stages of its initial scientific study, conducted by UCSD researchers during the last four years. Preliminary results from the pilot study indicate the therapy has promise, and could be a key to helping MS patients suffer less as their disease progresses, if not slowing down the progression of the disease itself.
Multiple sclerosis is a disease in which the body's immune system attacks the central nervous system, specifically the myelin sheath that protects nerves in the central nervous system, resulting in a wide range of impaired bodily functions.
Researchers have so far found — based on a sample size of six study participants using the HLGI therapy and six other MS patients serving as a control group — that HLGI has the potential to decrease depressed mood in study participants up to 76 percent of the time, decrease fatigue 28 percent of the time, increase physical quality of life about 30 percent of the time and increase mental quality of life by 12 percent.
Dr. Paul Mills, director of the UCSD Center of Excellence for Research and Training in Integrative Health, has stood as the principal investigator in the pilot. He said the therapy may help multiple sclerosis patients alleviate some of the disease's most debilitating symptoms, particularly those that affect a patient's mental well-being, and that could affect their physical presentment of the disease. Enthused and inspired by the study, Mills said the data has so far been "incredible."
"It's very promising," Mills said. "I'm hopeful and I want us to have the opportunity, by garnering the funding, to really dig deeper into this new therapy and see if it could be an avenue for helping not only quality of life and well-being, but really even the march of the disease and its symptoms."
Depressed mood is among the most common symptoms in MS as the disease progresses, Mills said, noting that traditional Western medicine has little, if anything, to offer patients affected by many of the disease's effects. "Generally, it's a hard road," he said. "The pilot data has showed around a 70 percent reduction in depressed mood. Patients were feeling better — much better; energy levels were better."
Seeking to gain more credibility with the pilot to meet the typical 20-participant standard placed on studies sought to be published, UCSD researchers and Jackson are working with a final few research participants as they await word on their pending $1.8 million grant request with the National Multiple Sclerosis Society, hoping to fund a roughly three-year study of greater scope. Speaking to La Jolla Light after leading a session of HLGI with one of those MS research participants at UCSD Medical Center in Hillcrest, Jackson said the therapy has the potential to help just about anyone suffering from the disease. Some of her best moments daily are those spent seeing study participants feel better, she said.
"It just makes my day — it makes my life," Jackson said.
The researchers consider her therapy an "integrated mindfulness." In short, it consists of stimulating in MS patients a light self-hypnotic trance state, in which they follow the imagery of light or objects that can interact — on an imaginative level — with their disease and the MS-affected cells in their bodies.
When she began 16 years ago with her own guided image therapy, she interpreted the images she encountered — of light pouring into her as if from a bucket — as being connected to "Christ's light," or her mother's prayers (Jackson said she was raised Catholic). In developing the therapy for others, she created a model in which participants use their imaginations in non-religious ways, recognizing that it wasn't necessarily the interpretation of the light that was important, but rather the connection with it, she said.
Bedridden and essentially immobile, and seeing few alternatives, she used the guided imagery and her imagination to try to boost her health and well-being, eventually reaching the point of a "powerful transformation" that included a restoration of energy levels and a regained ability to see, hear and walk again, Jackson said. Through a series of vocal prompts, she works to bring similar benefits to her HLGI participants, using imagery easily interpreted by those of any faith or no faith at all, she said. "I'm mitigating it down to where it can be an understood framework for science," Jackson said.
Her journey in developing the therapy for potential commercial use began with a request from her mother five years ago, she said. That was more than a decade after Jackson developed it for her own treatment and roughly nine years after she began informally administering it to other MS patients in her spare time during work-related travels across the globe. Knowing from her career-based experience the challenges in meeting scientific standards for clinical trials, Jackson wasn't sure she'd succeed in any commercialization effort. Her mother has since passed away, but Jackson said she's pleased she was able to initiate the pilot study in time for her mother to see.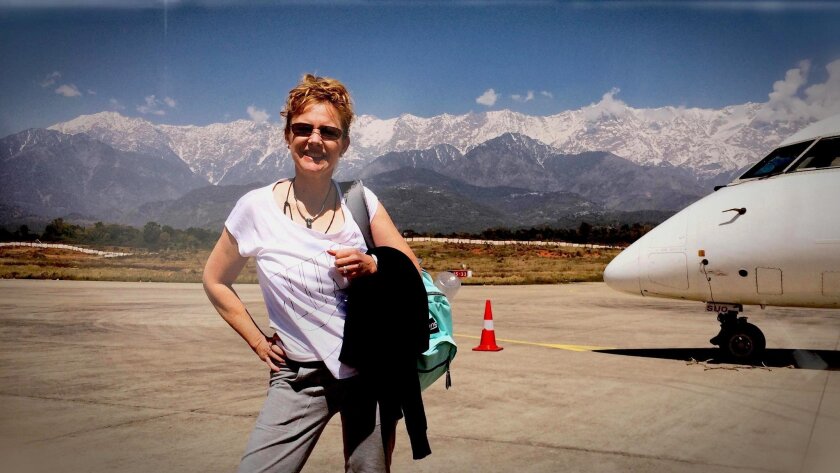 While acknowledging that the pilot study's sample size was not large enough to establish conclusive evidence in favor of the therapy, UCSD researchers are initially hopeful the approach could bear positive results on a larger scale. Dr. Revere Kinkel, director of the Multiple Sclerosis Center at UCSD, said the study suggests modest but potentially meaningful benefits that require confirmation with the larger controlled study being sought.
Mills said the initial study was conducted as a pilot because of a lack of funding for something larger. What the pilot has thus far been able to provide is the "proof of concept" needed to attract additional funding, he said. Mills added that he hopes perhaps by some time in December, the study researchers will know if they've been approved to receive funds for the larger study. That study, he said, would include many more patients — perhaps 100 — and additional data gathering, such as the study of patients' medical records to determine how things change for them over time in the morbidity and the symptoms of their disease.
The pilot study was supported by a portion of the seed funding left over from the establishment about a year ago of the Center of Excellence for Research and Training in Integrative Health, plus significant contributions of time and effort from Jackson herself, Mills said. A larger study will allow for deeper analysis, such as that of blood samples and perhaps brain images.
"We'll look at biological markers related to inflammation and autonomic nervous system arousal, and try to tie in — if they do change for the better, clinically — what kind of biomarkers can we measure in the blood, and get an understanding of how the guided imagery is working," Mills said. "Typically, we call these things 'mechanisms,' and there is a lot of interest in the research world to understand how these things work."
The answers might not all be there yet, but Jackson believes that as time passes and funding comes in for further study of HLGI, more answers will come. "What we do know is that not only does it show promise, but when you're talking about decreasing fatigue by almost 30 percent, and having a better way of dealing with depressed mood — why wouldn't you use it?" she said. "You don't need anything except to sit in a quiet place and practice."
To help fund studies by the UCSD Center of Excellence for Research and Training in Integrative Health, such as the one on Jackson's Healing Light Guided Imagery, choose the "Contribute" link at fmph.ucsd.edu/integrative-health/coe
---