The View from Space: Astronaut Woody Spring talks station life with local students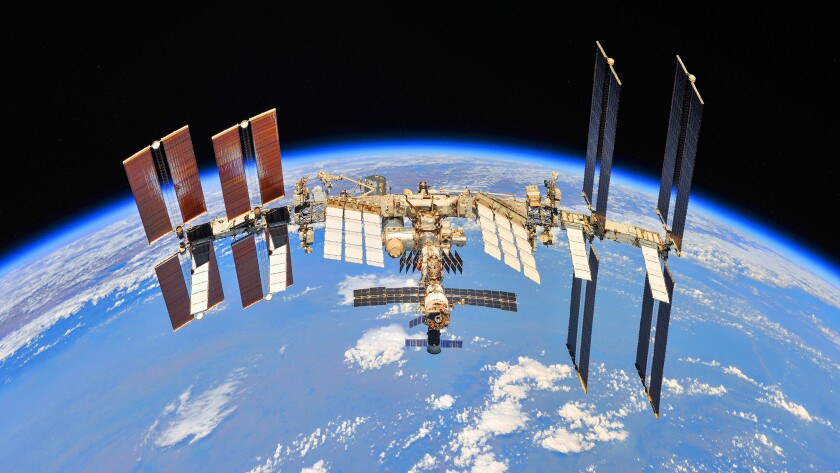 Astronaut Col. Sherwood "Woody" Spring touched down at the La Jolla home of Quan Zhu and Richard Hou last month to answer questions from the robotics teams at La Jolla Elementary and Muirlands Middle schools, whose homework involves helping astronauts cope with the loneliness of space and the design of new technology-inspired space gloves.
The teams, who will compete Nov. 10, 2018 at High Tech High School in this year's FIRST LEGO League (FLL) "Into Orbit" Challenge to tackle problems associated with longer space travel, got to hear first-hand what astronauts encounter in 1-G as their shuttle hurtles through the atmosphere.
"Boom, we leave the pad ... it's roaring, we are shaking like crazy," Spring told the captivated fourth- to eighth-graders. "It's like a sledge-hammer hitting the back of your chair and you are leaving planet Earth one way or another."
Spring, who flew aboard Space Shuttle Atlantis as a mission specialist on STS-61B in 1985, was an army-trained West Point graduate whose crew shot up to the International Space Station where he launched three communication satellites and conducted two spacewalks. And like many astronauts who went before, he was more about the thrill of discovery than personal risk.
Seeing the Earth spinning in space promised a view so riveting, he recalled, that the crew made a pact that nobody could pull an all-nighter, eyes glued to shuttle's giant window. After all, a well-rested crew is paramount to everyone's safety.
"All I could think was this is so cool, this is gonna be great," Spring said. "Every 45 minutes, it's someone's sunset or sunrise. They are beautiful, but only take about 15 seconds."
Ron DeMott, a fellow West-Pointer and team dad who arranged the visit, said the robotics students and future "I-Gen" engineers may have their sights set on distant stars but they will likely be using solutions closer to home. School robotics programs encourage a facility with technology that is often second nature to today's techy children.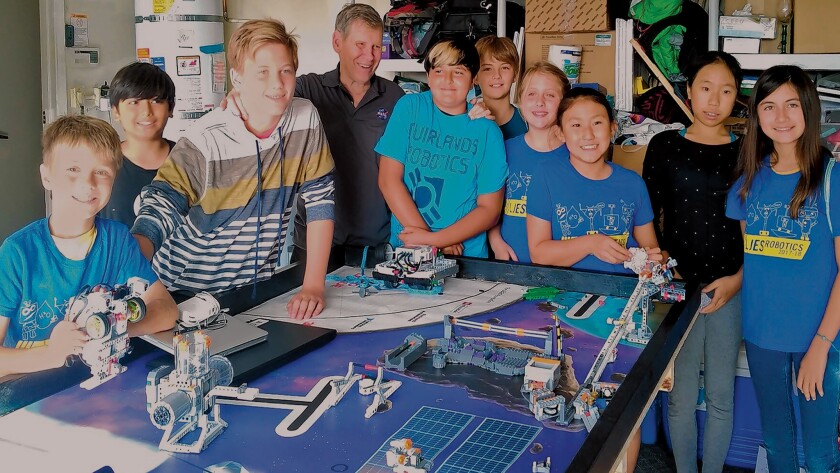 Launching robotics curricula
Muirlands Middle launched its competitive robotics program last year with donations from sponsors including Muirlands Foundation, Monsanto Fund and SPAWAR Systems Center Pacific. This year, there are two middle school teams of 12 students in grades 6-8.
La Jolla Elementary, which began its after-school robotics program six years ago, supports eight competitive FLL robotic teams and has 80 children enrolled. The school also recently added robotics to its school day with a LEGO curriculum that begins in kindergarten, followed by robotics programming that starts in third grade.
"You grew up with cell phones and video games," Spring told the robotics teams crowded around a table with two EV3 robots raring to go. His own childhood was spent in rural Rhode Island without so much as a laptop.
His missions, three decades ago, was to learn more about our blue planet. Future astronauts will seek answers on a red planet — Mars, and beyond.
"I learned that once you go to space, your experience of seeing space and the beautiful Earth will be part of your mind forever," La Jolla Elementary fifth-grader Maggie Hou said of meeting a real astronaut who shared what going into space is really like.
Scenes from the 'top'
Spring said just being in space offers a perspective unlike any other. What man does on the Earth's surface can be observed from the International Space Station, orbiting at a distance of 248.548 miles above the planet.
He recalled flying above the lush Tunggario National Park in New Zealand, which is surrounded by a fence to protect natural flora and fauna from nearby sheep. From space, the park appears as a bright green swath encircled by a ring of barren brown earth, testament to the insatiable ovine appetite.
From the shuttle, he said astronauts could see the Floridian peninsula where they blasted off, along with changing weather patterns such as storms and the passage of time played out in multiple time zones.
"You are an instant weatherman," he said. "It is absolutely gorgeous."
When the mission is close to ending, astronauts try to burn the memory of their galactic journey onto their mental hard drive by crowding around the shuttle's 1.5 inch-thick Corning glass windows. He recalled those precious final moments "as two square windows with all eight heads" crammed together in awe. It's a view shared by only a handful of the world's people.
Then it's back down, down, down with gravity reaching up. "After you land, the hardest part of the mission is standing up," he said.
Robotics students submitted a dozen questions to their expert. La Jolla Elementary students are seeking ways to improve the astronaut psychological health on long flights.
Space station living
Exercise is key, Spring said, to keeping muscles in space from looking like an arm when it gets a cast off. Exercise also helps elevate the crew's mood.
Compatibility, too, is a necessary consideration when selecting crews for missions that can last 18 months and longer. Communication with loved ones back on Earth, once infrequent, are now only an internet click away.
"Today, astronauts can talk to their families daily. Back then, they communicated by radio. There was no Internet then," he told the incredulous youngsters. "It hadn't been invented in 1985."
Muirlands students wanted to know if their lighter, "Inspector Gadget" space gloves could get the job done when past gloves were bulky at best and tool kits were slapped on suits with Velcro.
"The astronaut's personal space suit experience provided invaluable insight and inspiration as we prepare for our project Space Glove Innovation," said Muirlands' robotics coach Lucinda Teufel, whose team was thrilled to get direction on their project from Spring, an experienced "spacewalker."
"You're wearing gloves as hard as a basketball — if you can't bend your finger, you can't do work," Spring said of the old gloves. For the new design, he advised: "Keep it simple."
He suggested they consider two suits for each astronaut — one suit for the harsh conditions awaiting astronauts outside, another for inside the shuttle. After all, even mealtime in the shuttle can get tricky.
Slurping meals through a straw has its drawbacks. So too, does eating staples like tortillas that become crumbly in the dryness of space. Goldfish crackers offer a nice diversion since they float in the air like a school of orange fish crackers.
"You let a handful go, and go through them like a great white shark," Spring added.
Spring told students he never ate space ice cream. No Tang, either. Water, was produced on board using a fuel cell, hydrogen and oxygen, to create water as the byproduct. Once, to the amusement of the crew, a fellow astronaut tried to drink his orange mango juice without a straw.
"It glommed onto his face like a jellyfish," Spring laughed.
The Earth-bound meal Spring missed most? A nice, greasy, sloppy hamburger.
Sleeping in space meant hanging upside down like a bat, tethered to the shuttle ceiling. Bathroom breaks included foot loops to keep you in place, a handheld personal funnel vacuum and lots of baby wipes. There's visual privacy, Spring said, but flushing "sounds like a garbage disposal" on steroids.
Demanding duties
During his mission, his "day job" included building a 45-foot structure in space and a tower with a flag. He also helped capture 8 minutes of IMAX footage outside the shuttle as he gingerly made his way around a giant inverted tetrahedron.
"Maybe it was a dumb thing to do," he chuckled. "But I'd do anything for a spacewalk."
His famous spacewalk graced the cover of Aviation Week in 1985.
The International Space Station may have an American price-tag, Spring said, but he thinks it has always been important for all the Earth's astronauts to call it home.
"It's important we stay together and work together," he added. "We want to make sure it's an international thing."
Teamwork is a big part of the FLL challenge as well. Students are taught being able to work together is just as important as programming tomorrow's robot. Their robotic competitions are "an international thing," too, just like space exploration to come.
———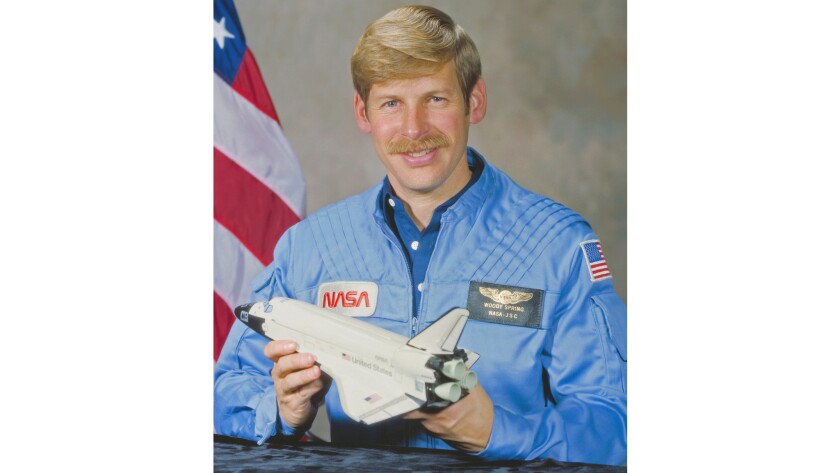 Biography: Retired Astronaut Col. Sherwood 'Woody' Spring
• PERSONAL DATA: Born Sept. 3, 1944, in Hartford, Connecticut, but considers Harmony, Rhode Island, his hometown.
• EDUCATION: Graduated from Ponaganset High School, Chepachet, Rhode Island, in 1963; received a B.S. in General Engineering from U.S. Military Academy (West Point) in 1967 and a master of science degree in Aerospace Engineering from the University of Arizona in 1974. He graduated from the U.S. Navy Test Pilot School in 1976.
• SPECIAL HONORS: Defense Distinguished Service Medal, Distinguished Flying Cross, two Army Bronze Stars, an Army Meritorious Service Medal, three Army Commendations, nine Army Air Medals, a Vietnam Cross of Gallantry with Palm, National Defense Service Medal, Vietnam Service Medals, and NASA Space Flight Medal. Recipient, in 1986, of two honorary doctorate degrees: Doctor of Science, and Doctor of Human Letters.
• EXPERIENCE: After graduating from West Point in 1967, Spring served two tours of duty in Vietnam. The first was from 1968 to 1969 with the 101st Airborne Division. The second tour, 1970-1971, came immediately after flight school and was served as a helicopter pilot with the 1st Cavalry Division. Upon return, he received fixed wing training enroute to a master's degree program with the University of Arizona in 1974. After a short tour at Edwards Air Force Base, California, as a flight test engineer, he attended Navy Test Pilot School at Patuxent River, Maryland. He then returned to Army's Flight Test Facility at Edwards AFB to complete 4 years as an experimental test pilot.
He has military and civilian experience in 25 types of airplanes and helicopters and has logged more than 3,500 hours flying time — including more than 1,500 hours in jet aircraft.
• NASA EXPERIENCE: Spring was selected as an astronaut in May 1980. His technical assignments included software verification at the Shuttle Avionics Integration Laboratory and Flight Simulation Laboratory; vehicle and satellite integration at Kennedy Space Center, Florida, for Space Shuttle missions STS-5, 6, 7, 8 and 9; Astronaut Office EVA (Extra Vehicular Activity) expert; and Space Station construction, EVA maintenance, and design. Spring served as a mission specialist on STS-61B which flew Nov. 26 to Dec. 3, 1985. During that mission, he was responsible for launching three communications satellites and performed two EVAs — which totaled more than 12 hours, investigated Space Station construction techniques, large structure manipulation while on the end of the remote arm, and a time and motion study for comparison between Earth training and Space performance. He logged 165 hours in space, including more than 12 hours of EVA.
Following his retirement form NASA in August 1988, Colonel Spring spent the next five years directing the Army Space Program Office in Washington, D.C. He retired from the Army in July 1994, and became an aerospace consultant with TASC (The Application Science Corporation), Inc. of Reston, Virginia. — Source: NASA
---
Get the La Jolla Light weekly in your inbox
News, features and sports about La Jolla, every Thursday.
You may occasionally receive promotional content from the La Jolla Light.