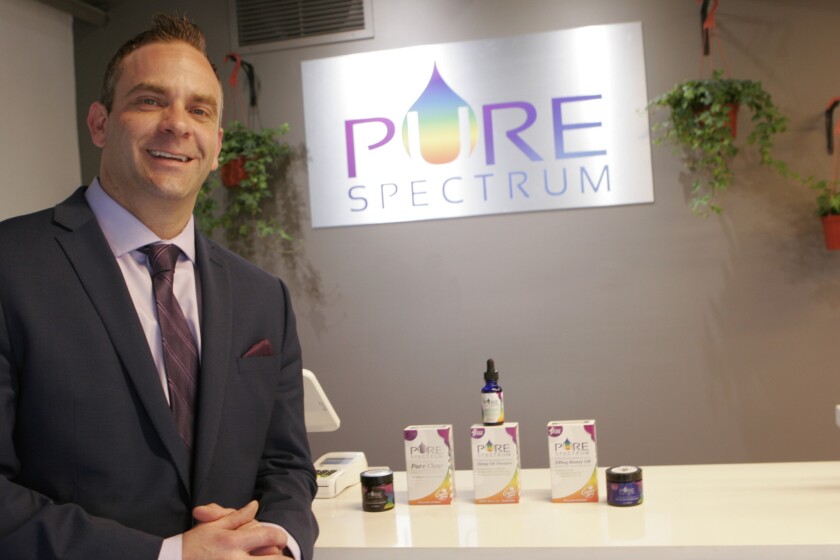 La Jolla has quietly sprouted two CBD oil storefronts. On Monday, Feb. 26, Colorado's Pure Spectrum opened a retail outlet to the public at 7863 Girard Ave. Suite 102, joining Lifely Wellness, located around the corner at 1115 Wall St.
CBD (short for "cannabidiol") oil is a cannabis derivative that does not get users high and is commonly used to ease a wide range of debilitating medical conditions including multiple sclerosis, epilepsy and chronic pain.
"This is the test market to prove our franchise model," said Pure Spectrum CEO Brady Bell as he toured the Light around his two-year-old company's second retail outlet after Evergreen, Colorado. "The demographic in Evergreen was basically the same demographic as here — except you guys have oceans and we have mountains."
Pure Spectrum and Lifely Wellness are not head shops with Dazed and Confused trappings. They are high-end stores with price tags on their products of $50 to $1,000 an ounce. Pure Spectrum would resemble a luxury real-estate office if not for the lighted cabinet with a hundred boxes in the middle.
And this marketing is integral to the hard distinction Bell makes between the cannabis that is smoked and the hemp that his product comes from. (Pure Spectrum gets its oil from a 1,4000-acre hemp farm called Colorado Cultivars.) Hemp has been used for centuries to make products such as rope, paper and sail canvas. (In fact, the name canvas derives from cannabis.) Though both come from varieties of the cannabis plant, hemp contains only trace amounts of THC, the psychoactive component of marijuana.
"I'm not in the cannabis business," Bell said. "I'm in the hemp business."
Except that the U.S. Drug Enforcement Agency makes no distinction between cannabis and hemp. In 2016, it created a rule classifying all CBD and other "marijuana extract" as Schedule 1 controlled substances. Recreational marijuana has been sold legally — at least according to our State — all over California without federal disruption since Jan. 1, so it's difficult to foresee federal marshals raiding CBD oil outlets anytime in the near future.
However, the area of the law in which any CBD store operates is still technically a grey one.
Currently, two separate lawsuits are underway — one in the 9th Circuit Court of Appeals in San Francisco and one in a federal district court in Manhattan — challenging the DEA's Schedule 1 classification of CBD oil. They focus on the wording of the 2014 Farm Bill signed by President Barack Obama, which authorized the growth and cultivation of industrial hemp.
"The Farm Bill does not specifically reference the sale of CBD, but rather, it allowed pilot programs and research to begin on industrial hemp," said Chris Coggan, founder of a La Jolla CBD production facility called Therapy Pure Essentials. "Consequently, the legal sales of these types of products is still, undeniably, open to interpretation."
"Oil" claiming to have medicinal value sounds familiar, but science is proving that CBD is no snake oil. Dozens of studies reveal promise — most recently, a 2017 study conducted in Ecuador that found a 40 percent reduction in seizure frequency among 15 epileptics, and a randomized double-blind 2017 trial, published in the New England Journal of Medicine, that found a reduction in seizure frequency from 12.4 to 5.9 a month among 120 sufferers of Dravet syndrome, a form of childhood epilepsy.
Lifely Wellness owner Carla Parra doesn't need to see any research. Her son Jordan, 24, was diagnosed with a glioma brain stem tumor in May 2016. After taking CBD oil, his grand mal seizures completely stopped within two months and, she says, "he's had none since."And that's how La Jolla got its first CBD oil store, because Parra immediately made one out of her vitamin store (the former La Jolla's Little Vitamin Shop). "I'm 100 percent onboard and sold," she said.
Likewise, Bell said CBD oil squelches the symptoms of Tourette's syndrome he's suffered from since the second grade — although Bell's treatment also requires the THC not found in CBD oil, so he supplements with marijuana smoking to keep it under control.
"Before, I had 200 to 400 tics a day — grunting and this weird sniff," Bell said. "But I have a little bit of CBD oil and a little bit of cannabis and it takes it away.
"It allows me to have what I call a normal social life."
Purchasing CBD oil in California requires no prescription nor driver's license, only cash or a credit card. Although there is no law requiring a minimum purchase age, Pure Spectrum sets theirs at 18 years old and Lifely Wellness sets theirs at 21.
— Pure Spectrum will have a grand opening party, 11 a.m. to 3 p.m. Saturday, March 10 at 7863 Girard Ave., Suite 102. Bell said it would be attended by UFC stars and San Diego Chargers alumni.
---