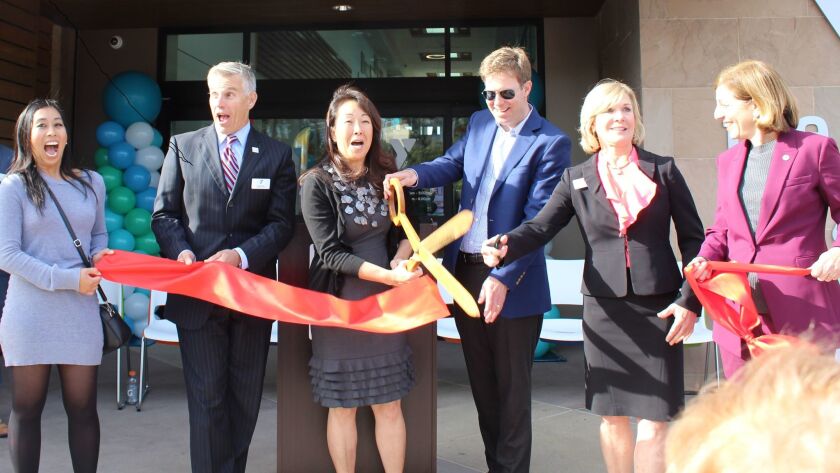 It's finished! The expansion of the Dan McKinney Family YMCA at 8355 Cliffridge Ave. is now complete, and was celebrated by a ribbon-cutting ceremony on Jan. 18 that drew officials including District 1 City Council member Barbara Bry.
Bry, who said her grown daughters, Sarah and Rachel, learned to swim at this YMCA as children, called the newly expanded facility "a great addition to the community" and issued YMCA executives a proclamation from Mayor Kevin Faulconer's office naming the day after their institution.
Opened in 1967 as the Northwest YMCA, and later known as the La Jolla YMCA, the facility underwent renovation in four phases starting in September 2015, when a $21 million expansion project broke ground. It adopted the Dan McKinney Family name after longtime La Jolla resident and beverage distributor McKinney, who died in 2016, donated $5 million to the project. The renovation added 25,000 square feet to the structure, which now measures 59,000 square feet.
"It was a challenge going through two-and-a-half years of construction and staying open," La Jolla YMCA district executive Sue Ball told the Light. "But it was a very old facility that needed to be renovated, and the feeling of accomplishment is so worth it, I feel like this is the biggest accomplishment of my 33-year career at the Y."
After 90-year-old Harry Boyajian made a valiant attempt to lead a rambunctious group of Dan McKinney Family YMCA pre-schoolers through a rendition of "You Are My Sunshine," a red ribbon was cut by Bry and YMCA officials in front of about 100 onlookers. Then, La Jolla High School music teacher Michael Fielder conducted his woodwind band, The Polymetrics, through an instrumental version of (what else?) the Village People's "YMCA."
History Lesson
The YMCA was founded — in London in 1844 — as the Young Men's Christian Association, focusing on religious charity. It's since grown into a worldwide organization with a U.S. membership of 9 million youths and 13 million adults. The Y is now a leading nonprofit organization for youth development, healthy living and social responsibility.
"The world has modified, it's changed. It's grown into something that reflects the needs and the wants of our community today," La Jolla YMCA past board chair Mark Broido told the audience. "And so has our Y, just generally. The YMCA is no longer so male, so young and so Christian anymore, and at the same time, I think it's also changed in that it's no longer as much about the trophies and ribbons and the competition that I grew up with in the programs here. It's more about the teamwork and the fairness and the friendships that our programs foster. Kids today are focused on the Y values of strength, of character, and teamwork and self-respect."
The Dan McKinney Family Y's final expansion phase included new childcare facilities (areas for preschool and after-school care), a youth studio for children's classes and a three-story "adventure center" play structure. Previous phases debuted renovated women's, men's and family locker rooms; a community space; steam room and sauna; a massage room; café; outdoor wellness terrace and patio; teaching kitchen; and the Ann Woolley Aquatic Center, featuring a cool-water, eight-lane lap pool and a warm-water activity pool, plus a therapeutic spa, a splash pad for youth water play as well as an outdoor fitness playground.
Y what, when, where and how much?
Monthly membership fees (includes access to all Ys across the United States): Ages 13-25, $37. Ages 36-64, $48. Ages 65+, $42. Dual Adult, $73. Family 1 (one adult and children), $68. Family 2 (two adults and children) $88. (Each membership category requires a one-time $50 joining fee. Family memberships include two free hours of child watch with each visit. For scholarships, visit ymca.org/community-support/scholarships
Dan McKinney Family YMCA members: 18,000 people through membership, programs, services and outreach.Want to know more? Reach the Dan McKinney Family YMCA at (858) 453-3483, lajolla.ymca.org and facebook.com/LaJollaYMCA
---