1 + 1 = Student success at Mathnasium in La Jolla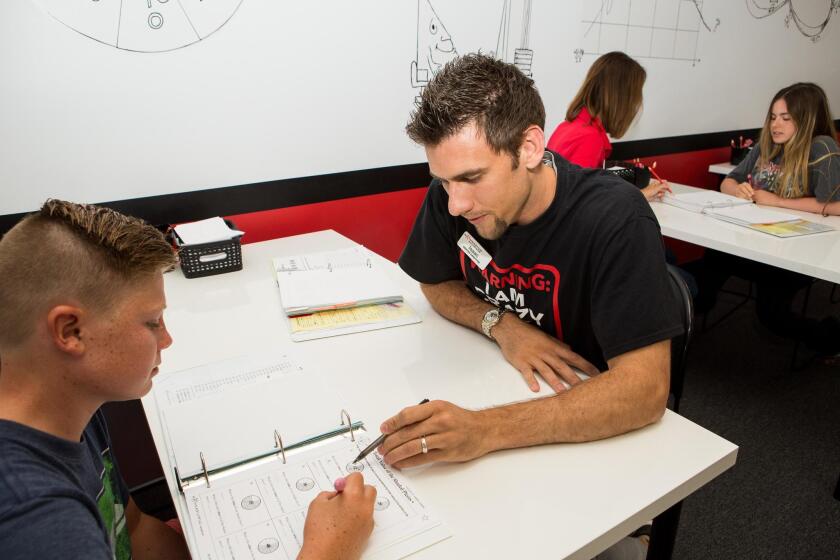 BUSINESS SPOTLIGHT:
The exercise at Mathnasium of La Jolla is not of the body but of the brain, specifically the side of the brain that processes mathematics and solves problems related to it. For kids struggling with math (or those who understand it but want to excel), Mathnasium, the Math Learning Center, adds up.
The decade-old, so-called Mathnasium Method is taught in more than 600 learning centers in North America, including the La Jolla location, which opened about three years ago. The Pearl Street center is owned by former elementary school teacher and administrator Karen Lossing, who also has Mathnasium locations in La Costa, Forest Ranch and north Carlsbad. Lossing emphasizes that the Mathnasium instruction goes far beyond what would be considered after-school tutoring.
"What makes us different," Lossing said, "is our instructors teach kids concepts in math. The other part of what we do is a lot of Socratic questioning. We don't just tell the kids what to do. We're trying to set them up for success, because the next day (after their Mathnasium session) they're in school.
"We structure our work with them so there's a lot of self-realization. We coach them through a question. When they leave the building, they realize they've done the work, so we don't necessarily call ourselves tutors."
Students at La Jolla's Mathnasium work individually with each instructor but they also share that instructor. "Private instruction in a group environment is the way to say it," Lossing explained. "When I work with a child it's 100 percent one on one. I'll teach them something and have them show it back to me, and if they've gotten it, I'll say 'Try the next five,' and I'll go help someone else. I'm never huddling up multiple children. The idea is that while I'm busy working with one child, the other is practicing something on his own."
Students from grades 1-12 get instruction at Mathnasium. Lossing said that, age-wise, the students usually are one-third elementary level, one-third middle school and one-third high school level.
"We help with homework, we help prepare them for tests and quizzes," said Lossing. "We're focusing on why is the homework hard in the first place? and How can I get a better grade? That becomes particularly overwhelming the older a child gets. Sometimes it's a kid who's struggling and getting buried in his class. Usually, the younger they are, the more they're there for enrichment."
A Mathnasium membership, which can be for three, six or nine months, includes either 60- or 90-minute classes. Cost ranges from $249 to $319 for 12 sessions.
Passing a class isn't the only reason kids come to Mathnasium. Either they or their parents, or both, recognize that math skills are essential to a future in a hot career. Lossing made the case: "In order to be a software engineer or to be an app developer, you've got to be good at math."
Mathnasium of La Jolla is at 915 Pearl St. in La Jolla. Hours: 2:30-7 p.m. Monday-Thursday; 2:30-6 p.m. Friday, and 10 a.m. to 1 p.m. Saturday. (858) 335-5686. E-mail lajolla@mathnasium.com or visit mathnasium.com
— The Business Spotlight features commercial enterprises that support the La Jolla Light.
---
Get the La Jolla Light weekly in your inbox
News, features and sports about La Jolla, every Thursday for free
You may occasionally receive promotional content from the La Jolla Light.