Group of La Jolla property owners sues over new MAD tax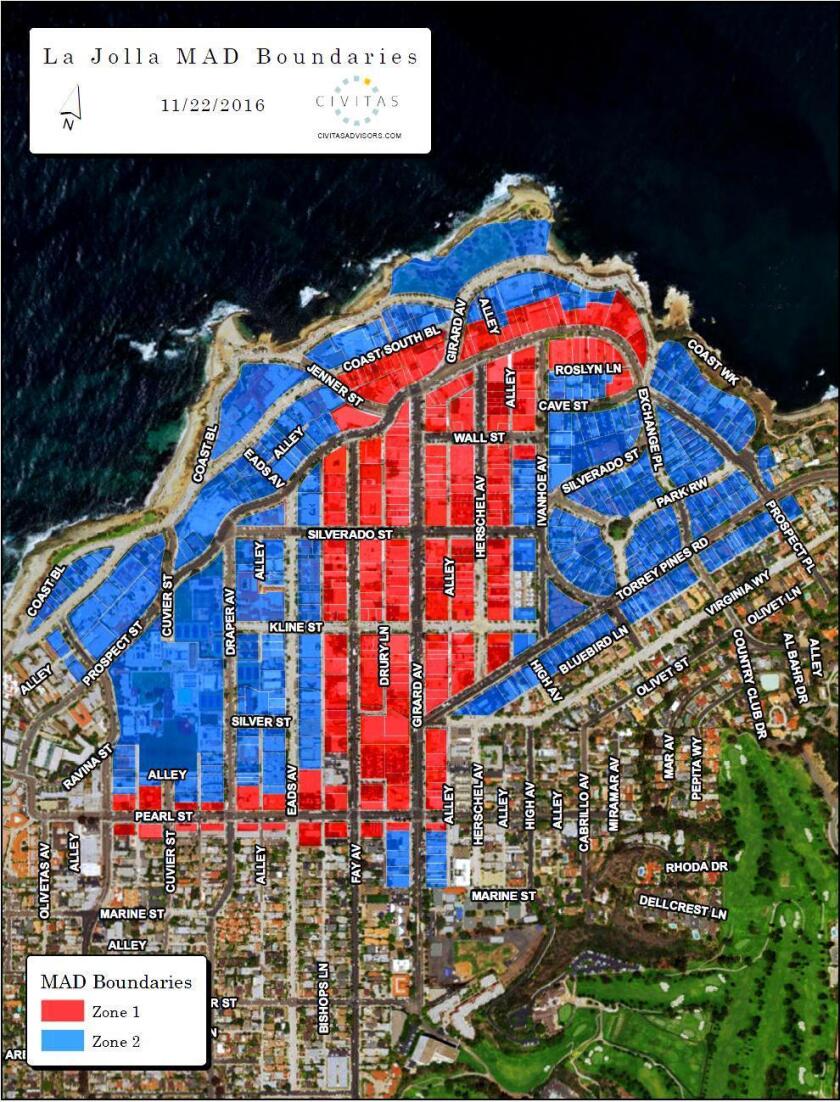 Some commercial property owners in La Jolla, led by Lincoln Foster, have filed a lawsuit against the City of San Diego in an attempt to undo a newly approved taxing authority designed to spruce up local streets and sidewalks.
The lawsuit filed in San Diego Superior Court claims that the City has fallen short in providing general maintenance of La Jolla's coastal business district, forcing taxpayers to take matters into their own hands.
In November 2016, 56 percent of voters approved creation of the La Jolla Maintenance Assessment District (MAD), a legal mechanism that allows residents to tax themselves and fund additional maintenance in their area through outsourced vendors.
Single-family homeowners will pay $87 a year, and the cost to owners of apartments and commercial property will vary by square footage.
Former City Attorney Michael J. Aguirre, who is representing the dissident group of property owners, said the MAD violates California law because it's collecting funds for several services taxpayers already pay the City to deliver.
"If the City is providing the base level of maintenance, then taxpayers can legally create a district to go above and beyond that," Aguirre said. "What you can't do is re-tax people for the same service they're already supposed to be getting."
According to the San Diego Charter, the City has an "obligation and responsibility" to provide various services to its residents, including regular maintenance of capital assets such as land, buildings, equipment and infrastructure.
The new assessment is expected to raise about $500,000 a year for trash collection, litter pickup, power-washing sidewalks and landscape maintenance.
According to a preliminary engineering report on the MAD's proposal, services will include shrub and ground cover maintenance, watering of plants and weed control, all of which make parks, sidewalks and streets cleaner and more attractive to visitors.
"That is absurd," Aguirre said. "The City of San Diego already has an obligation to take care of its own parks. Those are all things the City should already be doing."
City spokesperson Katie Keach declined to comment on the pending litigation.
District 1 City Council member Barbara Bry, who was elected Nov. 8 to represent La Jolla and other parts of northwestern San Diego, also declined to comment. Bry previously spoke in favor of the special tax and called the MAD a necessary change that would make the area cleaner, safer and more attractive.
"The Village of La Jolla is a treasure enjoyed by all San Diegans and people from all over the world, and the formation of the Maintenance Assessment District will ensure we keep it the special place we all want it to be," Bry told The San Diego Union-Tribune in November.
Enhance La Jolla, a non-profit organization, was the driving force behind the MAD. Voters also chose Enhance La Jolla to manage the district, with City oversight of its administration.
Phyllis Pfeiffer, an Enhance La Jolla board member, said the organization has the funds to start improving the neighborhood but was restricted by City regulations and codes.
For example, the City collects garbage in public areas twice a week, Monday through Friday, Pfeiffer said, but bins near popular tourist destinations were already overflowing by the end of a weekend. This trash would then spread throughout surrounding parks and streets.
The La Jolla Community Foundation offered to pay for trash pickup on the weekends.
"We were told we couldn't touch the City trash cans because it's a liability," said Pfeiffer, who is president and general manager of the La Jolla Light and a founding member of the La Jolla Community Foundation.
Other improvements include planting more trees and flowers, adding more benches and uniform flower pots across City parks.
"Those trees and flowers are going to die if we don't have anyone to water and maintain them," she said.
Pfeiffer said waiting for the City to provide similar services would be like "Waiting for Godot," a play by Samuel Beckett, in which two characters wait for the arrival of someone named Godot who never arrives.
"We had to ask, 'Are we going to wait for the City to get around to it, or are we just going to do it ourselves?'" she said. "Everybody wants more from the City, but the City is strapped for cash right now. Most cities are."
Lincoln Foster, a commercial property owner in La Jolla, said he was against the MAD right away and is one of the plaintiffs in the lawsuit with the City.
Foster said he's in favor of capital improvements in La Jolla, but feels the MAD will enable the City to divert more funds away from the already-dwindling maintenance services.
"It basically takes the City off the hook," he said. "It's just not fair and it's not the right thing to do. Don't come to me and ask me to pay a second time when you've already spent the money on something else."
According to the lawsuit, the "something else" is the City's growing pension obligations.
The City is contributing $261 million for pension costs this year, a figure that is expected to grow to $311 million next year.
According to the lawsuit, the City has a financial incentive to push through a Maintenance Assessment District.
"Rather than fund all necessary maintenance, the City has continually underfunded its maintenance services in favor of establishing as many Maintenance Assessment Districts across as many areas of the City as possible," the complaint said.
There are currently more than 60 maintenance districts in San Diego.
For the La Jolla district, commercial properties will cover 85 percent of the $502,400 bill, with condominiums and single-family homes contributing the remaining 15 percent. Its boundaries are the Pacific Ocean, La Jolla Boulevard, Pearl Street, Girard Avenue and Torrey Pines Road.
• ON THE WEB: Find more information about the Maintenance Assessment District (MAD) for the Village of La Jolla at enhancelajolla.org
---
Get the La Jolla Light weekly in your inbox
News, features and sports about La Jolla, every Thursday for free
You may occasionally receive promotional content from the La Jolla Light.