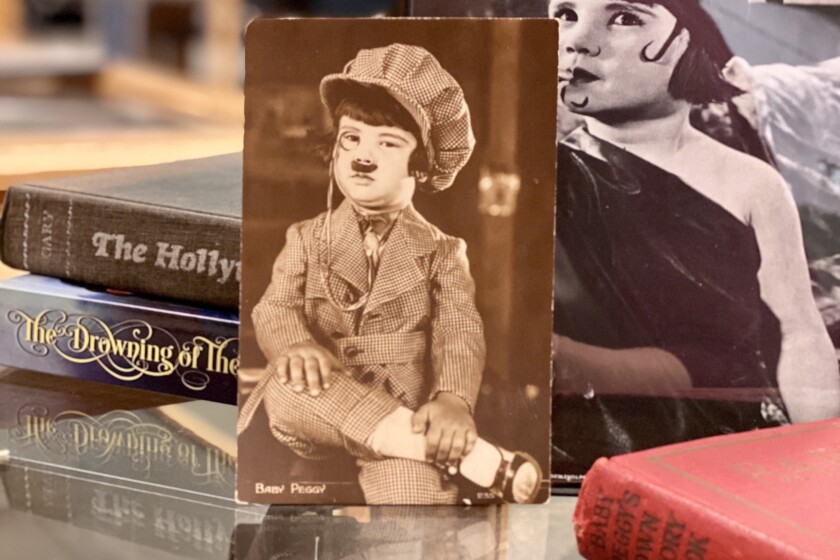 The last living silent film star turned misfortune into success in academia.
It's no secret that greatly admired La Jolla philanthropist Ellen Browning Scripps greatly admired Abraham Lincoln.
Make La Quinta Art Celebration the priority destination for a fun desert road trip. Experience the awesome array of artwork showcased at the stunning La Quinta Civic Center — a short drive from Palm Springs — where 225 world-class artists from 35 states and abroad will exhibit their spectacular creations spanning 12 media categories in styles ranging from classical to whimsical, March 5-8, 2020.

A Bird Rock business is revolutionizing the wine bar business, creating craft wines and pouring innovation into every glass. Lowell and Anne Jooste, the married owners of LJ Crafted Wines on La Jolla Boulevard in the heart of Bird Rock, explained how they're helping to improve the community, one beverage at a time.

Here comes "Fly," a new Wendy-centered musical opening at La Jolla Playhouse Feb. 18. And it's offering a whole new Pan-orama, with a re-imagined Wendy taking center stage. Book-writer (and co-lyricist) Rajiv Joseph is a playwright best known for his Pulitzer Prize-nominated "Bengal Tiger at the Baghdad Zoo" and "Guards at the Taj," which had a controversial production at the Playhouse in 2016. (I loved it.) "Fly" is an offbeat take on J.M. Barrie's "Peter and Wendy," a 1911 novel that was the Scottish-born, London-based writer's follow-up to his hugely successful 1904 play "Peter Pan, or the Boy Who Would Never Grow Up."

From changing financial incentives for solar+storage, to new promising programs like Community Choice Energy and the growing importance of battery backup power during frequent blackouts, there is a lot for residents to prepare for in the new decade. For this reason, the San Diego Solar Experience is back for the fourth consecutive year, taking place on Saturday, Feb. 8, 2020 with five solar+storage seminars across the county followed by a celebration at AleSmith Brewing Company in San Diego. All events are free and open to the public.

San Diego International Jewish Film Festival is celebrating its 30th anniversary this year, and Feb. 13-23, 2020 will show 35 films in four different venues: Reading Cinemas Town Square in Clairemont, Garfield Theatre at Lawrence Family Jewish Community Center in La Jolla, Museum of Photographic Arts (MOPA) in Balboa Park, and La Paloma Theatre in Encinitas. There's a lot to choose from, with dramas, comedies and documentaries about the arts, history, sports, family conflicts, and Israeli-Palestinian relations.

La Jolla Historical Society's next exhibition, "Tijuana 1964: The Photography of Harry Crosby," opens Saturday, Feb. 8, 2020 with more than 60 black-and-white photographs. The La Jolla Historical Society presenting an exhibition on Tijuana? Yes indeed, Historical Society executive director Heath Fox says: "There is a stereotype of what a 'historical society' is, focused on reporting the past of a defined geographic area ... but a 21st century museum cannot be so static. It must be dynamic, presenting programs that are fresh, thought-provoking and forward-thinking. We don't think of La Jolla as a cultural island. We consider it in context to the City of San Diego and part of the Southern California/Northern Mexico megalopolis."

Peter Yarrow — of the popular 1960s folk trio Peter, Paul and Mary — will perform a benefit concert in La Jolla on Friday, Feb. 28, 2020. The concert, to be held at a private home whose address will be identified only to ticket-buyers, benefits One Story at a Time and littlemercies.org, two non-profits that bring humanitarian aid and hope to refugees detained at the Mexican border. As you are about to read, the 81-year-old author of "Puff the Magic Dragon" — who spoke to the Light from his home in Manhattan — remains as committed as ever to his '60s idealism, and has some very strong beliefs about what's right for the future of this country.

It's not often that married couples choose to work together in the time they spend not living together. But the lines between personal and professional were blurry for La Jolla Dental Boutique co-owners/Drs. Erez and Irene Nosrati since the day they met at a Starbucks at Indiana University School of Dentistry in 2008. Dr. Irene was completing her dental degree and Dr. Erez was a resident in periodontics and oral implantology.

"Paintings are People Too" is the latest mural curated and installed by the Murals of La Jolla program. The large-scale, vibrant print of paintings floated against a photograph of a Berlin street hangs at 7661 Girard Ave., created by artist and UC San Diego professor Monique van Genderen while she was living in Germany.