In 'Constellations,' romance comes in an unusual way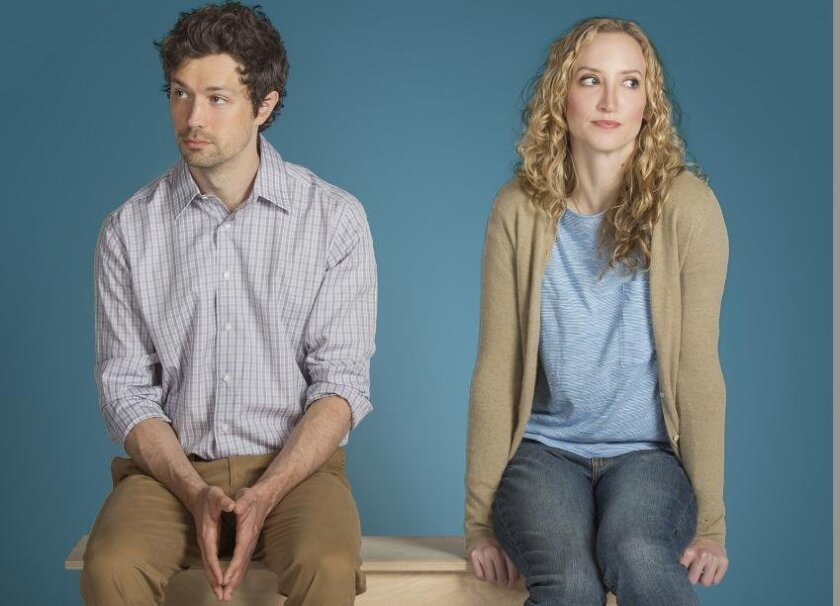 Award-winning director and actor Richard Seer returns to The Old Globe to direct Nick Payne's "Constellations," onstage through May 8. Seer has directed 13 productions at the theater in Balboa Park, including "Quartet," "God of Carnage," "Romeo and Juliet" and "Who's Afraid of Virginia Woolf?"
Christian Coulson (Roland) and Victoria Frings (Marianne) portray the only two characters in "Constellations," a romantic story of parallel universes. Marianne is a physicist who has a chance encounter with Roland, a beekeeper, at a party. When the two lost souls find a door open to relationship possibilities it leads them in new directions.
"I was drawn to the project because the play is foremost a love story told in a unique and exciting way, and it also had issues of quantum mechanics very accessible," said actor Frings. "I have a science background so I get excited when plays deal with science, something audiences can engage with.
"Doing a play is always a challenge, but a two-hander makes it so you can never have an off show," she said. "You have to be there for your partner and for anything that could go wrong, it's different — both terrifying and really exciting — but also exhausting. We never have a moment to leave the stage. My co-star, Christian, is terrific, and it's fun to play with what he gives and to give something back he can work with.
"My character is an extraordinary enthusiastic person and excited by the work she does. She's a little odd and socially awkward, but not in a stereotypical scientist pocket protector way. She spends a lot of time in front of a telescope and on a computer crunching numbers and dealing with data. That excites her, and sharing that excitement with other people is very important to her.
"She's not a nerd new to the love department, but someone who's dated a lot in her life. The series of universes we see in this play presents a couple, who under a lot of circumstances, would never get together, but here they do, although they have some struggles."
Frings said she hopes audiences leaving the theater will "grapple with the science and the idea behind the play … and fall in love with the characters."
—IF YOU GO: "Constellations," runs through May 8 at the Sheryl and Harvey White Theatre, 1363 Old Globe Way, Balboa Park. Tickets from $29 at (619) 23-GLOBE. theoldglobe.org Free post-show forums April 26, May 4.
---
Get the La Jolla Light weekly in your inbox
News, features and sports about La Jolla, every Thursday for free
You may occasionally receive promotional content from the La Jolla Light.