The play's the thing: San Diego's Old Globe Theatre to host award-winning 'Plays by Young Writers' festival
Seven aspiring playwrights will have their work shown as part of the 32nd annual Playwrights Project Festival of Plays by Young Writers, Jan. 19-29, at The Old Globe Theatre in Balboa Park.
Ranging in age from 12 to 18, they are the winners of the 2016 California Young Playwrights Contest, chosen from 385 entrants in a blind judging by local theater professionals. Of the six prize-winning plays (one is a collaboration), there will be four full-scale productions and two staged readings at the Globe, which has been hosting the festival for the past 18 years.
Founded in 1985, Playwrights Project (PP) offers playwriting workshops in schools, produces community readings, and reaches out to about 10,000 people every year, nurturing writers and developing theater artists and audiences. Their annual festival is a chance to see plays by promising young people whose names may be up in lights someday.
The Festival's producer is Cecelia Kouma, PP's executive director, who first came on board in 2000 as managing director in charge of school programs and took over from founding director Deborah Salzer a decade ago. What's her favorite thing about the festival? "Watching the young writers' reactions when they realize that the experts are taking their work seriously," she said. "They're treated as professionals here, even if they're 12 years old."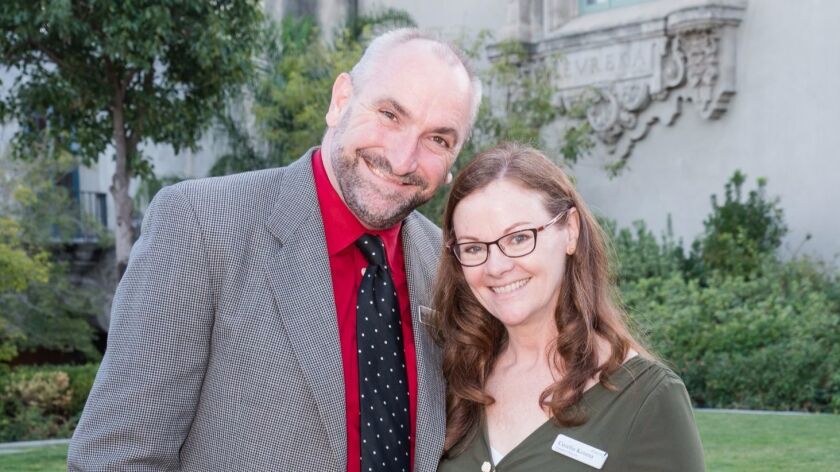 Dramaturgs help the young writers get their scripts ready for prime time, which includes fleshing out characters and trimming longer works down to no more than 30 minutes. This year's main man behind the scenes is artistic director Ruff Yeager, an award-winning actor/director and theater professor at Southwestern College, who will be whipping the festival's plays into final shape.
Fun Fact: This is the fifth win for 17-year-old Matthew Maceda, who co-wrote his first winner with a fellow student at Mesa Verde Middle School in 2011, in a class taught by Playwrights Project founder Salzer. He never stops writing, but recently decided, after studying the TV show "Grey's Anatomy" for scriptwriting techniques, that he wants to pursue a career in medicine. His current winner, "The Dumping Ground," can be seen at 7:30 p.m. on Jan. 21 and Jan. 27 or 2 p.m. Jan. 28.
IF YOU GO: Playwrights Project Festival of Plays by Young Writers runs Jan. 19-29 at The Old Globe Theatre in Balboa Park. Tickets: $10-$25. Opening Night Jan. 21: $60. For schedule, description of plays and more details, call (858) 384-2970 or visit playwrightsproject.org
---
Get the La Jolla Light weekly in your inbox
News, features and sports about La Jolla, every Thursday for free
You may occasionally receive promotional content from the La Jolla Light.