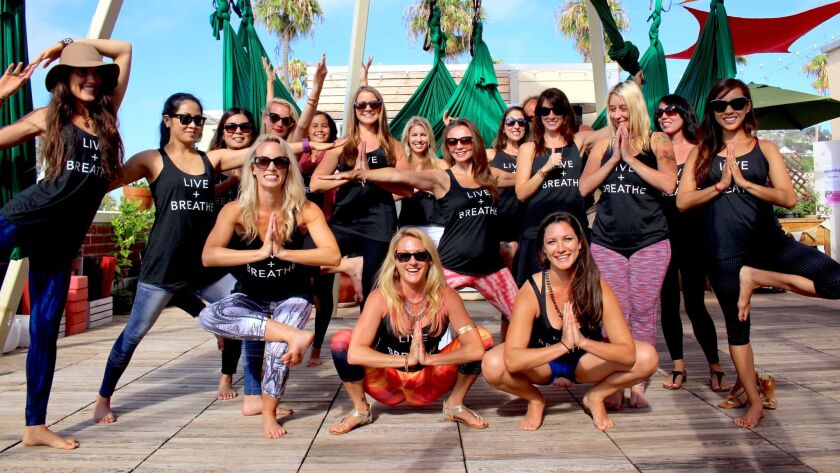 Erin Hanson, 34, is a interior designer for a La Jolla firm called CM Natural Designs. She loves to bring balance and harmony to the home and work spaces she transforms through her expertise. When she finishes her day at work, she carries that same sense of balance and harmony into another inner space — the bodies and souls of her yoga students. Hanson is the founder and president of a non-profit "yoga cause" called Live + Breathe in La Jolla.
Live + Breathe offers free yoga classes to those who don't have access to yoga in their daily lives. The organization's mobilized instructors bring their classes directly to their participants, which includes everyone from toddlers to seniors. Live + Breathe's instructors focus specifically on teaching people with disabilities, those from trauma-filled backgrounds, homeless people, and children. Hanson said she believes the yoga classes are a tool to help people cope with the struggles of their daily lives.
Live + Breathe is looking to expand its classes into more diverse communities throughout San Diego, including the San Diego Rescue Mission and low-income housing developments. "The part of the population who cannot access this practice in a traditional setting are those who may benefit the most," Hanson said. "We bring the yoga to people in their own environment."
She explained that she started practicing yoga herself about 10 years ago, and saw it as an avenue of inspiration, personal growth, and a means of sharing her energy with others. She completed her yoga teacher training in 2011, and was immediately drawn to teaching kids. She began teaching yoga classes at a recreation center for children with autism and Down syndrome.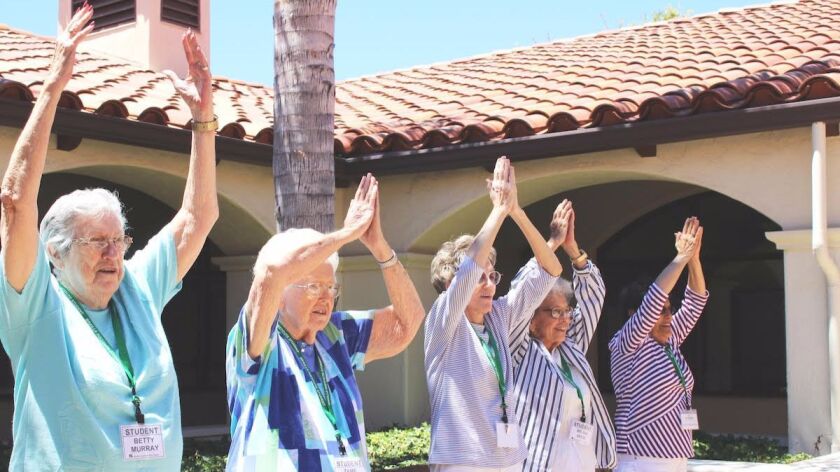 "I fell in love with the experience, helping the students through the poses," she recalled. "The children would share stories after savasana [a yoga resting period] about their time relaxing, the places they'd imagined being, and the friends they'd imagined being with."
That was three years ago. Since then, Live + Breathe has grown to more than 70 qualified yoga instructors — all volunteers — and held yoga classes at the San Diego Center for Children, Rady Children's Hospital, the Braille Institute, San Diego Youth Services, Special Olympics events, public schools, and much more. Erin is convinced that yoga's therapeutic benefits transcend all barriers. "I believe yoga enhances brain chemistry and improves body function in anyone willing to try it," she said.
She recalls leading a yoga class at the Braille Institute where the class theme was gratitude. "One of our blind students was so moved after the class that he wanted us to help him write a letter to his family, thanking them for their love and support during his vision loss. It was a tearful and happy message. To be able to share what is in your heart with the important people in your life wasn't taken by granted by him, or by me, that day. It was an honor to be a part of it."
LaDonna Parham, recreation manager at San Diego Center for Children, sees the results manifest far beyond the yoga mat.
"The environment gives our kids a sense of calmness and an environment of safety. Many of our youth have taken the tools they have learned in class and used them as coping skills in their living environment," Parham said. "For example, some of them have requested the calming nature songs or piano music that is used in the yoga class to be played when it's bedtime. In addition, the children feel comfortable participating in the poses even when they are not sure they can do it. This is great because they are building confidence in themselves and their abilities."
Parham points out it's also a great emotional stabilizer.
"With kids who have suffered trauma, they tend to have a hard time self-regulating their emotions due to the chaos that trauma or family issues bring. Yoga is a great tool for kids to learn how to regulate their emotions by learning breathing techniques, and by learning how to center their bodies with the yoga poses."
Hanson sees Live + Breathe as much more than just a guided meditation or stretching class. Her yoga cause is admirable: "Facilitating social justice, change and equality is our mission." And that mission, in her mind, is as simple as sharing. "We are all people. If we can share a little bit of knowledge with these children, that's great. We also learn a lot from all our students. They have a lot of wisdom."
When asked why she named the non-profit Live + Breathe, she smiles and quotes Ralph Waldo Emerson. "To know even one life has breathed easier because you have lived. That is to have succeeded."
ON THE WEB: ayogacause.org
---